News
Kelly Slater, Clay Walker and Juli Inkster honored by Golf Digest for charitable work
Kelly Slater had planned on competing in his ninth AT&T Pebble Beach Pro-Am this week, but that changed when tragedy struck. Instead of spending a few days under the California sun, Slater is in France to remember the life of Pierre Agnes, the former Quicksilver CEO who went missing after taking a boat ride at the end of January. Slater did, however, make a quick stop at Pebble Beach Tuesday night to accept a Golf Digest Arnie Award alongside country star Clay Walker and professional golfer Juli Inkster.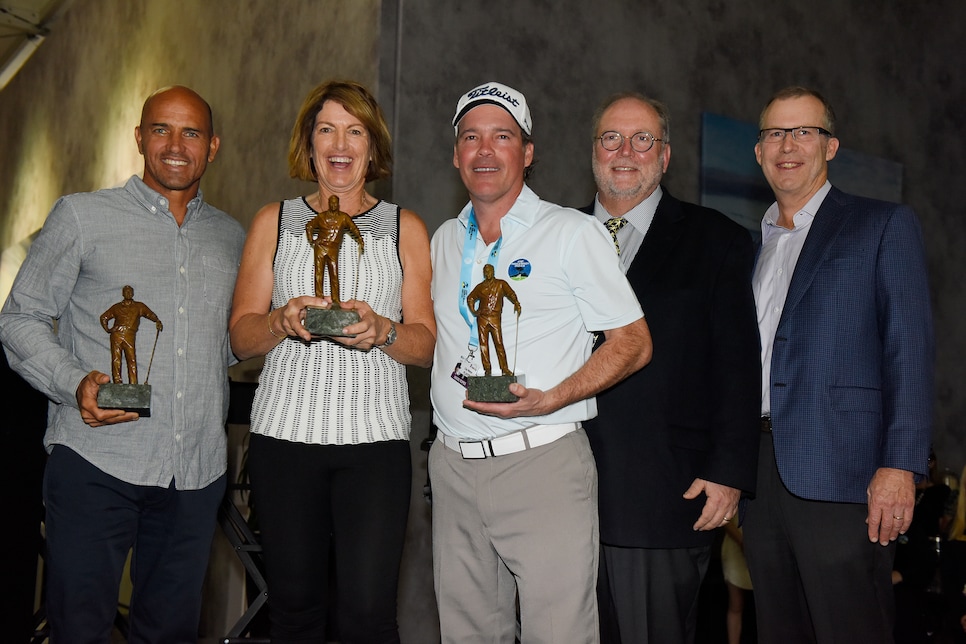 "About two years into my love of golf I actually got to meet Arnold Palmer in his office and got to spend half an hour with him," said Slater, a surfing legend who spoke to room full of PGA Tour players, celebrities and business leaders. "That was one of the great honors of my life. He was a big influence in helping me honor and recognize the people who've helped me make it to where I am in my life."
No golfer gave more than Arnold Palmer, and Slater, Walker and Inkster were each presented a prestigious Arnie Award for their contributions as golfers who give back. The Arnie is a trophy-size version of a Palmer bronze sculpture created by artist Zenos Frudakis, and Golf Digest has been awarding them since 2012 to a variety of golfers and celebrities who use the sport as a philanthropic tool.
"I was diagnosed with MS just a month before my first AT&T," said Walker, about his diagnosis in 1996. "I was told by the doctors that I would be dead in 8 years. By all means I'm a miracle, but that's because of charity."
The presentation unfolded during the annual pairings party for the AT&T Pebble Beach Pro-Am inside the players' hospitality tent. A wide range of stories were shared, from heartfelt and sad to light-hearted and funny, and at one point in the night Bill Murray even got on stage and talked about beating Michael Jordan during a recent celebrity outing, saying: "Michael's got nothin' on me."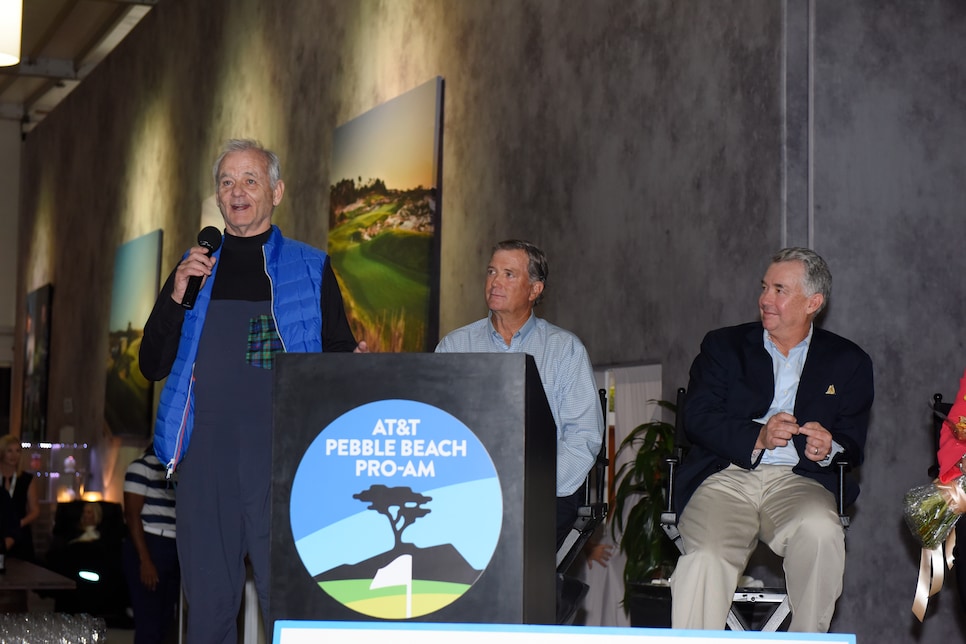 But the night often returned to Palmer, who remains a very strong presence within the golf circuit.
"Having anything to do with Mr. Palmer is a true honor," said Inkster, as she accepted her award. "I've been fortunate enough and old enough that I got to know Arnold pretty well and he was an amazing guy, both on and off the course."
As part of the Golfers Who Give Back program, Golf Digest will donate a total of $100,000 to Monterey Peninsula Foundation and Arnie's Army Charitable Foundation. The Arnie Awards are chosen by the editors of Golf Digest and a Monterey Peninsula Foundation committee that includes Directors Doug Mackenzie and Heidi Ueberroth.
You can watch the recipients receive their awards here: