Travelers Championship
The stars come out, but they're still chasing local hero Keegan Bradley in Travelers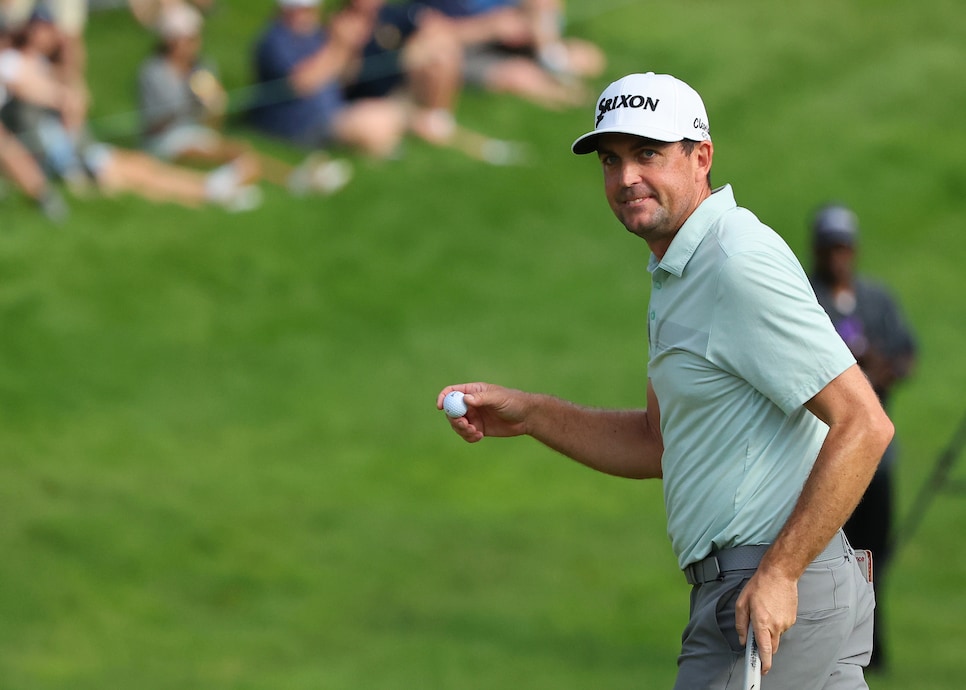 Keegan Bradley waves on the 18th green during the third round of the Travelers Championship at TPC River Highlands.
Stacy Revere
CROMWELL, Conn. — Keegan Bradley used to have two cracks each year to win in front of his home New England crowd, but with the departure of the former playoff event at TPC Boston, the Travelers Championship is now Bradley's lone chance to deliver for a loyal and supportive gallery. Yet while Bradley remains a fan favorite around TPC River Highlands, the crowds were elsewhere to start this drizzly Saturday.
It was not an indictment of the 36-hole co-leader, but rather a reflection of the welcome chaos that was unfolding up ahead, where many of the big names who were starting seven, eight, nine shots back were taking advantage of a softened course defended only by a slight breeze and tucked hole locations.
Coming off a disappointing missed cut at the U.S. Open, where he shot a second-round 81, Justin Thomas bested his Friday 64 with a third-round 62. Playing in the group behind Thomas, Rickie Fowler continued his resurgence, flirting with 59 before tapping in for 60, his lowest-ever round on tour. World No. 1 Scottie Scheffler made six birdies and an eagle to match his opening round 63. Patrick Cantlay, who shot 60 at TPC River Highlands as an amateur in 2011, fared only one worse on Saturday, making nine birdies to shoot 61.
Yet despite all the fireworks on this moving day, Cantlay (-16), Fowler (-15), Thomas (-14) and Scheffler (-14), the stars are still chasing the New England native Bradley and the past champ Reavie.
On a day where the chasers applied pressure, Bradley shot a bogey-free six-under 64 to take a one-shot lead over Chez Reavie, who made eight birdies in his round of 63. Bradley has scored 62-63-64 to post 21-under 189, just one shot shy of the all-time 54-hole scoring record on tour.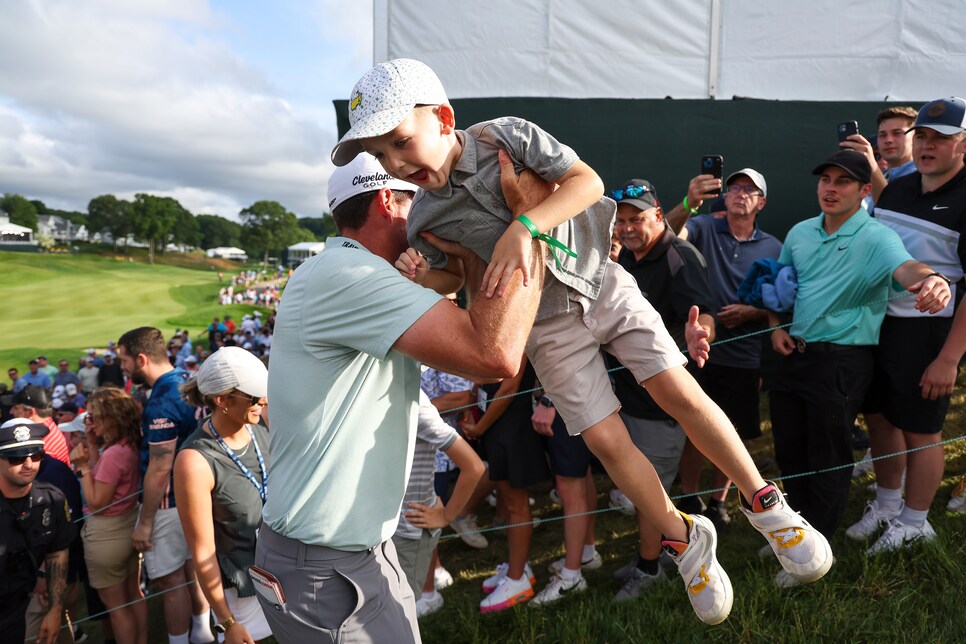 Keegan Bradley greets family as he walks off the 18th green after his third round of the Travelers Championship.
Rob Carr
For Bradley, who grew up in Vermont, went to high school in Massachusetts and now owns a home in The Bay State, this tournament has added meaning. It was the first tournament he attended as a kid.
"When I got my PGA Tour card in 2010 going into '11, the first thought in my mind wasn't to play the majors, it was I get to come play Hartford," Bradley said after taking his fifth 54-hole lead or co-lead. "My first PGA Tour event I ever went to. I came here and watched David Duval play. I remember looking at his tee time and making sure I got here when he warmed up. The range was right over here, and it was my first real taste of what the PGA Tour was like."
The hometown connection is only part of the reason Bradley would covet a win in Hartford. If he were to convert on Sunday, it would be the first time where both of his sons and wife, Jillian, would be in attendance. In his most recent of his five wins, at the Zozo Championship last fall, the family was not able to make the trip to Japan. Perhaps his sons, Logan, 5, and Cooper, 2, worked Dad into form after a missed cut at the U.S. Open last week. They spent Father's Day playing mini golf together back home in Massachusetts.
"I'm sort of an anxious person, so I know I'm going to be fighting a lot of thoughts," Bradley said of trying to close on Sunday. "Winning this tournament with my family here, what an incredible thing that would be."
If he's going to do so, he'll have to not only hold off the looming pack of stars, but he'll need to outduel 41-year-old Reavie, who said on Friday that he's playing "as good now as I've ever played." Reavie asked after his third round if he feels like he's playing on the away team with all of Bradley's local support.
"Not really. No, I would expect the fans to root for the hometown guy," he said. "They did it in 2019 when Keegan and I played. Then they were great to me, too. When I hit good shots, they would clap and applaud me as well. So they're great fans. Obviously, they are going to root for the hometown guy, and hopefully I'll be right there with him."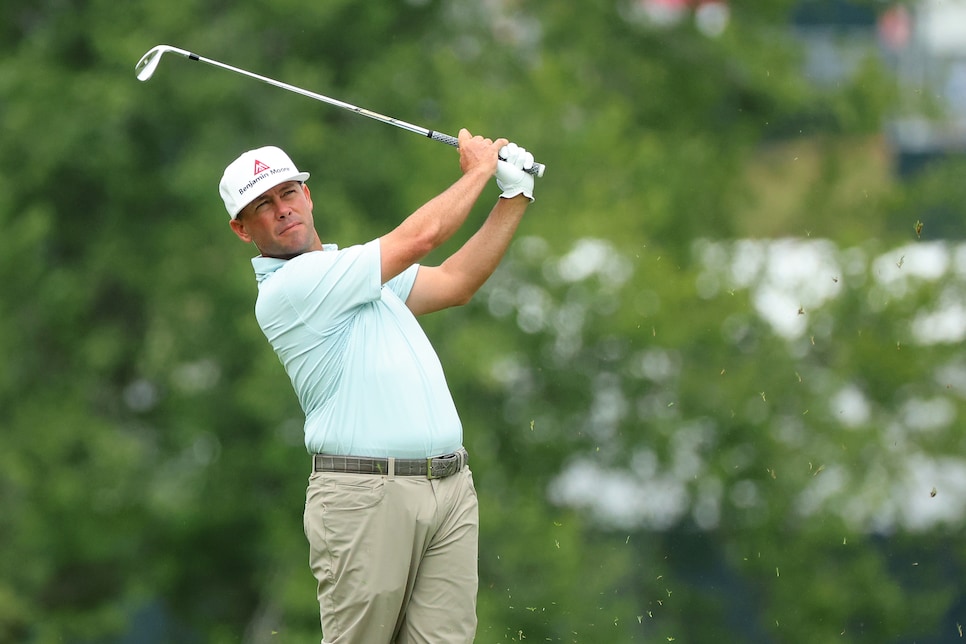 Chez Reavie of the United States plays a second shot on the second hole during the third round of the Travelers Championship.
Stacy Revere
Reavie, who leads the field in strokes gained/putting this week, is looking for his fifth tour victory and first since last summer's Barracuda Championship. For a guy who waited 11 years between his first and second wins, it's a late-career push as he looks to win his second Travelers Championship title. If he's to convert on Sunday, however, he'll need to do it in a different fashion. When he won in 2019, he held a six-shot lead heading into the final round, eventually holding off Bradley, coincidentally, to win by four.
With Bradley at 21 under, Reavie at 20 and the closest pursuer, Cantlay, well back at 16 under, Sunday could shape into a duel between two guys who openly concede they're playing the best golf of their lives. A day after Reavie made such an admission, Bradley said, "This is about as good as I've ever played. This week, I would say."
Though should they fail to keep up their torrid pace, a slew of stars waits. Fueled in part by the ardent support of the fans, who lined some of the bigger groups four and five deep, Cantlay, Fowler, Thomas and Scheffler made up some ground on the leaders on Saturday. Perhaps not as much as you'd expect for four rounds in the low 60s, but they are within striking distance, nonetheless.
Whether it's the hometown hero, the plotting past champ or one of the marquee names who charges to victory on Sunday, the Connecticut fans have all the compelling storylines you'd expect at a designated event.