59 Watch
After U.S. Open heartbreak, Rickie Fowler threatens 59 in Travelers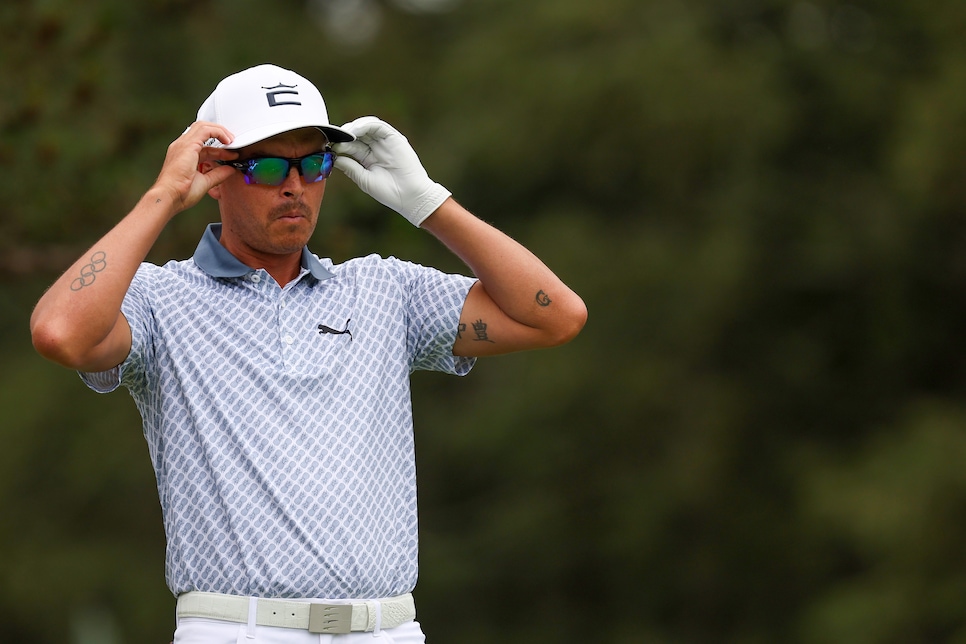 Rickie Fowler waits on the fifth tee during the third round of the Travelers Championship.
Patrick Smith
CROMWELL, Conn. — Perhaps it was just a speed bump after all. That's how Butch Harmon described Rickie Fowler's final-round 75 at last week's U.S. Open, where he entered Sunday in a share of the lead. Less than a week later at the Travelers Championship, Fowler came to about a foot from being the 12th player to go sub-60 on the PGA Tour, instead settling for a third-round 60 to bolt into contention.
At TPC River Highlands, Fowler started on the 10th hole on a rainy Saturday morning at five under and in a tie for 41st, 10 shots back of the lead. He would make his first of eight birdies at the par-4 12th, where he spun a fairway bunker shot back 30 feet before rolling in the seven-footer. Fowler two-putted for birdie at the par-5 13th and the drivable 15th (the latter from off the green) before quality wedge shots to inside 15 feet set up two more on 17 and 18. After making the turn in five-under 30, the magic number first popped into Fowler's head.
"After birdieing 18 I knew I could potentially get six on the front," Fowler said. "Especially after birdieing 1 and 2, my 10th and 11th. Seven under through 11 is a pretty good spot to be in."
With a trio of pars on three of the most difficult holes at River Highlands, Fowler was thinking "birdie the last four." He did one better at the par-5 sixth, where he holed his eagle chip to get to nine under on the round at the par-70 layout. He needed to play his final three holes in two under to shoot the second-ever round in the 50s at the gettable 6,800-yard course. In 2016, Jim Furyk shot 58 at River Highlands, the lowest-ever round on the PGA Tour.
Fowler, whose last of his five PGA Tour victories came at the 2019 WM Phoenix Open, added another birdie on the par-3 eighth, rolling in a downright right-to-left seven footer to keep his 59 hopes alive heading to his final hole of the day.
When he struck his 126-yard approach on the ninth, he thought he had stuffed it in tight to clinch the historic round.
"It started right where it landed and we had, not windy [conditions], but it's blowing between five to 10 out there, so I thought the ball was going to drift a few yards," Fowler said. "Thought it was going to come down right on the stick. … I hit a great shot; executed what I wanted to. If I went back out in the same conditions, I would've told you this is where I want to start it and it should move to the hole; it just didn't.
His ball stayed right, leaving a short but delicate chip from just 13 feet, which he left a foot short, leaving a tap-in for his lowest-ever round on tour. Fowler's previous low round was a 62, which he shot in Phoenix in 2011 and of course in last week's opening round at Los Angeles Country Club.
When Fowler finished his round, he'd had moved inside the top five, and though he'll likely start the final round a few shots back, he will have an opportunity to deliver on Harmon's prophecy. "He'll win this year," Harmon told Golf Digest after the U.S. Open. Harmon was right about the speed bump, and there's no reason to think he isn't right again.