Instruction
Why Butch Harmon thinks Rickie Fowler will be better than ever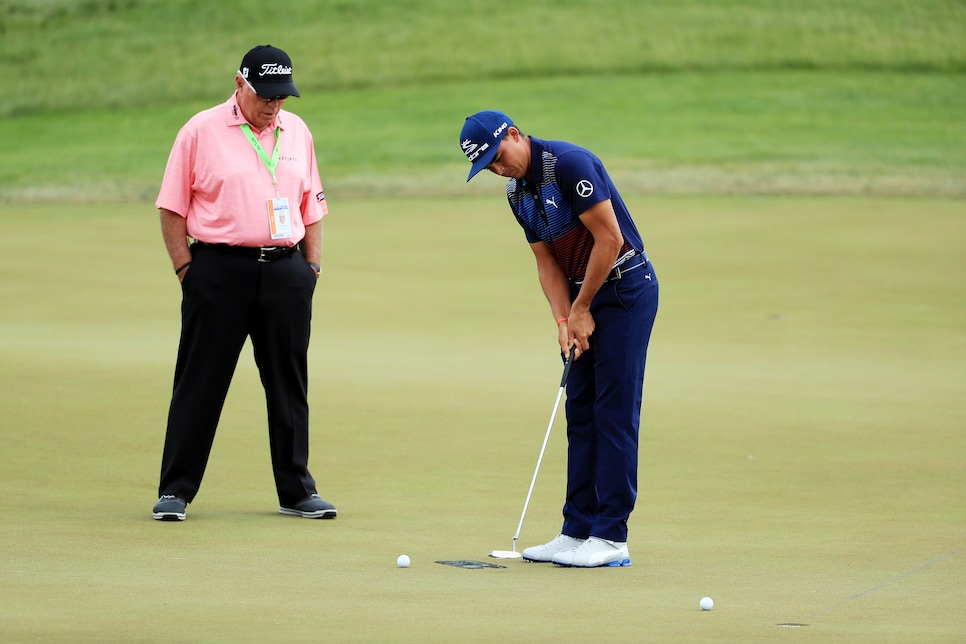 That's how Butch Harmon characterized the final-round 75 that his new-again student Rickie Fowler shot on Sunday at the U.S. Open. As infectiously positive as Harmon is as a teacher, you wouldn't think there was much good to say about how Fowler limped in at the Open, going from a share of the 54-hole lead to finishing five shots behind breakout winner Wyndham Clark. But Harmon wasn't changing his tune.
"It wasn't the day he wanted, but he put himself in position, and he'll learn from this and use it," Harmon says. "It's just a speed bump in his career, and it'll help him. It shows how far he's come but that he still has work to do. He can get better."
Not that long ago, Fowler had a knack for climbing leaderboards in major championships. In 2014, he finished top five in all four majors, and overall, he has had 12 top-10s. But Fowler's game started slipping in 2019, the year Harmon, then 76, stopped traveling to tour events. They agreed that Fowler should seek out a teacher who could be with him on a regular basis. It was an amicable split, but there was always a sense of unfinished business.
For the next three years, Fowler's struggles snowballed, and he dropped as low as 185th in the World Golf Ranking (from a career high of fourth in 2016). He was plagued by old swing habits, including a flat, laid-off backswing and a quick tempo that can drop the club behind him on the downswing, leading to big misses to the right.
Some of those mistakes showed up again on Sunday at Los Angeles Country Club, along with a shaky putter that was rock-solid during the first three rounds. But the work and persistence that got him into the final pairing on Sunday should not be overlooked, according to Harmon.
"When Rickie went through his bad stretch, it was brutal to watch," Harmon says. "I knew how good he could be, but his swing wasn't producing. After a while, he lost his confidence, too. But he never wavered as a person, signing all the autographs and giving his time. If the world was full of Rickie Fowlers, it would be one hell of a place."
It seems Fowler had to hit bottom before realizing what he needed. Last November, he asked Harmon if he would help him again with his game. "I was overjoyed," Harmon says. "It had to be his decision, and when we started, I knew right away we could make fast progress."
At first, their renewed relationship consisted mostly of swing videos over text and talking on the phone. Harmon's brother Craig is a member at the Medalist Golf Club in Hobe Sound, Fla., where Fowler practices and plays. Craig would keep an eye on him and report back to Butch on how Fowler was swinging and the results he was getting. A Harmon two-for-one.
"After a while, Rickie started coming out to Vegas to see me," Harmon says, "and we could both see the path back—even better than before. Golf is a cruel game, and sometimes those bad times, if you can get through them, really help you going forward."
Harmon says they didn't have to reinvent Fowler's swing. What they did was exaggerate some of the moves they'd worked on during their first stint together. Things like creating more hip rotation on the backswing, turning his chest back over his right knee, and getting his arm plane more upright at the top. "Once we got his backswing in a better position, he could be athletic and use that great speed he has through the ball."
But Harmon knows that improvement isn't a straight line. "I always say, 'Bad shots are part of the process,' and we saw some of that in the final round. Rickie hasn't felt that kind of major-championship pressure in a while, so this is a very positive step. He'll win this year, maybe more than once. Maybe at Hoylake (at the Open Championship next month)."
And that's exactly what Harmon texted Fowler in the minutes after the U.S. Open ended. His performance proved that his swing is working, that his confidence can be high again, that he belongs with the best players in the world. He didn't win the Open, but this disappointment might be the necessary next piece in the comeback of Rickie Fowler.