Honda Classic
Kamaiu Johnson is learning some hard lessons at golf's top level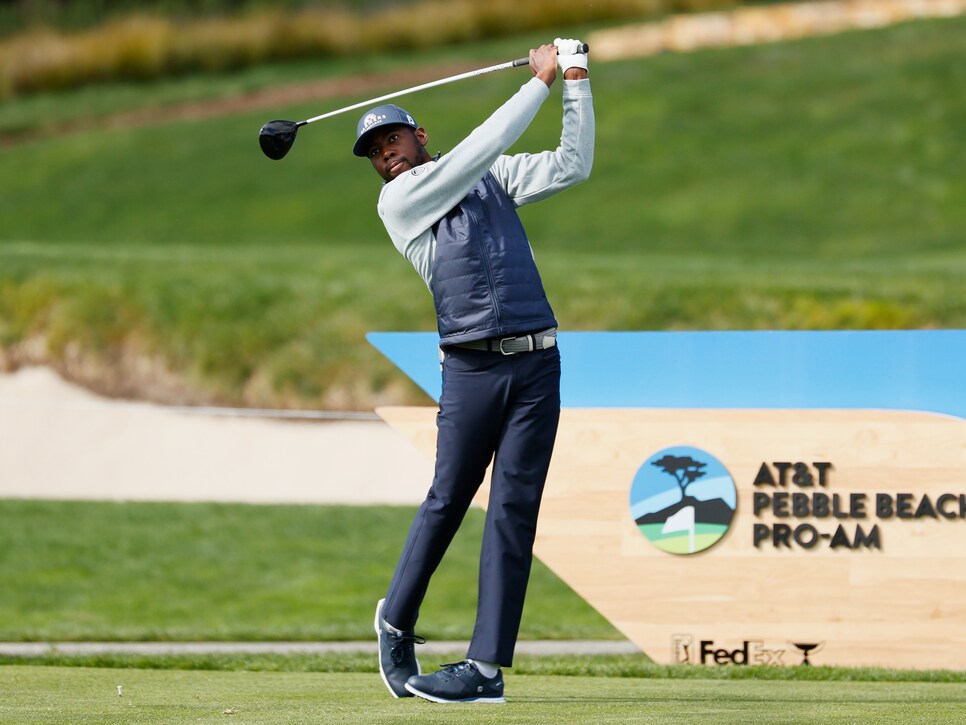 Kamaiu Johnson tees of on the fourth hole during the second round of the AT&T Pebble Beach Pro-Am.
Steph Chambers
Kamaiu Johnson's first start on the PGA Tour didn't end up being that—he tested positive for COVID-19 and had to withdraw from the Farmers Insurance Open in January before ever hitting any shots. Two weeks later, at the AT&T Pebble Beach Pro-Am, his actual debut didn't go much better. He shot 81 in the opening round at Spyglass Hill and then 77 at Pebble Beach in the second to miss the cut.
Bad days happen, but every day on a golf course is a good one for Johnson, the formerly homeless, now-27-year-old who has spent most of the last decade toiling on mini-tours, including the Advocates Pro Golf Association.
Launched in 2010 as a way to create playing opportunities for minorities, the APGA has provided not just a steppingstone for Johnson and others by recently partnering with the PGA Tour, but a platform to help share his remarkable story. For that, and the sponsor exemptions that have ensued, including this week in the Honda Classic, Johnson is eternally thankful.
But the APGA Tour is not the PGA Tour.
Though they play tournaments at some of the same venues, everything from the makeup of the fields to the setup of the courses differs significantly. While Johnson has won a handful of times on the APGA, things have been much rougher in his few appearances on the big tour—in his most recent start two weeks ago at the Arnold Palmer Invitational, he shot 84-79 at Bay Hill.
"It's probably overpreparation," Johnson said when asked what his biggest challenge thus far has been. "I'm playing the two hardest golf courses on the PGA Tour my first two starts, so it's just really getting comfortable and really just believing in yourself and realizing that you can play out here. If you can hit a drive 300 yards at another golf course, you can hit it 300 yards here. If you can chip it close anywhere else, you can chip it close here. It's really just believing and being comfortable."
Locating that comfort, though, can be about as easy as finding a ball in the woods. Now comes another exemption at the notoriously punishing PGA National.
"It's been very difficult," Johnson continued. "I got down on myself when I shot the scores that I shot at Bay Hill. I was really disappointed in myself because that's just not who I am. It's not who I am as a golfer. So it's just been about just getting back to what I used to do last summer. I had one of the best summers I ever had in my golfing career. I only shot two rounds over par all summer in 25 events."
But world-class fields and tough, unfamiliar golf courses haven't been the only obstacles. In a word, Johnson said all of the attention that spawned from the telling of his journey has been a "zoo."
On one end of the spectrum, there have been some people—on social media in particular—who have questioned whether he deserves the opportunities that have been afforded him, suggesting that Johnson is some sort of token charity case, their ammunition the handful of high scores he has posted. But numbers on a card only tell part of the story on a particular day and are hardly defining of the person writing them down.
"Some of the comments I've seen have been that he hasn't earned it and that he's only getting exemptions because of the color of his skin," said Jan Auger, the woman who helped Johnson take up golf at a Tallahassee, Fla., muny, Haliman Golf Course, years ago. "Well, define earn it for me? He came from nothing."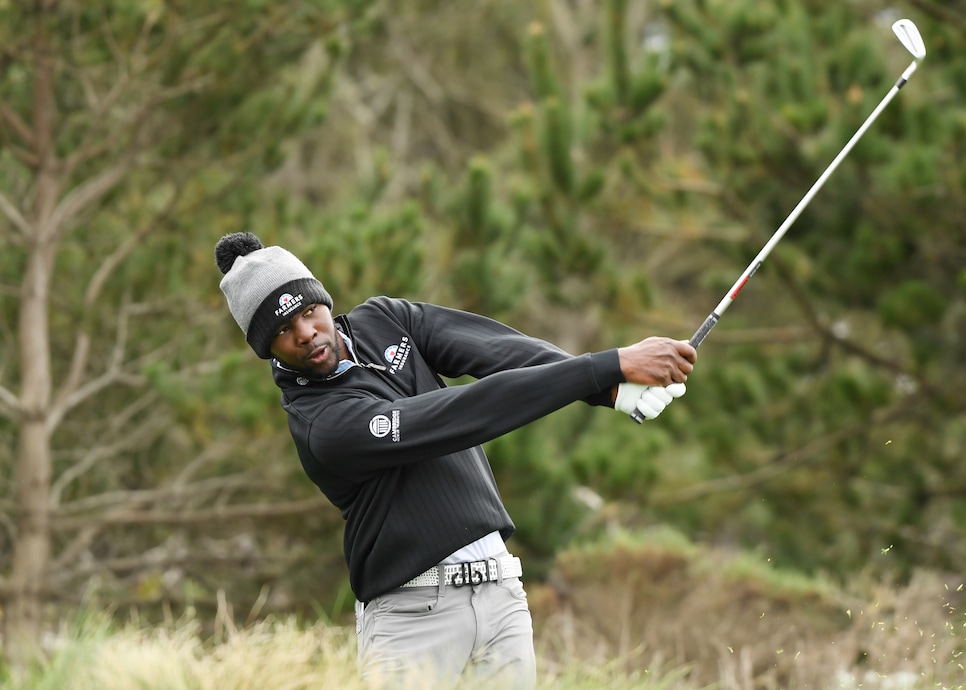 Kamaiu Johnson plays his shot from the third tee during the first round of the AT&T Pebble Beach Pro-Am at Spyglass Hill Golf Course.
Harry how
On the other end, there are things Johnson is still figuring out, on the course and off it.
Before playing at Bay Hill, he went to a local dealership to buy a car. A deal was reportedly in place beforehand but had for some reason fallen through once he arrived. The experience was eye-opening and annoying, to the point where Johnson uttered aloud that he wasn't leaving the lot that day until he bought car. It was music to the ears of the salesman, who also informed Johnson that it wasn't the best strategy when trying to haggle for a deal.
"He's like my son," Auger said. "He's still so young."
And newer to him still is the journey of trying to navigate the highest levels of professional golf, however limited the opportunities may be, and all that goes with it. From the attention suddenly heaped upon him, to the physical demands of the job, to the expectations put on him by both himself and those closest to him, the curve has been steep.
"It's honestly getting used to just getting pulled different ways," Johnson said. "But to whom much is given, much is required."
After the missed cut at Pebble Beach, Johnson confided in Auger that he couldn't believe how hard the tour is. Before, he'd talked confidently about making the cut. After, he realized how far he still has to go.
Then there are the extraneous forces of friends and family, many of whom were unfamiliar with the difference between being able to win the Tallahassee Open and the AT&T Pebble Beach Pro-Am or Arnold Palmer Invitational.
"He has a lot of people saying a lot of different things to him," Auger said. "It's hard for him. People at home who love him and see him as a great player in Tallahassee think that translates to the tour. He'll make a triple bogey and they'll call and ask if he's hurt. That puts pressure on him.
"But he realizes that you just don't walk onto the PGA Tour. They're the best players in the world and you have thousands of players trying to just get to the Korn Ferry Tour, never mind the PGA Tour."
Which explains why Johnson sometimes isn't quick to respond to messages from back home. His focus often has to remain singular.
He has also started to build a small but trusted circle around him, leaning on a former PGA Tour media official to handle a steady stream of media inquiries and a trainer to get his body in shape for the rigors of a full schedule of events scattered across multiple tours. Then there is his caddie for this week at PGA National, Andy Walker, the men's golf coach at nearby Lynn University.
"He's played this golf course millions of times," Johnson said. "I'm excited to have him on the bag this week for sure."
Johnson is just as optimistic about his future, despite his recent struggles and the uncertainty that remains with limited sponsor exemptions and a piecemeal schedule of mini-tour events and a Korn Ferry Tour start in April.
Making it to the PGA Tour remains the goal. But the message and the journey are just as important; showing that it is possible to make it that and there's more than one way to do it.
"I told myself all I ever wanted to do was to be an inspiration," Johnson said. "And I feel like I can do that now."
Auger, who has been there from the beginning and was on her way from Tallahassee to PGA National to watch Johnson this week, is equally sanguine about his prospects, in life and in golf. From the first time she saw the spindly teen swinging a stick near his apartment adjacent the golf course, she sensed something special about him.
Once she got to know Johnson, she was sold. Others have been, too.
"I think people are paying attention to him because of the way he communicates the message," she said. "He can speak to minorities that don't come from money, and he can speak to people who do. That's what attractive about him."
Now that his story has been told, what now for Johnson?
"I'm not sure we know where this road will head for him," Auger said. "The hope is ultimately the PGA Tour or Korn Ferry Tour, but he's hoping his voice helps change lives."