News & Tours
Kamaiu Johnson talks about COVID-19, how his mom is doing and exemptions for Pebble and Honda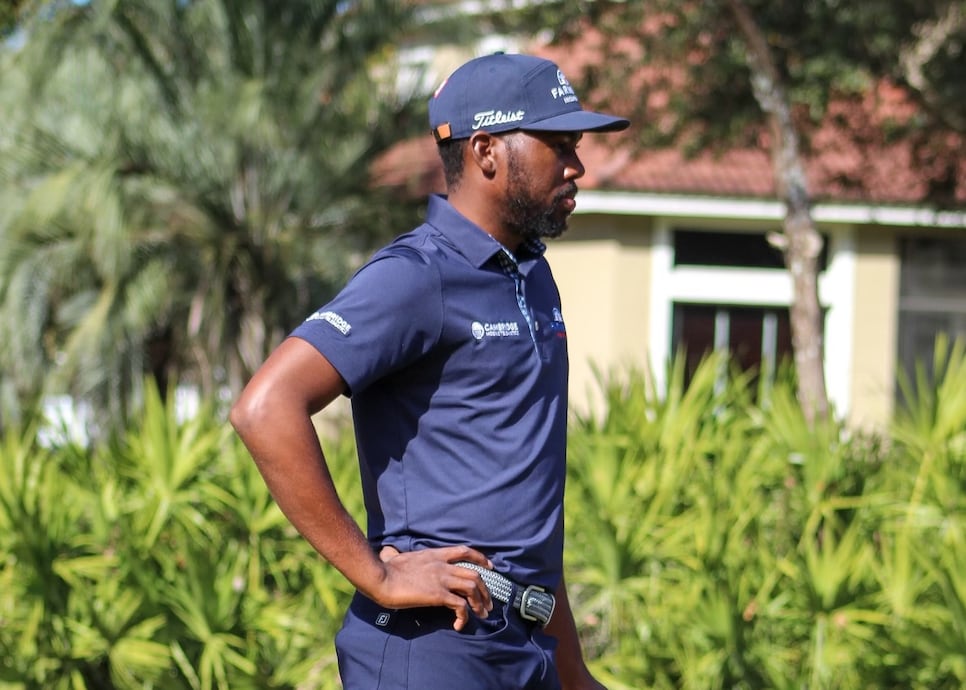 SAN DIEGO — They were the hardest few days of Kamaiu Johnson's life, followed by a time of utter relief and joy.
On Tuesday, Johnson had to withdraw from his PGA Tour debut in the Farmers Insurance Open due to a positive COVID-19 test. For the better part of the next two days, he said, he openly wept as he quarantined in a local hotel room—not only for the loss of the opportunity, but more gravely, because his mother, Angela, had been rushed to the hospital because of COVID.
Three days later, Johnson's emotions were bordering on euphoria. On a call with reporters Friday, Johnson, 27, said his mother is showing improvement and that he's spoken to her on the phone a couple of times. And his professional golf prospects are soaring again, with exemptions coming from the Honda Classic and the AT&T Pebble Beach Pro-Am—the latter made official on Friday.
"Good news after good news," Johnson said.
"I'm so excited, overwhelmed. It's just an amazing feeling. I really can't explain the turn of events. It happened so fast. Starting this week I thought I was going to get my first PGA Tour event. God had other plans. I'm just so thankful for the support I've gotten over these past five days."
Johnson, who has toiled on smaller professional tours for the better part of a decade, said he's heard from a number of notable people in the game, though his favorite bit of encouragement came from the rapper Macklemore.
Johnson said he had one "tough" night several days ago of feeling ill, but is back to "100 percent" and has been working out and doing putting drills in his hotel room.
His mother remains in a hospital in Oviedo, Fla., outside Orlando, but Johnson said doctors have told him she was improving after contracting pneumonia because of the virus. She also has an underlying condition of lupus, he said, and he admitted that he was so worried about her that his instinct was to leave his quarantine and try to get home to her.
"You've seen everything happen to people's families over the past year when they have pre-existing conditions," Johnson said. "It's not good. I need to see my mom. My mom might not be here when I get home."
He stayed put and is thankful his mom is recovering.
Johnson, who dropped out school in eighth grade and eventually earned his GED, grew up outside of Tallahassee, Fla., and was introduced to the game as a teenager by the Jan Auger, the general manager of Haliman Golf Course. He's won numerous lower-level pro events and plays on several mini-tours, but after getting a paid endorsement deal with Farmers Insurance and winning the 2020 Advocates Professional Golf Association Tour Championship, he got a sponsor's exemption into the Farmers, and this week was to be his debut on the big stage. When he learned he'd have to withdraw, his was crushed.
"I was devastated," he said. "I just cried. I was on the phone with [friend and representative] Chris Reimer for an hour and I just cried. He told me to let it out."
The illness has somehow turned into a blessing. Simply grateful for his opportunity to play at Torrey Pines, Johnson hadn't asked other tournaments for exemptions. So the calls with invites from Honda and Pebble Beach were a stunning surprise.
"This is absolutely happening in the aftermath of what happened," Johnson said. "I had no clue. I have a great team around me. They told me to stay patient, that good things come to those who wait. It's amazing what's happened in the last 48 hours. It's absolutely amazing."