International Crown
Jutanugarn sisters star in a perfect opener for Thailand in the International Crown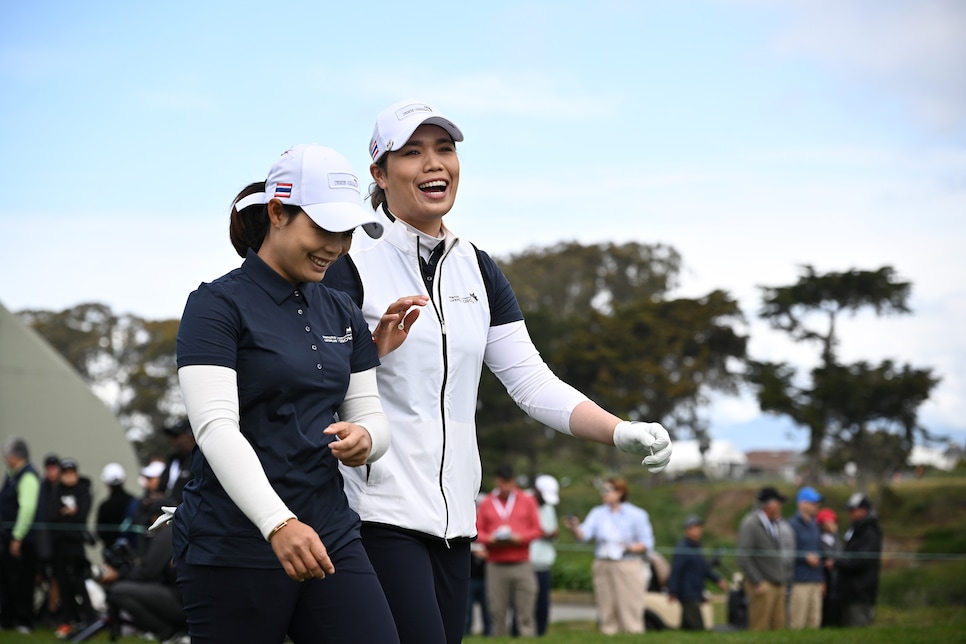 SAN FRANCISCO — Experience delivered for sisters Ariya and Moriya Jutanugarn on the first day of the Hanwha Lifeplus International Crown. In a match against Japan's Nasa Hataoka, 15th in the Rolex Women's World Rankings, and Hinako Shibuno, 39th in the world rankings, the Jutanugarn tandem won, 2 up, in a closely contested battle at TPC Harding Park. They took care of their part of Thailand's first-day sweep, earning two points going into Friday.
It's the Jutanguarns' sixth match together over four Crowns, the only tandem in the field to play in every edition of the team match-play tournament. They've gone 3-2-1 dating to 2014.
"It's always fun, of course, and match play, and also got to play along with my sister and trying to help each other sometimes and not really helping sometimes as well," Moriya Jutanugarn said.
Their camaraderie emanated as soon as they emerged on the first tee. Ariya friendly tapped Moriya's elbow as they walked side-by-side towards the photo announcing the match. Throughout the round, they talked more with each other one-on-one than with their caddies.
"They're both really intelligent when it comes to golf," Ariya's caddie David Eller said. "So it's nice actually just to sit back and kind of watch them do their thing. And today, they did a great job of that."
Moriya carried the team early. The steady, consistent older sister had putts for the win on the first four holes. She helped the team get the quick lead with an eight-foot birdie putt on the par-3 second.
The third marked the first example of their experience coming together. Despite Moriya being 20 yards ahead of Ariya off the tee on the par 5, she went first from the fairway. Her 3-wood from the fairway reached greenside, allowing Ariya to be more aggressive from a difficult rough lie. Eller noted that the duo made other similar-style decisions that worked for them Thursday.
On the par-5 fifth, Moriya's drive found the Cypress trees draping the left side of the fairway. It nestled in its newfound home, never succumbing to the forces of gravity to drop into the rough. Typically, players would head back to the tee to hit another. But after her time searching for her ball expired, her big sister instincts took over.
"I don't want to leave her," Moriya said before deciding to hit a second tee shot. After she picked up, Japan won the hole.
Moriya won the seventh, her last of the day until a concession on the 18th.
Ariya delivered from there.
The 10-time LPGA winner scuttled early, missing fairways with her 3-wood off the tee. The younger sister continues to not carry a driver in her bag even with TPC Harding Park's 6,450-yard setup. But following a challenging 2022, where her world ranking slipped from No. 23 to No. 82, she learned patience, improving herself, and always being proud of who she is. Her newfound wisdom to approaching problems helps simplify challenges for her.
"If you take it easy, it's easy," Ariya said. "If you take it hard, it's hard."
On the par-3 ninth, she drilled a 25-foot sharp right to left breaking putt for a birdie to take a one-up lead. Nary a muscle moved on her face outside of a subtle nod as she eyed her sister while picking the ball out of the cup. Her laser-focus run carried through the 11th, where she birdied again for Thailand's first two-up lead of the match.
Hataoka and Shibuno would never be tied again with the Jutanugarns for the rest of the match.
Ariya's performance is representative of her up-and-down 2023. She's posted three top 20 finishes and two missed cuts over seven starts.
Watching Ariya's takeover stretch Thursday, where the shades of the former World No. 1 emerged, gives Eller faith she can start to reclaim that talent consistently.
"I know she's very relaxed, and she's eager to get back to her past form on the LPGA Tour, and I think days like today where she can go out there and relax and have fun, just help her get there," Eller said.
Jutanugarn is putting in her due diligence on her game as well. Along with working with performance coaches Pia Nilsson and Lynn Marriott of Vision54, she started working with Sean Foley to keep her takeaway more in front of her and less inside.
But the most essential step to consistently returning to the top of tour leaderboards may be her life philosophy of dealing with judgment from others tempered by the recent downward trend of her career.
"I understand life more, not only myself, but this world is always going to be like this," Jutanugarn said. "People going to judge you even if you have a good day. People even going judge you more when you have a bad day. They're going to judge when you play sh--. They're going to have opinions when you play well, but everything is not about you.
"You only need to focus about yourself, like who you want to be, what is good for you. And at the end of the day, the only thing important is people around you who love you and don't care who you are, don't care what ranking you are. That's the meaning of life."