INTERNATIONAL CROWN
Remaining English members fuming that Georgia Hall and Charley Hull bailed on them at last possible moment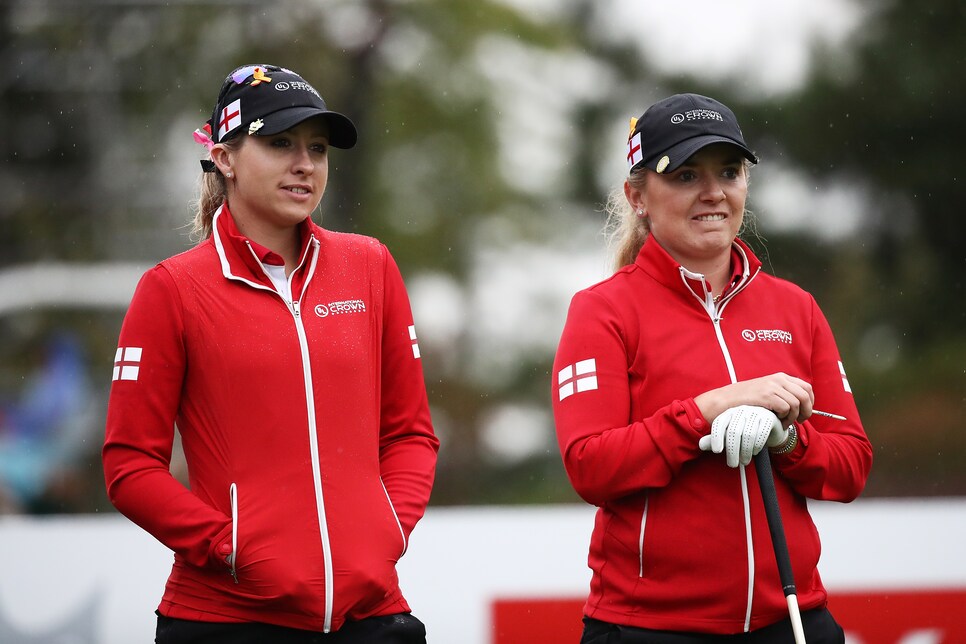 Jodi Ewart Shadoff (left) and Bronte Law team together on Day 2 of the 2018 International Crown at Jack Nicklaus Golf Club in Incheon, South Korea.
Chung Sung-Jun
The top two players from England in the Rolex Women's World Rankings did not reach out to their remaining teammates, Bronte Law and Jodi Ewart Shadoff, leading to a palpable hot temperature during their first interview.
"I think anyone with some level of decency would send their teammates a message that they weren't coming, not find out from other players on tour who have heard things from them saying things at the tournament last week," Law said. "I don't think that that's a lot to ask for."
Neither Jodi Ewart Shadoff nor Law hesitated to explain their frustration with their country women, with whom they teamed in the 2018 version of this event in South Korea.
"Obviously, it's disappointing, especially to come so late," Ewart Shadoff said. "I'm sure it's disappointing mainly for Hanwha [title sponsor of the event]. I think what they've done for the tournament and to bring it back, we're all just really grateful to be here.
Ewart Shadoff, the 2022 Mediheal Championship winner, explained that she built the early part of her schedule around this event, an eight-team match-play competition held for the fourth time. Even though the 35-year-old has been in the United States for most of her playing career, she still feels immense pride representing England.
Neither she nor Law had heard from Hull or Hall until Hull reached out to apologize to Law on Tuesday. Hall, according to Law, still hasn't contacted either of her former Solheim teammates.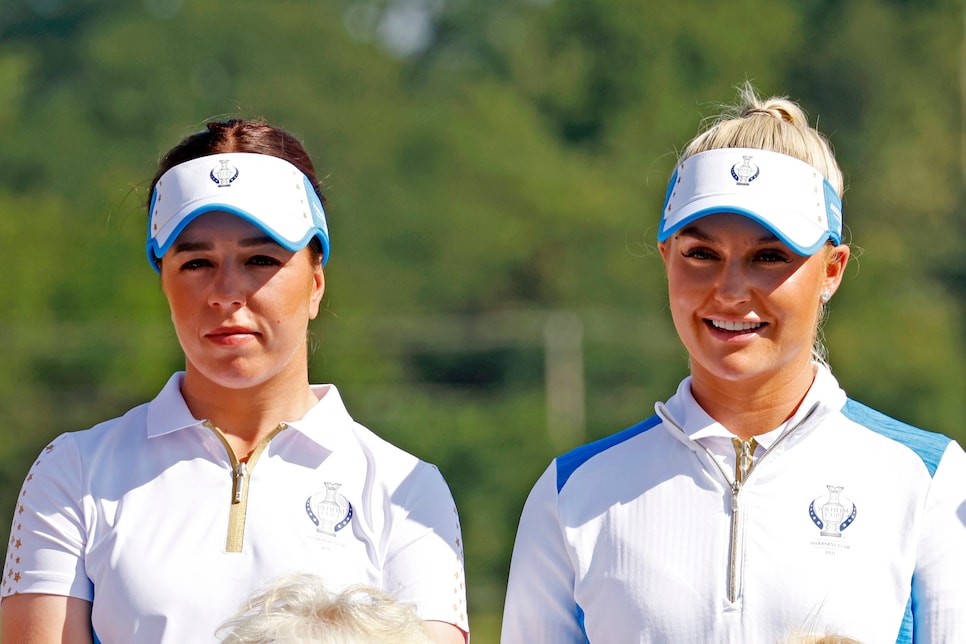 Georgia Hall (left) and Charley Hull pose during a team photo during a practice round before the 2021 Solheim Cup at Inverness Club in Toledo, Ohio.
Icon Sportswire
The news trickled over to England at the crack of dawn to Hewson and Young, who had to scurry to get to TPC Harding Park. Both were at home in England—Young found at 6 a.m. and Hewson got a marginal head start because she read her message at 2 a.m.
"I read it and I was like, really," Young said. "Then I woke my husband up, and I was like, 'read that. What does that say?' Just to make sure."
Both arrived late Monday and played TPC Harding Park for the first time as the team, sorting through how to approach the week given the team's challenges. This week is both Hewson and Young's first stateside LPGA event.
"I'm going to just give everything I've got to play for England and give myself as many opportunities as I possibly can out there," Hewson said.
A final patriotic roar concluded Law's answers, speaking with pride to be on the team with her three compatriots.
"It's more important to have teammates that feel that way and want to be here than anything else," Law said, "and that's why having them here is going to be the best thing for Team England this week."