Rules
'Worth a shot': Official shoots down Justin Thomas' Hail Mary rules ask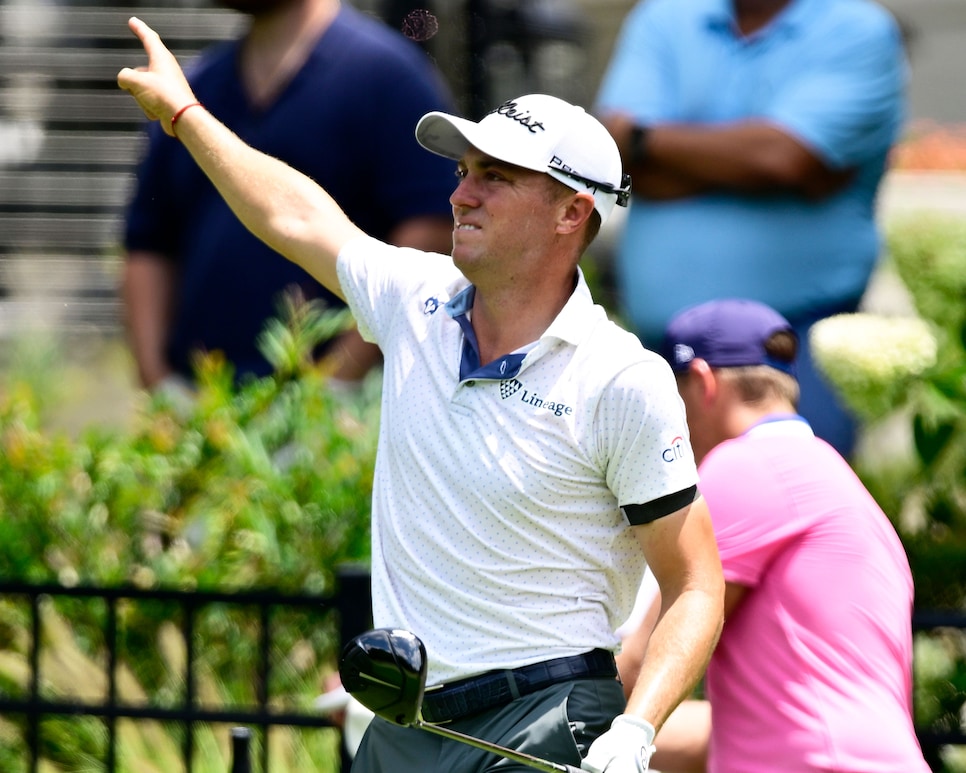 Justin Thomas reacts to his wayward drive on the ninth hole that set in motion an interesting rules debate.
Logan Whitton
Thomas, as you are likely aware, is one of those players who needs an impressive finish at the Wyndham (no worse than solo 18th and more likely a three-way tie for fourth) to keep his season going. But on the par-4 ninth hole, when his drive wound up under a tree well right of the fairway, the potential for a big number loomed. Assessing his next shot, though, Thomas saw there was scoreboard between his ball and the green and decided it was worth talking to a rules official to see if potentially he could use the Rules of Golf to his advantage and get a free drop that could help him make sure the hole didn't turn into a disaster.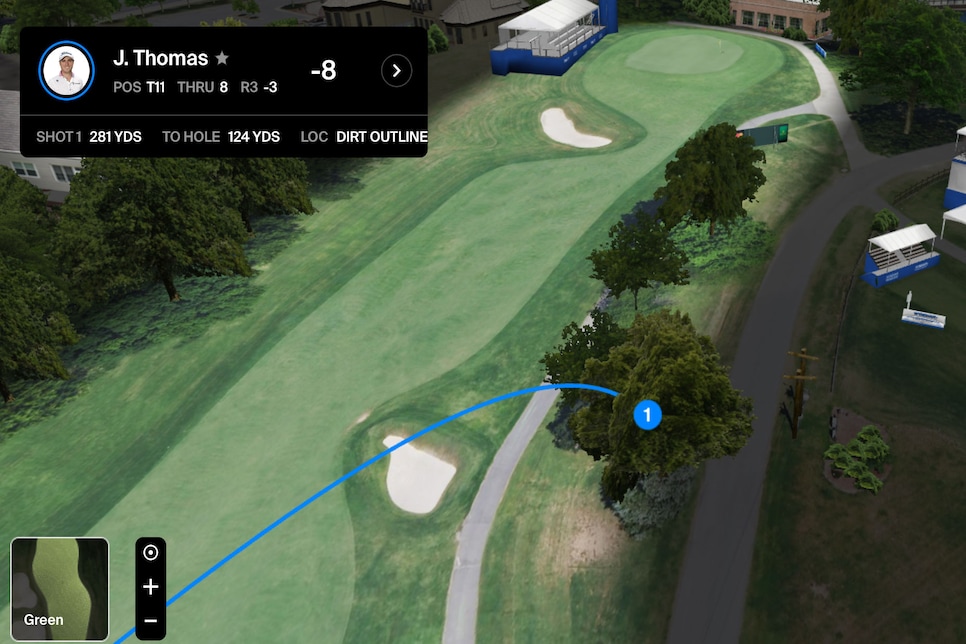 Enter PGA Tour rules official Pete Lis, who listened to Thomas' argument for why he should be given relief from the temporary immovable obstruction. The rules state that relief can be granted if the TIO is in line between the ball and the green. Additionally, however, the player also needs to be able to get the ball from where it lies on a direct line to the hole whether the scoreboard/TIO is there or not.
As Lis listened to Thomas, he acknowledged the scoreboard was on the direct line, but didn't think Thomas could play his shot on that direct line because of where his ball was positioned near the tree.
"It doesn't look to me like you can get the ball to finish—with this tree here—to get the ball to finish on a direct line between you and the hole right now," Lis could be heard on the Golf Channel mics saying to Thomas.
As the debate continued, Lis reiterated his belief that where his ball lied at that moment, there wasn't a direct line to the green, regardless of where the scoreboard was. The tree was more the issue.
"Yeah, I feel like you're not understanding what I'm saying," Thomas said at one point regarding the scoreboard. Lis then replied: "I do, but it's not in your line of play right now. The scoreboard, based on where you have to play and getting the ball to finish on a direct line to the hole, it's not in your line of play."
With Lis not budging, Thomas proceeded to punch his ball out to the left of the tree. It did lead to an eventual bogey, but not the blowout score that could have ruined the round and his Playoff bid. Thomas ultimately finished with a four-under 66 that left him tied for 11th heading into the final round, nine shots back of co-leaders Billy Horschel and Lucas Glover.
Interestingly, after the round, Thomas didn't sound all that upset with the ultimate ruling, even acknowledging that relief was an unlikely outcome.
"I fully … it's one of those, like you get rulings sometimes where you almost feel bad that it's happening, and I truly felt like that was going to be one of those scenarios," Thomas said. "It's just weird. It was between me and the hole and I just had situations before where stuff like that's happened. It's not necessarily in your way, but because it's between you, you get relief. It was just because the tree was there. It was one of those things like you kind of have your tail tucked between your legs asking for relief because it would only happen in a situation like this.
"But at the same time, I'm always going to ask because you never know, I could have gotten a drop and would have been able to hit on the green. So worth a shot."