Rules
The 9-minute tour ruling that would have set off a brawl at your local muni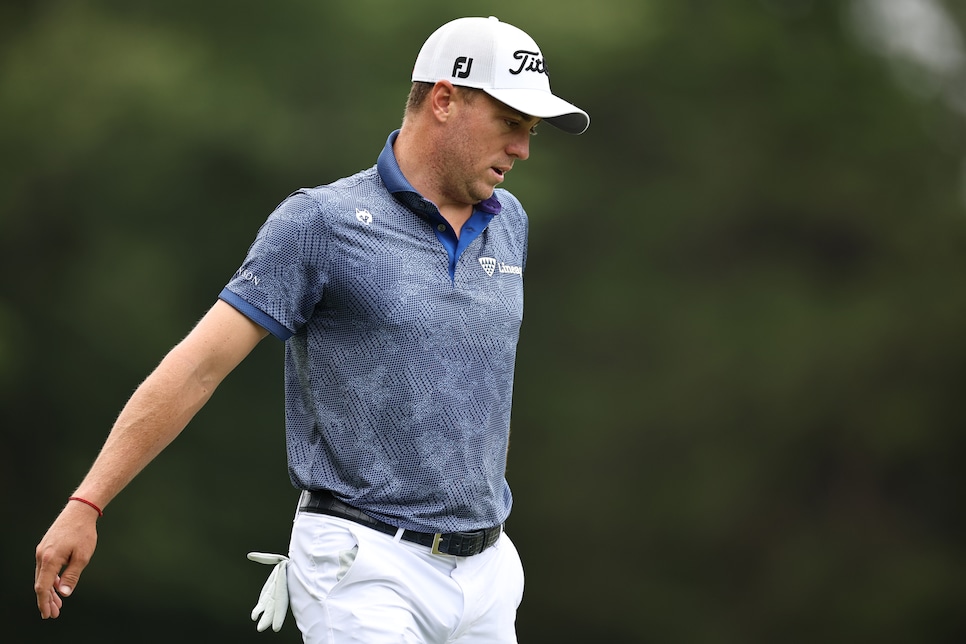 Justin Thomas is playing on the playoffs bubble during the Wyndham Championship.
Jared C. Tilton
Not that they don't take the rules seriously all of the time, but this wasn't just any old ruling for Adam Scott and Justin Thomas on Friday in the Wyndham Championship. Both men were battling to get inside the top 70 in points at the end of the week to advance to the FedEx Cup Playoffs. When they arrived at the eighth hole at Sedgefield Country Club in the second round, Scott was contending near the top of the board, while Thomas was right on the cutline of two under.
Neither could afford a bad mistake, but both produced one when they hooked their tee shots into a creek near a stone bridge left of the fairway on the short par 4. When the broadcast got back to them, Scott and Thomas seemed to have the situation under control when they'd placed their tees in the ground in order to take penalty drops. But then Scott wasn't comfortable with where he had to drop closer to the left fringe or rough, and they called for PGA Tour rules official Ken Tackett for clarification.
In what turned out to be a calm and cordial nine-minute debate that felt like far longer, Scott contended that both players' shots hooked into the creek. And with the way the creek is shaped, a drop straight back from the point of entry put them in the fairway for what would be their third shots.
Again, to their credit for wanting to get it right, they even called over the third player in their group. Shane Lowry, from his safely placed tee ball on the right, to get further confirmation. The Irishman became the no-nonsense judge and jury, and quickly agreed with his peers' thoughts on where the entry point likely was. Everyone was then good and Thomas thanked Lowry, who thew up his hands quipped to laughter, "Thanks for making me walk 150 yards."
Lowry was rewarded for his service by making a birdie, but Scott and Thomas didn't fare as well. They both had makeable par putts but missed them low. Scott dropped six shots off the lead of Russell Henley and Thomas fell to one stroke outside the cut that he desperately needed to make if there is to be any rally into the playoffs.
Total time spent for the group to play the little par 4: 18 minutes. And if that happened in front of any of us on a Saturday at the local muni, we'd be doing another post on a fistfight, for sure.