News
The PGA Tour is back, Justin Thomas is really good, and three other takeaways from Day 1 of the Sentry Tournament of Champions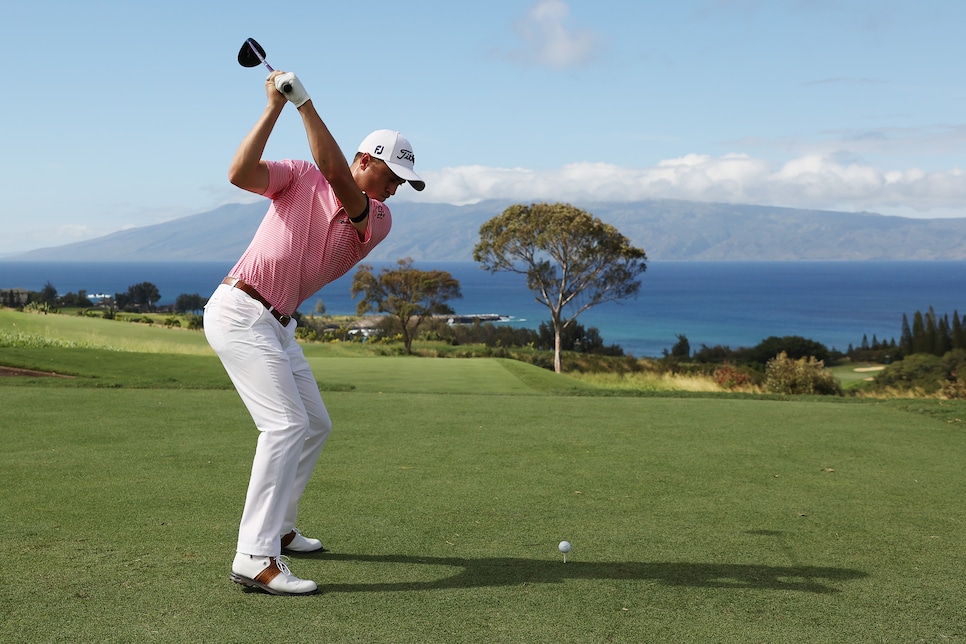 For golf fans, the wait lasted 32 days and four hours.
The Mayakoba Classic, the last official PGA Tour event of 2020, wrapped up with Viktor Hovland's 72nd-hole birdie on Dec. 6. A month and a day later, the tour resumed on a picturesque Thursday at Kapalua's Plantation Course, which seems to specialize in those. And yet, coverage of the Sentry Tournament of Champions didn't begin until a full four hours after the first tee shot was struck—even for those who pay for PGA Tour Live with the express purpose of being able to watch early-round coverage. But that's neither here nor there. This was something like the first day of school, so we'll spare you the groveling.
Harris English set the pace with an eight-under 65—remember, par 73 this week—only to be caught by Justin Thomas, who equaled that score. Robert Streb, Sergio Garcia, Nick Taylor and Ryan Palmer, Sungjae Im and Patrick Reed all posted 67s to sit two back. It's always a birdie fest at Kapalua, and today was no different. Here are five takeaways from the first PGA Tour round of 2021.
This, this felt like the beginning of the golf year
We know, we know, wraparound season and all. And we mean no disrespect to the Safeway Open, which is by all accounts a delightful event. But this is the tournament that always feels like the beginning of the golf season. Maybe it's because most of the big boys tend to show up, with nine of the top 10 in the World Ranking in the field this week. Maybe it's because the bulk of the country is trudging through the short, cold days of winter. Or maybe it's because we still, for better or worse, orient our lives around the Gregorian calendar, and thus we think of golf in terms of years rather than arbitrary 11-month periods.
In any case, being able to sit back, melt into the couch and admire the idyllic beauty of Maui really hit the spot—particularly given the craziness of the past couple days. The colors, the gentle breeze, the sultry tones of Terry Gannon. Golf, we are glad you're back.
Justin Thomas loves himself some Hawaii golf
JT seems to play well everywhere—he's No. 3 in the world, after all—but especially so in the state of Hawaii. Three of his 13 career victories have come there, highlighted by the Sentry-Sony double he pulled off in 2017, which included a 59 in the opening round in Honolulu. Thomas won this event last year and picked up where he left off on Thursday, playing an extremely stress-free round and posting an eight-under 65. He's now a combined 66 under par in his last 17 rounds at the Plantation course, which is decidedly not-terrible.
It's safe to say Charlie Woods didn't get too far in his head at the PNC. On a more serious note, Thomas recently began working with putting coach John Graham, and he's been rolling it really solidly. Given how well he fared last year despite ranking 112th in strokes gained/putting, if he can put at a top-50 level this year … watch out.
Jon Rahm breaks the seal on the new Callaway sticks, plays OK
Equipment changes are always a fun subplot at Kapalua—different guys' contracts always run out at the end of the year, which results in them showing up to Hawaii with new logos on their hats. And, in the more substantive cases, new clubs in their bags.
Such is the case with Jon Rahm, whose TaylorMade deal expired at the end of 2020. He announced a lucrative, multi-year deal with Callaway—the same brand he played while in college at Arizona State—by sharing that he shot 59 in his first round with his new set.
In his first competitive with the new sticks, he played … alright. His lone bogey of the day came courtesy of a gnarly pull-hook that found the hazard left of 17, which is genuinely hard to do given the 100-yard width of that runway. He did make four birdies to finish with a three-under 70. Let's hold off on comparing him to Justin Rose, who left TaylorMade after reaching No. 1 in the world for a disastrous spell with Honma. Sometimes one round is just that: one round. And no driver in the world would have saved him from that snipe on 17.
Hey, DJ, we're not saying we're disappointed, but …
We're not-not disappointed. Because plenty of Tiger's best streaks included months-long breaks, we are absolutely giving him the same treatment. Thus, DJ came into this week on an unreal heater. His last start, of course, was the record-setting win at Augusta, but he also has six top-three finishes in his last seven starts. His form at the end of 2020 led some to believe that he's ready to rip off a dominant season and begin to rack up the majors in his 30s a la Phil Mickelson. So that's why his two-under 71 was a bit of a buzzkill. He's not even close to out of it this week, but he'll need to kick it into gear if he's to keep the top-three streak up. The good news: He certainly knows how.
Some … interesting(?) ... comments from Adam Scott
After shooting five-under 68, the Aussie was asked his thoughts on Xander Schauffele shooting the lowest score at the Tour Championship but not winning the title. His answer included the following: "I think somewhat there's not space for 50 stroke-play events in the calendar year. I mean they can't all be serious, 72-hole events … I think you've got to identify that there's probably 10 or 12 serious events and then the rest is a bit of entertainment."
We understand his point, to an extent—there are a lot of golf tournaments. And his 10 or 12 comment might be true for someone like himself, a major champion with millions upon millions on the bank. But for the guys who are clawing for a card, surely the "rest" of the events are quite serious as well. Scott is one of the better guys on Tour, and we'd wager that he didn't exactly mean he said, but certainly an interesting perspective.