News
Jon Rahm's switch to Callaway equipment is official—here's what you need to know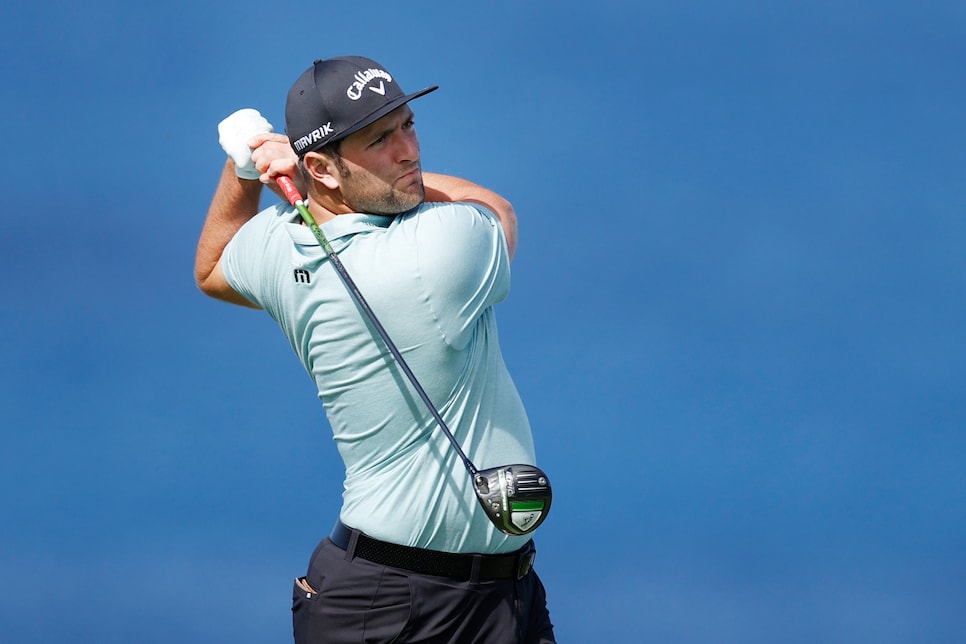 Jon Rahm preps for the Sentry Tournament of Champions on Tuesday as a new member of Callaway's tour staff.
Cliff Hawkins
Jon Rahm is the No. 2 player in the world, winner of five PGA Tour events and six more on the European Tour, and one of the more intriguing players in pro golf. He's also now a member of Callaway Golf's tour staff, having been lured away from TaylorMade.
Rahm enters this week's Sentry Tournament of Champions having signed a multiyear agreement with Callaway where he eventually will play a full bag of the company's clubs and golf ball. At Kapalua, Rahm will have a Callaway prototype driver (the company has a new Epic Max, Epic Max LS and Epic Speed on the USGA conforming list), prototype irons and the Chrome Soft X Ball in play while keeping his TaylorMade wedges and putter for now. Rahm also will wear a hat with Callaway on the front and use the company's staff bag. On the apparel front he will wear clothes from Travis Mathew, a sister brand of Callaway's.
"I'm so happy to be joining Callaway, and I can't wait to start the year," Rahm said in a statement. "The equipment is already performing well for me, and in my first round with the new setup, I shot a course record 59 at Silverleaf [in Scottsdale, Ariz.]. I have confidence in my new Callaway clubs—and especially the golf ball, which has really impressed me during the testing process."
The move, which has been rumored for a couple of months, is not a complete surprise. On TaylorMade's side, it is akin to the championship team simply not being able to keep all its star players when the price gets too, well, pricey. On Callaway's end, Phil Mickelson has been Callaway's standard bearer since signing in September 2004, but he hit 50 years old last year and the company needs another marquee player to pair with Xander Schauffele. It also makes sense to bring on golfer with strong appeal in Europe, which the 26-year-old Spaniard possesses, and the company's current Euro Tour staff players do not.
Rahm is not unfamiliar with Callaway and Odyssey equipment, either, using the company's equipment at Arizona State University, where he won 11 tournaments playing for coach Tim Mickelson.
There are bound to be calls that Rahm is taking a substantial risk in changing equipment only five months removed from having briefly held the No. 1 spot in the World Ranking. That used to be a fair charge, and the equipment landscape of several decades ago frequently saw players experience failed seasons after cashing in on a lucrative equipment deal. Now, however, the likelihood of that is far less for several reasons.
For starters, the stakes are too high for a company to tie a player to a specific product. Companies receive little value from a player performing poorly. As such, they now tend to use marquee players more as full-brand ambassadors rather than to pitch a specific driver or iron. Like with Callaway and Rahm, they also often allow a player to take his time to work into the full bag of clubs. Years ago, players would be offered contracts and their agents would close the deal before they even saw the equipment they would have to play. Now players extensively test equipment before even considering a contract. There's simply too big an investment being made by both sides to have a player not feel comfortable with what they're playing.
Getting them comfortable is easier now, too. Fitting tools such as launch monitors and adjustable metal woods are better. Manufacturing processes are better, and tolerances are tighter, meaning any clubs built specifically for a player are more likely to hit the correct specs, making the transition from one club to another more seamless than ever before.
Rahm, who won a pair of PGA Tour events in 2020, worked extensively with Callaway's tour department to dial in the specs for each of his new clubs and the ball.
"In preparation for Jon's fitting, we diligently studied his driving performance stats and preferred launch/spin conditions," said Jacob Davidson, PGA Tour rep for Callaway. "This allowed us to build Jon a driver that immediately caught his attention after the first few swings. We then made a few minor adjustments and started to study the launch monitor numbers. The ball speeds were impressive but more importantly we saw his dispersion move tighter down range.
"We wanted to allow him to start his ball testing from the green and work back to the driver," Davidson said. "We had Jon hit a few shots with each club in the bag to determine which golf ball would be the best fit for him. It was clear very quickly the Chrome Soft X would be his best option. While he was hitting pitch shots, he immediately noticed the golf ball launched lower and was spinning significantly more. This allowed Jon to control the ball flight and trajectory resulting in increased performance green side. As we moved to the irons and driver, Jon was hitting a lot of shots into the wind to test the ball's performance, and was surprised to see extremely tight spin separations on full and half shots. … His ability to feel the smallest nuances in club adjustments and articulate what he is feeling allows us the opportunity to give him the best performing equipment for him."
History might also be on Rahm's side. Tiger Woods won a host of majors after switching to Nike equipment and then his fifth Masters after going to TaylorMade. Phil Mickelson won his first major after leaving Yonex for Titleist and his other four majors after leaving Titleist for Callaway. Ernie Els has won four majors with three different equipment brands—Lynx (1994 U.S. Open), TaylorMade (1997 U.S. Open and 2002 British Open) and Callaway (2012 British Open). Rory McIlroy won two of his four majors after leaving Titleist for Nike. Rahm is a rising star who could easily find similar success.