The Northern Trust
Justin Thomas, bullied into going back to his old putter by a teenager, shoots 63 at The Northern Trust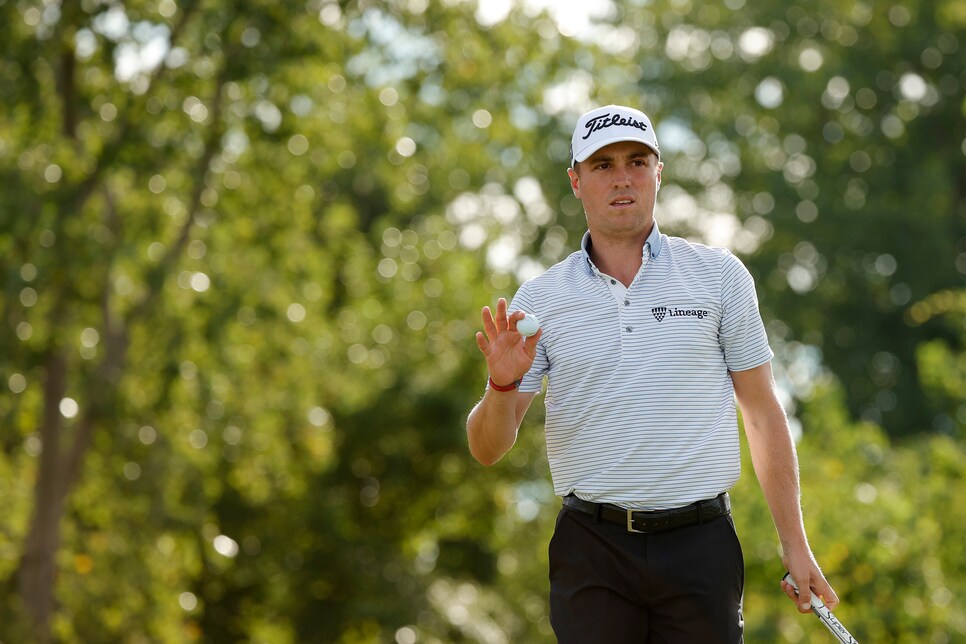 JERSEY CITY, N.J. — Never mess with a good thing, or so the saying goes. In professional golf, a game full of pros who tinker with their equipment on a weekly basis, the one club that saying applies to is the putter.
For Justin Thomas, though, it was time for a change, albeit a small one. After losing a staggering 8.4 strokes on the greens with his formerly trusty Scotty Cameron Phantom X 5.5 putter at the Memorial Tournament in June, Thomas switched to a Scotty Cameron Phantom X Tour prototype, featuring what's called a "knuckle neck." That was just before the U.S. Open at Torrey Pines, according to Thomas. He gained 4.8 strokes with the new flat stick on the South Course's greens that week, his best putting performance since the 2020 Zozo Championship, where he finished runner-up.
He then took it overseas for the Scottish Open and Open Championship, and later the Olympics in Tokyo. Results were mixed. Then, at the WGC-FedEx St. Jude in Memphis, he lost 5.1 strokes putting for the week, which ranked him 61st in a 65-man field. It was a shame given how well he struck the ball (Thomas was fourth in the field in strokes gained/approach, and fifth in tee-to-green. He tied for 26th).
It was the latest bad putting week in a season full of them for Thomas, who ranks 126th on the PGA Tour in strokes gained/putting for the year. But he wasn't ready to ditch the new putter just yet. It took a serious talking to from a teenager to convince Thomas to go back to ol' reliable.
"I had my AJGA event last week in Louisville, went right from Memphis," Thomas said. "Went out and kind of saw some of the kids playing their practice rounds, and Tuesday was the Junior Am. But my dad had a couple students, and I went out to go … there's a girl Abigail that he teaches that I went out to go see because I played a couple rounds with her. She's a really good player, and she was playing with, I think, another two girls, a girl that my dad teaches and then a boy."
This mysterious boy happened to be using a model of Thomas' old putter, and he liked what he saw from it. Enough to basically bully Thomas into putting it back in his bag for this week's Northern Trust, the first leg of the FedEx Cup Playoffs.
"He was using the putter, pretty much my putter that Scotty Cameron, the line that we kind of came out with, and he was like, You know, when are you going to use it again? Are you still using the long neck? I was like, yeah, I am, and I was kind of explaining it, and he's just like, Well, when are you going to start using it again? And I found myself defending myself to this 15-year-old.
"I was like, Why am I not using this thing? I've had a lot of success. It's not like I'm making a lot of putts with what I have. If you're putting well, any of us can go out and putt with anything. I don't know, it kind of hit me. I'm like, the kid's got a point."
Not only did the kid have a point, he may help propel Thomas to his second win of 2021. The 14-time tour winner opened with an electric eight-under 63 on Thursday at Liberty National, giving him a share of the lead with U.S. Open champion Jon Rahm. Thomas struck it well, as he often does, putting on a tee-to-green masterclass, but he didn't let it go to waste like he did in Memphis. He gained nearly 2.5 strokes with the putter, which ranks eighth in the field.
"When I brought it out, it looked good, it felt good. Again, a lot of familiar feelings with it."
As Thomas explained, the old and the new were essentially the same putters, but the old one has a different milling. "It's a smooth face versus a deep mill," he says. "So it has a little different feel, little different sound. But, ever since the U.S. Open, it's been sitting in my office."
Whatever the difference is, it was working for Thomas in New Jersey, all thanks to a teenager who clearly knows his stuff, and, more importantly, wasn't afraid to tell Thomas that he should have never messed with a good thing.