Rules
Ian Poulter handles difficult rules situation in most Ian Poulter way imaginable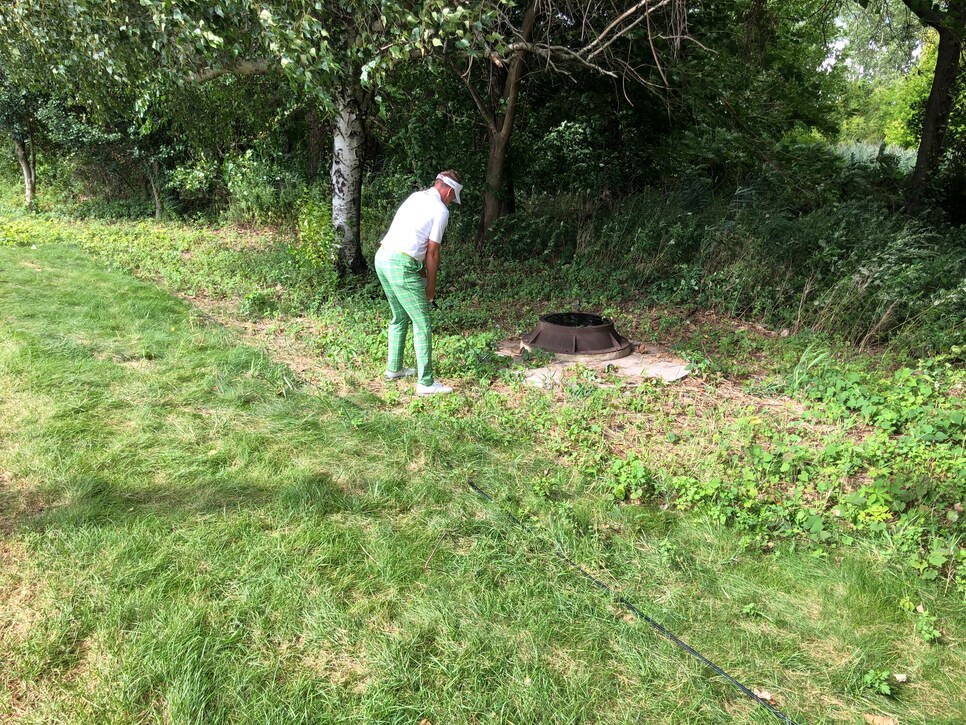 JERSEY CITY, N.J. — "Call the referee, we're f—ed against the concrete."
That quote came from Ian Poulter, who was yelling back to his caddie as he trudged up Liberty National's 15th fairway on Thursday at The Northern Trust. The Englishman had just come to find out his ball was resting up against a sewer right of the fairway. That sewer also happened to be in a penalty area.
"You've got to me f—ing kidding me," Poulter uttered to himself.
One over on the day, Poulter seemed to already know his fate. As PGA Tour rules official Gary Young would later explain, Poulter's ball was resting against an immovable obstruction inside a penalty area. Per the Rules of Golf, free relief is not granted in that situation. Poulter could either play it as it lies or take a drop out of the penalty area—but be forced to add a stroke to his score.
It's that later point that Poulter seemed incredulous about, considering there was only dry ground where he was playing from in the penalty area, so a recovery shot would have been relatively easy. Adding the extra stroke seemed, well, too great a penalty.
So Poulter chose option 1—play it as it lies—but not before (playfully) getting his money's worth, a la a MLB manager mouthing off at an umpire after being tossed.
"Come onnnn, this should not be here," Poulter said to Young, pointing at the sewer, which was quite literally the only obstruction in the penalty area. Poulter just happened to find it.
Young reminded Poulter he should not be there, either. His ball, after all, was in a penalty area, so he had no one to blame but himself for being in the awkward spot. "Unfortunately, he hit it against the only thing in there that he couldn't get relief from," Young said.
Poulter, incredulously, then asked where the water was in this penalty area. Young pointed toward the woods, where the water is located well right of the 15th fairway and well right of where Poulter's ball had come to rest.
"How is that a hazard line?" Poulter asked, pointing at the red line to the left of where his ball was that ran parallel to a cart path. "The water is 30 frickin' yards that way."
Indeed, had Poulter chosen to take the drop out of the penalty area, the ball likely would have wound up on a cart path and then he would have been entitled to free relief from the path—but still would have added the penalty stroke for dropping out of the penalty area in the first place.
Said Young: "He's got to either choose to play it as it lies or he can take his relief options, which would have gotten him out on to this cart path and then he'd have free relief from the cart path."
To his credit, Poulter calmed down and sucked it up, even yelling back "I appreciate it," as Young drove away. He played the shot back toward the fairway—avoiding the penalty stroke by playing it as it lies—then came up short of the green with his third followed by nearly holing out his fourth for a miracle par. He went on to tap in for bogey, then followed with a birdie on the 16th and finished with a one-over 72. After beginning the week 79th in the FedEx Cup standings, he's currently projected at 88th, well outside the top-70 line for the BMW Championship.
"It's one of those, it's unlucky, right?" Poulter said afterward. "You get some good breaks, you get some bad breaks. That was a pretty bad break. Over the season, you take the rough with the smooth."
With a potential Ryder Cup spot on the line, Poulter needs all the good breaks he can get, though he seemed very at peace with the unfortunate break not too long after it happened.
"What are you gonna do? Sh-t happens," he said. "Nobody died. I'm 79th in the FedEx Cup, if I don't get in Sunday, it's irrelevant. I move on to the next event in Europe. Ryder Cup is in four weeks, that's what's relevant."