The Northern Trust
A major attitude adjustment, plus two Saturday night beers, help Harold Varner start strong at Liberty National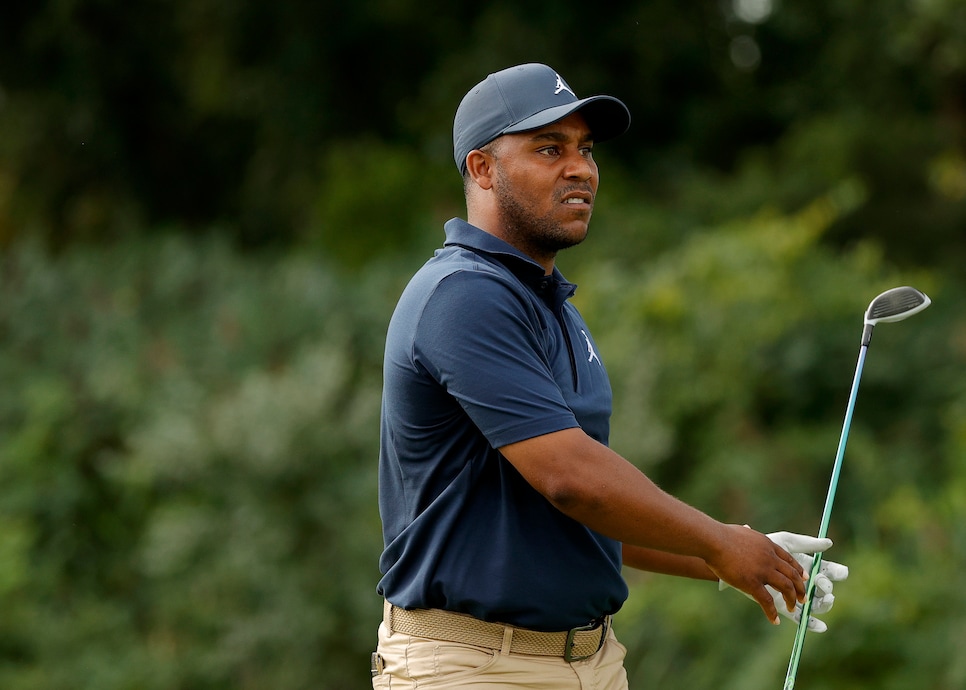 JERSEY CITY, N.J. — There is almost nothing two beers can't fix, which is a sentence that should be framed if it hasn't yet already. A bad day at the office, a long ride home in traffic, an argument with your significant other and, of course, a crappy finish to a round of golf. No matter what happened, two beers later you're doing just fine.
For Harold Varner III, it was indeed a crappy finish to a round of golf that had him in a bad place last week at the Wyndham Championship. The big difference between Varner's bad round and ours, however, is that is bad round takes food off his table.
Halfway through his third round at Sedgefield Country Club, Varner, who had made a solid move up the leader board starting late Friday evening, made a disastrous double-bogey 6 at the par-4 11th, spoiling his chance at getting into serious contention. It had to be doubly painful given he was playing a home game in North Carolina.
"Hit it over the green at Wyndham [on No. 11]," Varner said on Thursday at Liberty National. "I'm still pissed about it actually."
Seven holes later, Varner tripled the 18th, giving him a one-over 71 on the day. He shot another 71 on Sunday, clinching a lowly T-57. He was, understandably, not his normally jovial self, particularly after the ending to Saturday's third round.
"The biggest thing for me was last week I just had a terrible attitude," he explained. "And those are things I just … having a bad attitude probably makes me more mad than I guess playing bad golf. That's the only thing you control. You don't really control what you're going to shoot or where your golf ball is going to end up, but you control how you approach each shot."
Varner was in full control in the opening round of The Northern Trust, the first leg of the FedEx Cup Playoffs, which Varner enters at 72nd in the standings, just outside the top-70 line to get into the BMW. He shot a five-under 66, which has given him the solo lead in the early afternoon. A product of a big attitude adjustment, which began last Saturday night after his back-nine 39 at Sedgefield.
That's where the cold brewskis come in.
"I had about two beers on Saturday night, and I sat there and just talked to people that I love and care about," Varner said. "And they're just like, What happened? We just talked through it. Communication is good, and it's hard to do it on the course.
"Need to do more of it so that you can just, Hey, I hit it in the water, over the green, whatever that might be, and carry on."
It's easy to say all this after a great round, which Varner's was in some trying winds on Thursday. But all he can do now is worry about the next shot.
"You're going to hit it some places. You're going to hit it in some places that you're screwed, and you just got to figure it out and keep grinding away."
Whatever happens, happens. There's no situation, bad or good, that can't be fixed with the right attitude, plus two beers.