News
Justin Thomas named PGA Tour Player of the Year, hints at setting higher goals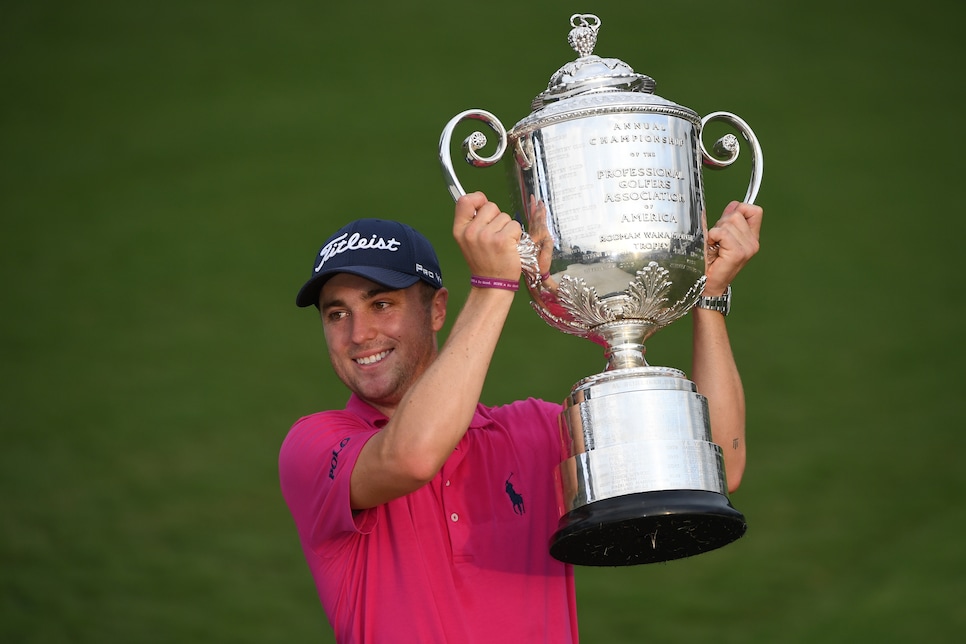 Justin Thomas isn't inclined to reveal his goals for the upcoming PGA Tour season, but the mere fact that he intends to hit up Jack Nicklaus, Tiger Woods and his good pal Jordan Spieth for advice on setting them is an indication that he's thinking of bigger things.
Bigger will be immensely challenging.
Thomas, 24, today was announced as the recipient of the Jack Nicklaus Award for PGA Tour Player of the Year for a season that included five wins, one of them his first major at the PGA Championship, and the FedEx Cup title. The Kentucky native also won the Arnold Palmer Award as the leading money winner.
"It's a huge honor. Any time you can win an award with someone like Jack Nicklaus's name on the award, it definitely means a lot, and it's something that I'll cherish for a while for sure," said Thomas, who beat Dustin Johnson, Jordan Spieth and Hideki Matsuyama in a vote of their peers. "It's kind of crazy, especially for someone with the expectations I've always had for myself. It never really entered my mind winning it."
Thomas achieved nearly all of his goals in the 2016-17 season, and enjoyed other highlights, too, including a 59 in his wire-to-wire victory in the Sony Open in Hawaii, and a nine-under-par 63 in the U.S. Open at Erin Hills, setting the championship record for scoring in relation to par. He finished the season ranked fourth in the world behind the three players previously mentioned: Johnson, Spieth and Matsuyama, respectively.
Encores, of course, are nettlesome. He can merely ask Spieth, who followed up his five-win season in 2015, which included two majors and the FedEx Cup title, with a less-than-satisfying two-win campaign.
"I know how hard it is to do because of how deep the tour is right now and how many great players there are and how guys are winning three, four, five times a year every year, and it's something that's going to be tough to continue or tough to replicate," Thomas said. "But I'm definitely going to give it my best.
"I'll just continue to do what I have," he added. "I don't know who I heard it from back in college or whenever it was, but you just have to break it up. You have to have two to four goals that are very achievable, two to four goals that are in grasp but will be tough, and two to four goals that are maybe a little bit out of the realm and are going to be very difficult to do, but are somewhat achievable if you have a great year like I did this year.
"That's something I'll probably spend some time talking to Mr. Nicklaus about or Tiger because those are guys -- those are the only people -- or even Jordan, those are the only people I know that have had such success in one season multiple times, and they've had to deal with resetting their goals and reevaluating.""
After winning just once in his first 70 starts on tour, Thomas enjoyed a breakout season in which he trailed only Spieth and Rickie Fowler in scoring with a 69.359 adjusted average and tied Spieth with a tour-leading 12 top-10 finishes in his 25 starts.
The secret to his success lies in his ability to light up the scoreboard blended with the maturity to manage his explosive game. OK, it was mostly about blasting away, attacking courses with a power game emanating from his relatively slight 5-foot-10, 145-pound frame.
"I love going low. I love making birdies. It's something I honestly, as crazy as it is, I really think it speaks a lot to the courses that we played in college at Alabama," Thomas said. "They weren't exactly the hardest golf courses, but they were pretty good courses, but you could really score on them, and that's something that Coach [Jay] Seawell would preach to us. … When you go out and play professional golf, you need to know how to make birdies, and you need to know what you're doing when you're six-under through nine or have a chance at 59, because you can't let up one bit.
"I felt like I've always had the firepower to do so, but it was just about keeping the pedal down and keeping that aggressive mind frame when you're playing that well," he added. "That was something I was able to do, and Jimmy [Johnson, his caddie] did a great job, as well, helping me not change my mind frame and our game plan when we're playing really well and just continue to attack, and yeah, I posted a lot of low numbers over the last couple years, but especially this year."
Nevertheless, it's not all about birdies, he agrees. "You could look at me now versus me probably in my rookie year, and I'd say that's the difference – it's just experience," he said. "You have to pick your spots. That's something I've learned, and probably the biggest difference in my game now is just learning when to be aggressive and learning when my game is good enough that I can do so."
Thomas has little time to celebrate the award or revel in his role in a runaway USA victory in the Presidents Cup that concluded Sunday at Liberty National Golf Club in New Jersey. Next week he will attempt to win his third straight CIMB Classic in Malaysia.
"I still am having a hard time grasping and understanding that I leave for another event in a couple days," he admitted.
But it's a good problem to have, as is the trouble he encounters when trying to single out one or two highlights in a season full of them. "I really don't know. It's tough, but for good reason. I'm obviously fortunate to have a lot of great moments and a lot of -- just a lot of different scenarios or instances that I've really never experienced before. But that shot I hit on 17 at the PGA was probably the best shot I've ever hit in my life under those circumstances."
That would be the 7-iron from 221 yards on the par-3 17th at Quail Hollow Club in Charlotte. The clutch shot set up a 15-foot birdie that enabled him to finish off a closing three-under 68 and a two-stroke victory in the 99th PGA.
After stowing away his Wanamaker Trophy in Rickie Fowler's home safe during Hurricane Irma, Thomas has retrieved the prize and has it displayed on his fireplace mantle in his home in Jupiter, Fla.
"It doesn't quite fit in my office in terms of I have a little book case, and it's a little bit bigger than the other trophies I have," he explained. "There's kind of a nice little ledge above the fireplace in my living room that it just fits perfectly, right when you walk in the front door, and I think I'm going to leave it there."
If he realizes more of his goals in the coming season, that spot won't be big enough, either.