How familiar are you with 14-time PGA Tour winner and 2017 PGA champion Justin Thomas? You've probably heard hundreds of times how he's friends with Jordan Spieth. And how competitive they are with each other (which is true).
But here are a few other things you need to know about the 29-year-old.
Justin Thomas has been dreaming of making it on the PGA Tour since attending, at age 7, Tiger Woods' win in the 2000 PGA at Valhalla.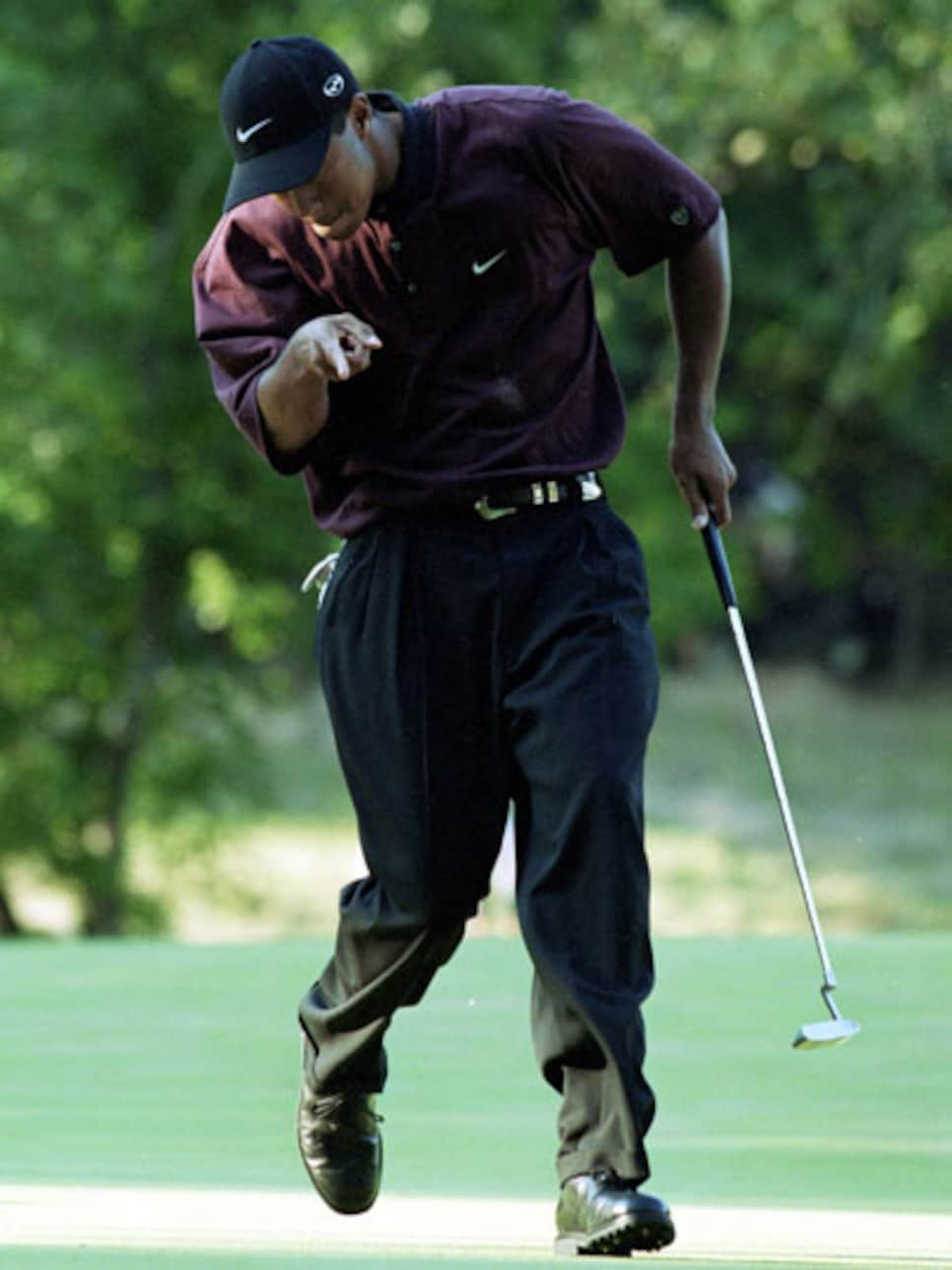 JT has a VHS tape of the tournament, which he estimates he's watched 50 times, motivating the Louisville native to put in the work to one day make it to the same stage.
Add Justin's win at the 2017 PGA Championship to the long line of champions with strong PGA of America ties.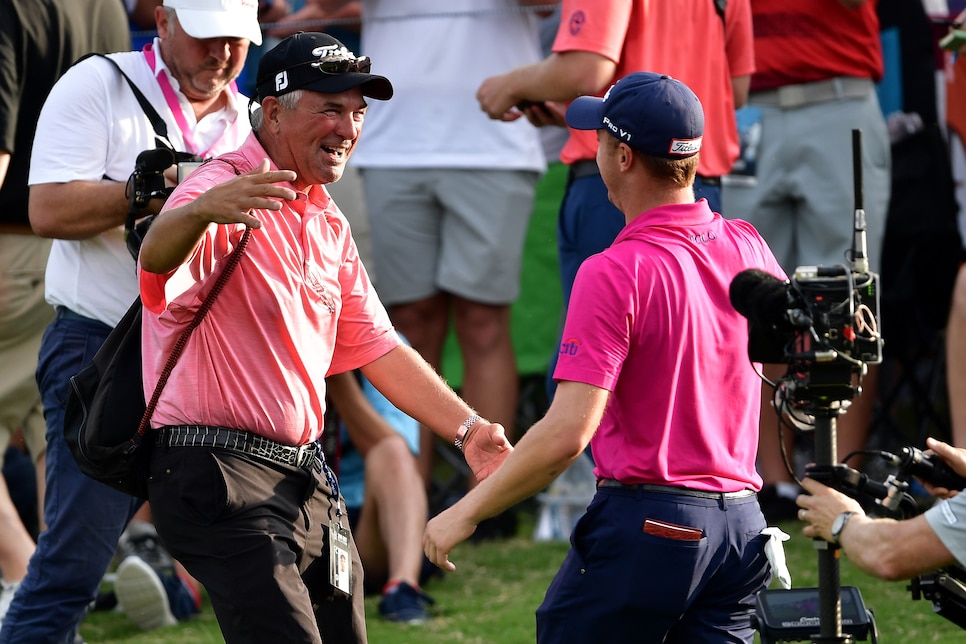 Justin grew up in Kentucky, playing a lot of golf with his father, Mike, being the club pro at Harmony Landing outside Louisville. And Justin's grandpa, Paul, was also a club pro, serving in Zanesville, Ohio. Paul, who recently passed away, was a good enough player to play in the 1962 U.S. Open at Oakmont.
The 2017 PGA Championship winner would spend most days in the summer picking the range and hitting shots as his father worked.
At the end of the day, he and his dad would play for dollars as a kid after he was done picking the range, and it got competitive: "We would play for a dollar, and it was pretty heated out there. And I'm a pretty sore loser, so I did not handle it well when I lost and had to give up a dollar," he said.
Long before he represented Team USA on Ryder Cup teams, Justin Thomas celebrated the 2008 victory at Valhalla with some VIP access.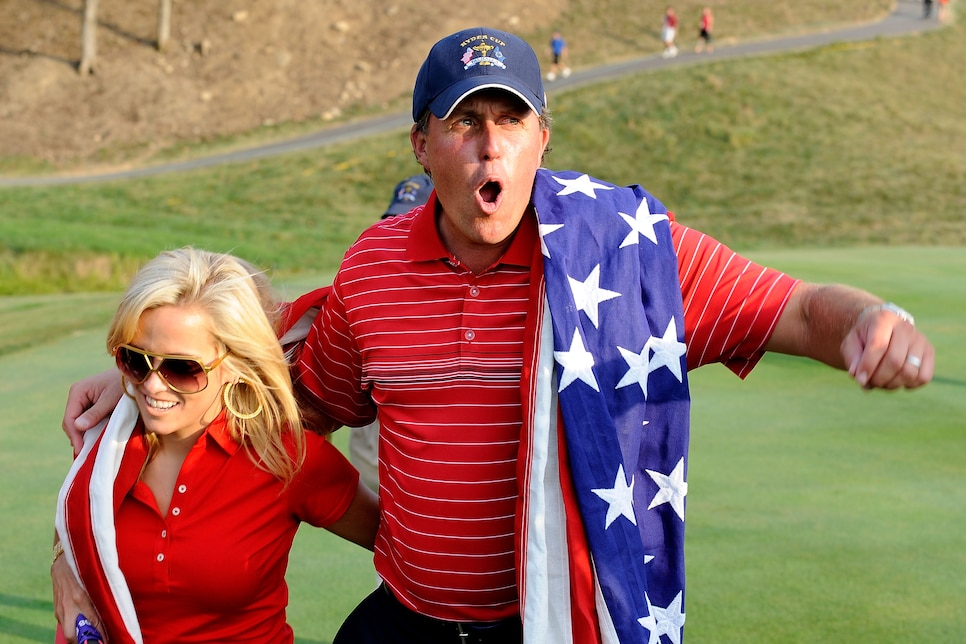 One of Thomas' favorite memories is high-fiving Phil Mickelson behind the 17th green when J.B. Holmes clinched the winning point for the U.S. team at Valhalla. With his father being on the PGA of America board that week, Thomas got to hang out with all the players that week.
Thomas has the most wins on the PGA Tour since the start of the 2017 season (13).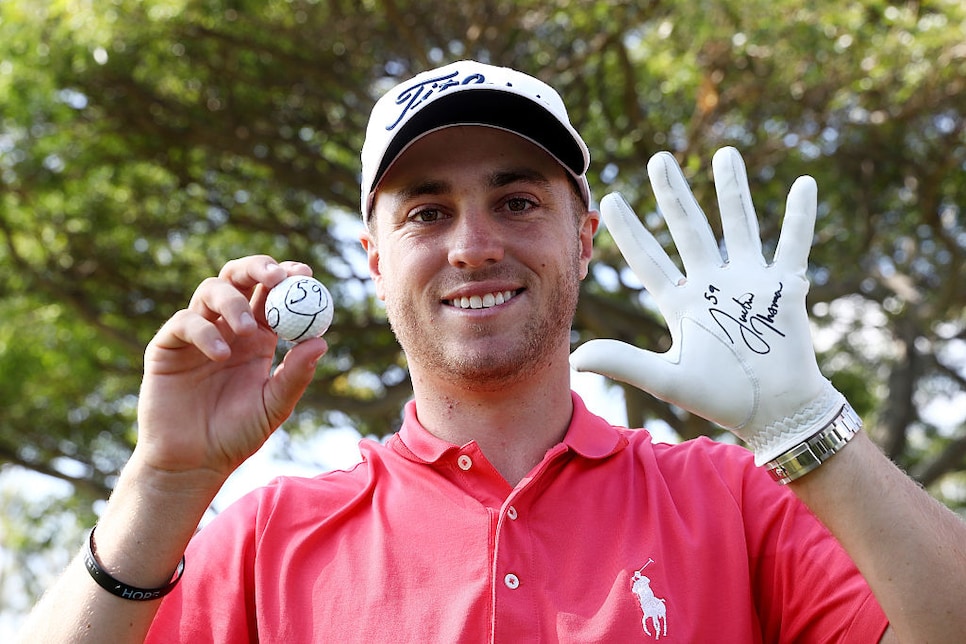 He also boasts the second-most PGA Tour wins (14) by the age of 28 over the past 30 years (only Tiger Woods has more, he had 38).
At 145 pounds, Justin Thomas is one of the biggest hitters on tour, pound for pound.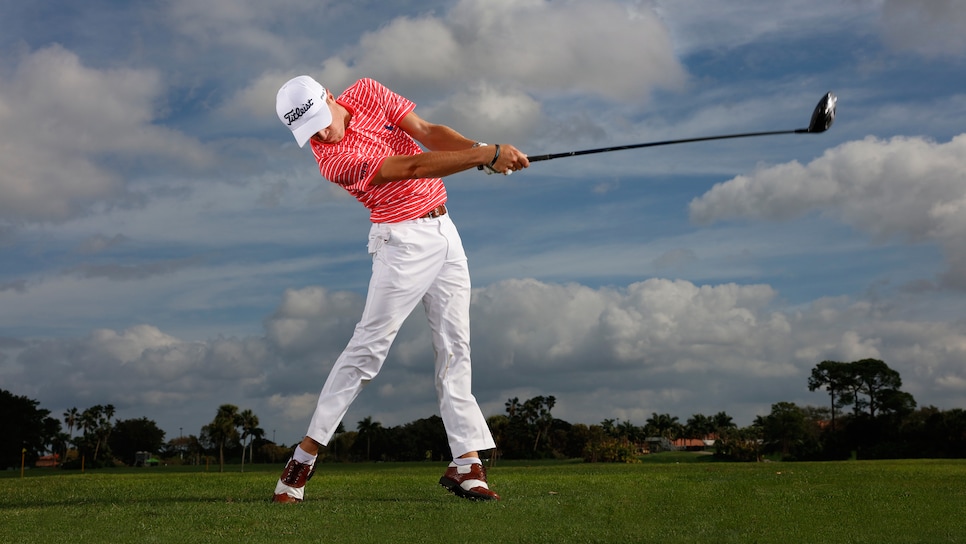 Photo by Walter Iooss Jr.
It's actually insane how far JT hits it, given his size. When he won at Quail Hollow, Thomas ranked first in driving distance for the week (328 yards off the tee). He's currently third on tour in strokes gained/tee to green, mainly for his elite approach play.
He had one of the most impressive collegiate resumes in recent memory.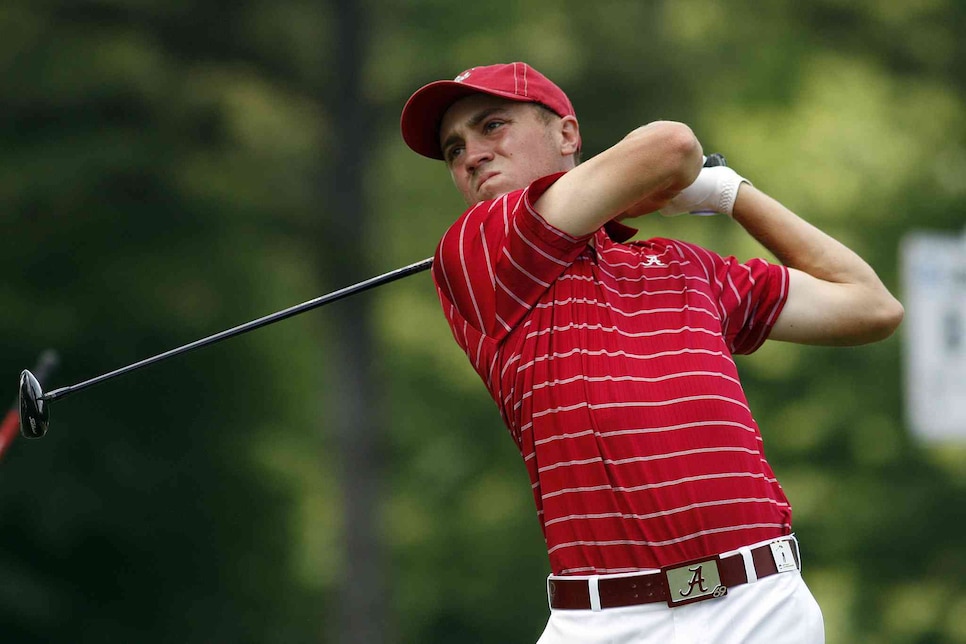 As a freshman at Alabama, Thomas won the Haskins Award as the nation's top golfer in 2012. He turned pro after his sophomore year, in which the Crimson Tide won the 2013 NCAA Championship and earned his PGA Tour card after a strong 2014 on the Web.com Tour.
Thomas shared a place with fellow Alabama golfer and PGA Tour player Bud Cauley in Jupiter, Fla.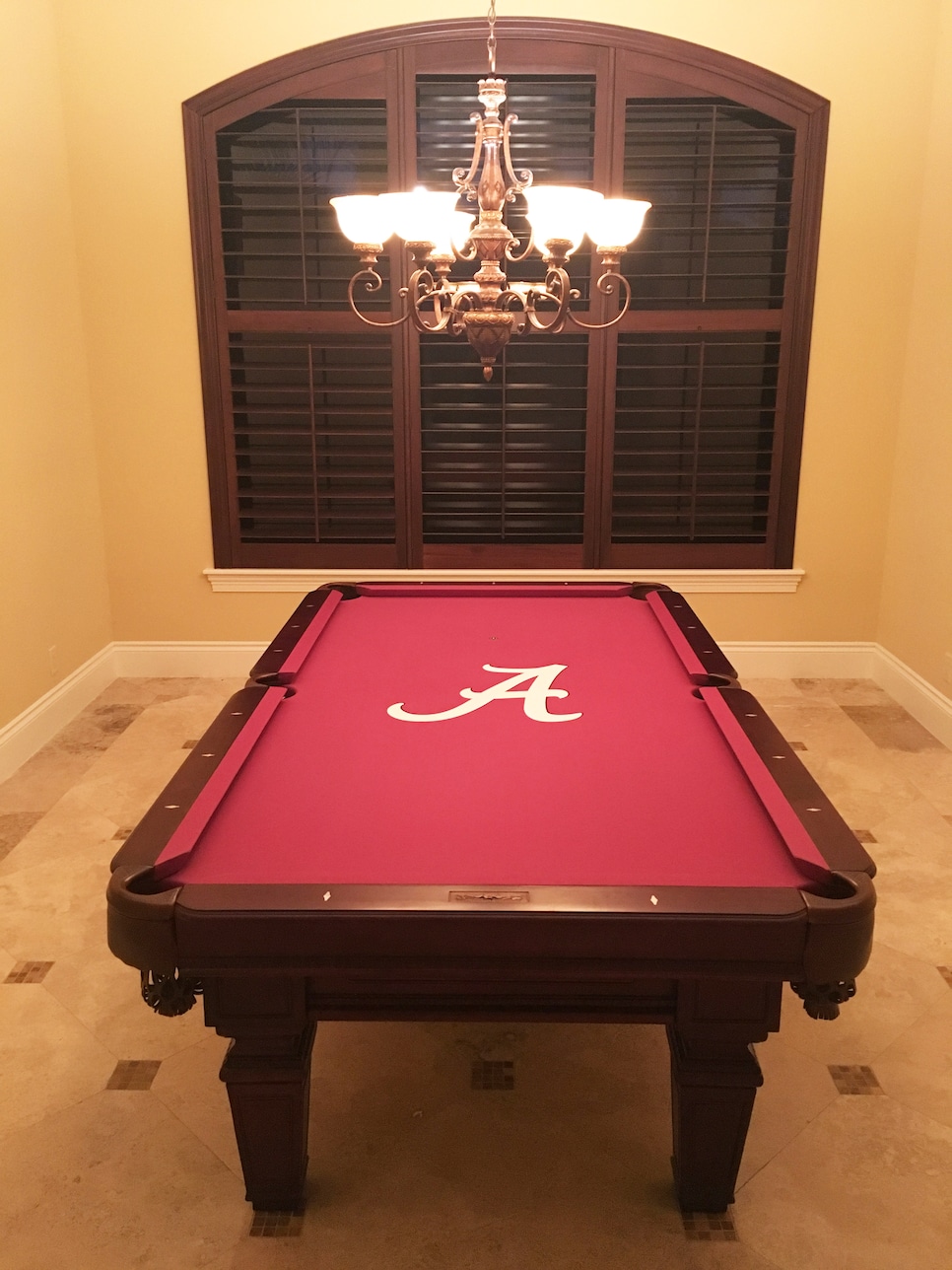 Their prize possession is a custom, crimson-colored pool table with a Bama logo. Along with so many other tour pros, Thomas and Cauley reside and practice in Jupiter, where they're both members of Medalist Golf Club and the Bear's Club.
You may or may not have heard, but Justin is buddies with Jordan Spieth.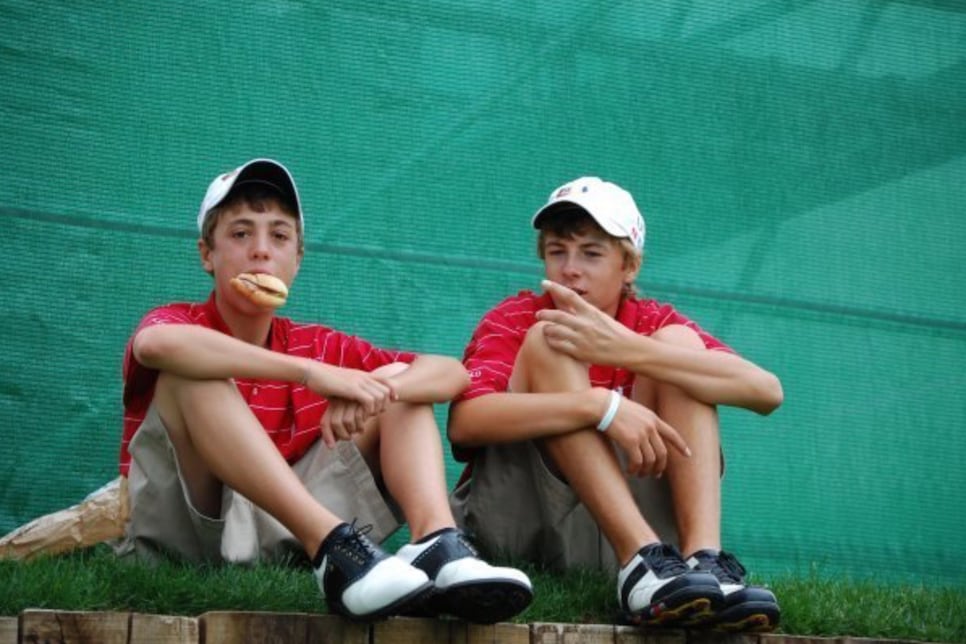 Since they competed at the Evian Junior Masters in France when they were 14 and 13 (above), they've been buddies. Thomas told Golf Digest in 2014: "I don't think him and I really sit back and reflect on what we've accomplished too much, but I probably do more than Jordan does," Thomas said. "And it's pretty cool. It's crazy to think where our careers are gonna end up and how long we'll be competing on the same level."
The Spring Break boys now have four major wins with Thomas' win.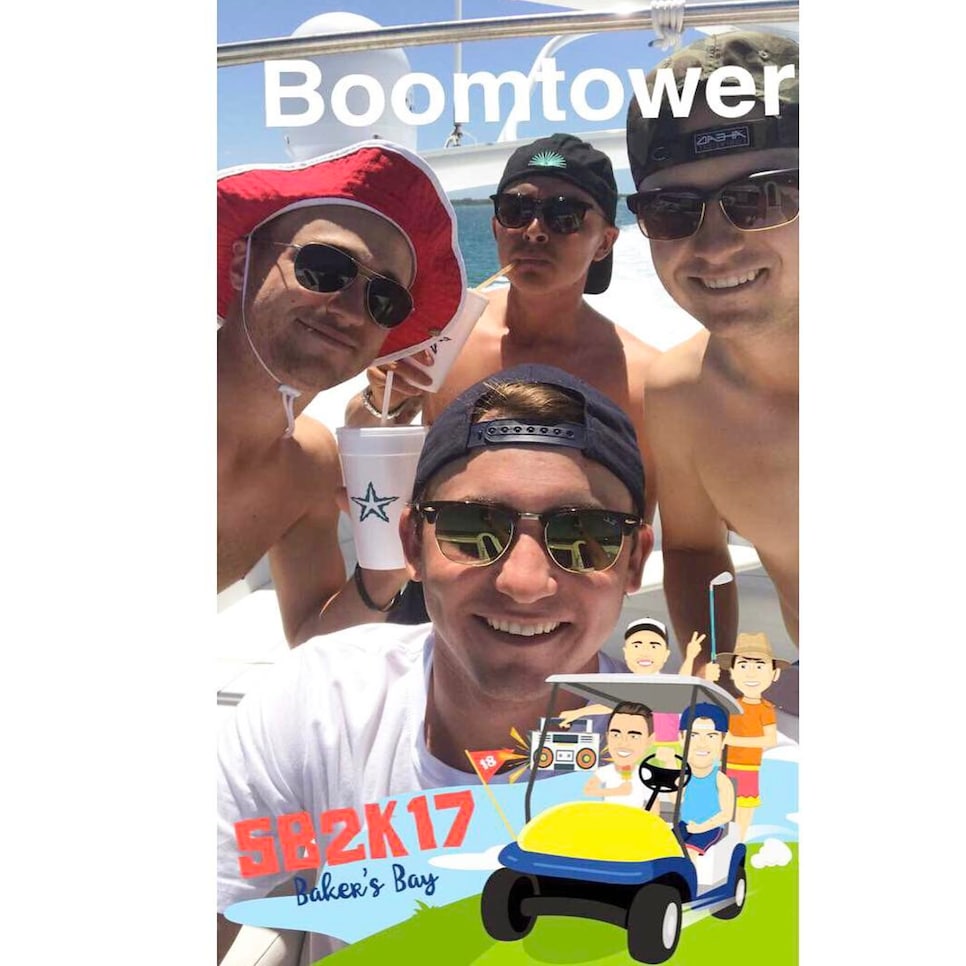 And victories in the final two majors of the year, with Spieth winning his third at The Open, and Thomas taking home the title at Quail Hollow. Spieth's no longer the only #SB2K16/17 bro with a major win.
Paired with Spieth, the trio shared a moment they'll never forget.
Thomas made sure his then-girlfriend, Jillian Wisniewski, was at Quail Hollow to see his first major win.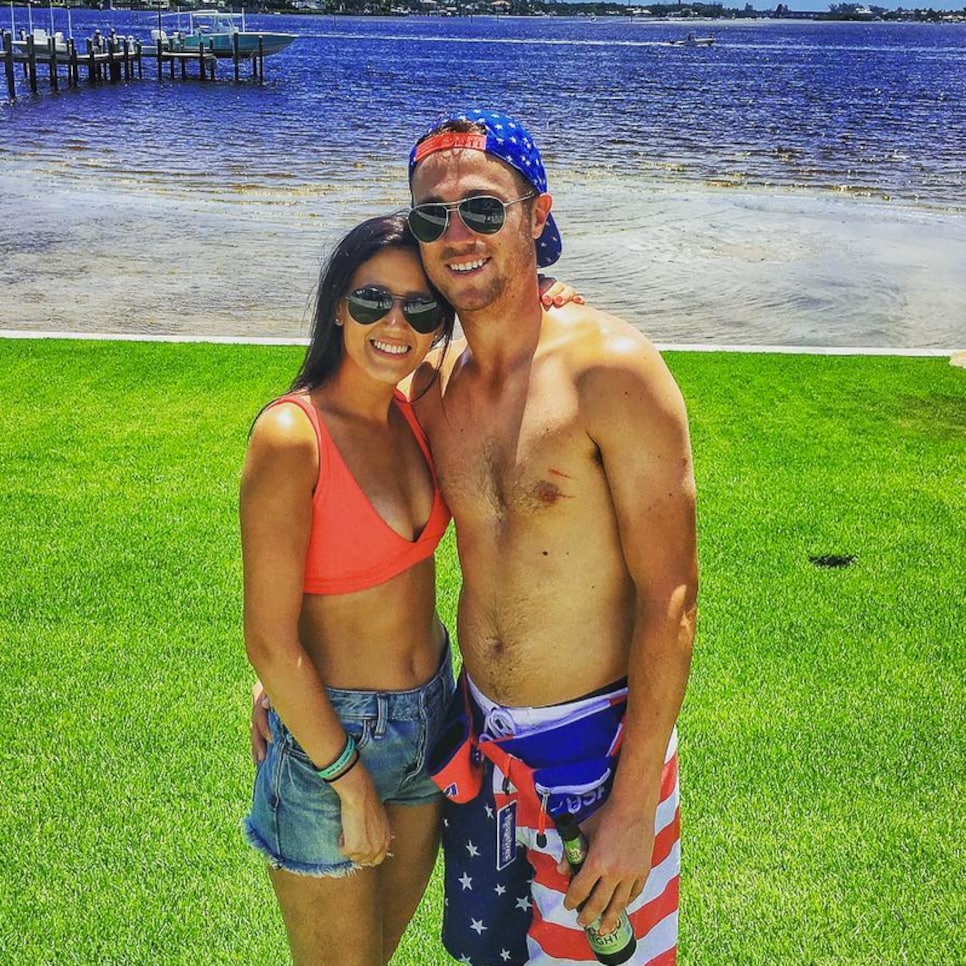 Though we usually don't get too much inside info about his girl on social media, we found out Thomas didn't want Jillian to miss his big win: "My girlfriend was supposed to fly out [of North Carolina] at about 7:00 and I was like, 'You need to change your flight to later, because I don't know, I just feel like I don't want you to miss this, I feel like I'm going to get it done," he said after.
You can always find cool stampings on Thomas' wedges.
Usually, Thomas' wedges are stamped with "RADAR," describing his spot-on wedge play. But as seen above, he'll mix in the occasional hip-hop lyric, such as these from 2015, with Lil' Wayne, Rick Ross and Drake songs.
The family is very tight-knit: Justin's mom regularly travels with him on tour—even hanging with him and his friends and going out to dinner with them.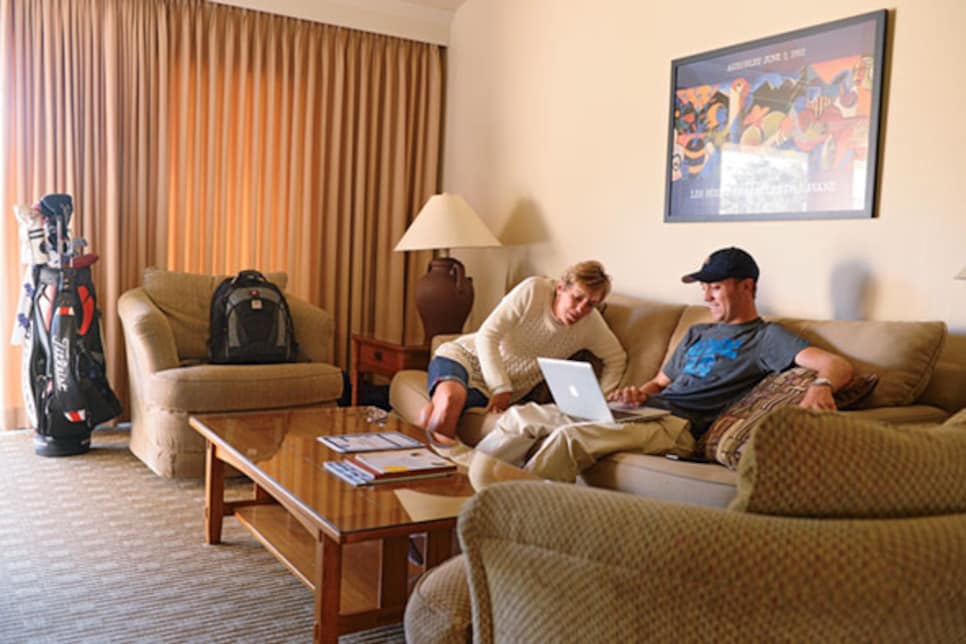 During Thomas' rookie season, his mom, Jani, would regularly go out to dinner with Thomas' friends at night. And if you're at a tour event in which Thomas is playing, you can expect to see her around the grounds each week.
His father, Mike, has a frame of the golf balls from special moments in Justin's career.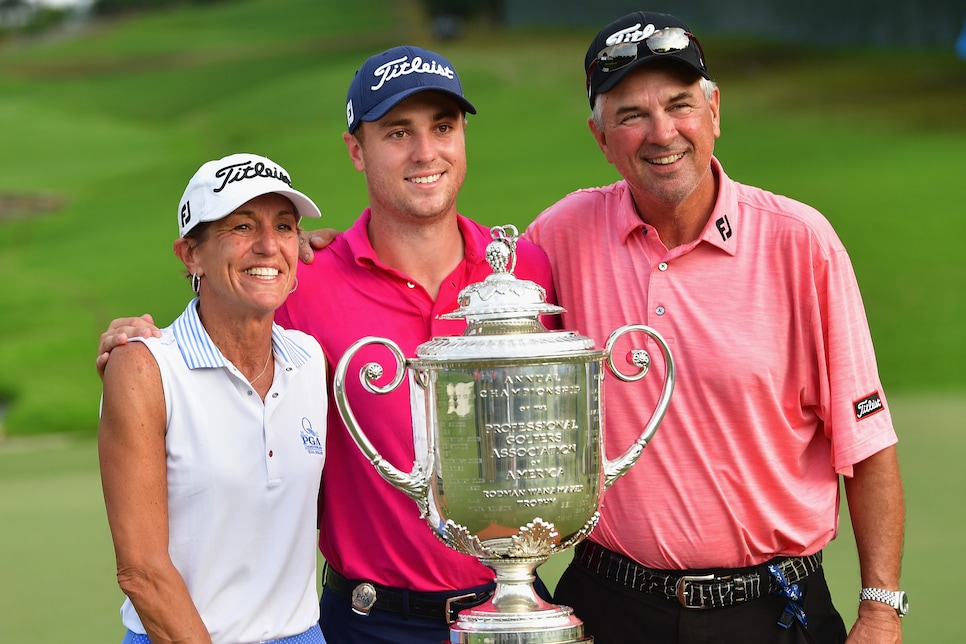 Moments from a memorable 2017 include Thomas' PGA win, his record-tying 63 in the third round at Erin Hills and a 59 at the Sony Open.