News
Justin Thomas shares the detailed goals he wrote down at the beginning of the season -- and they were ridiculously on point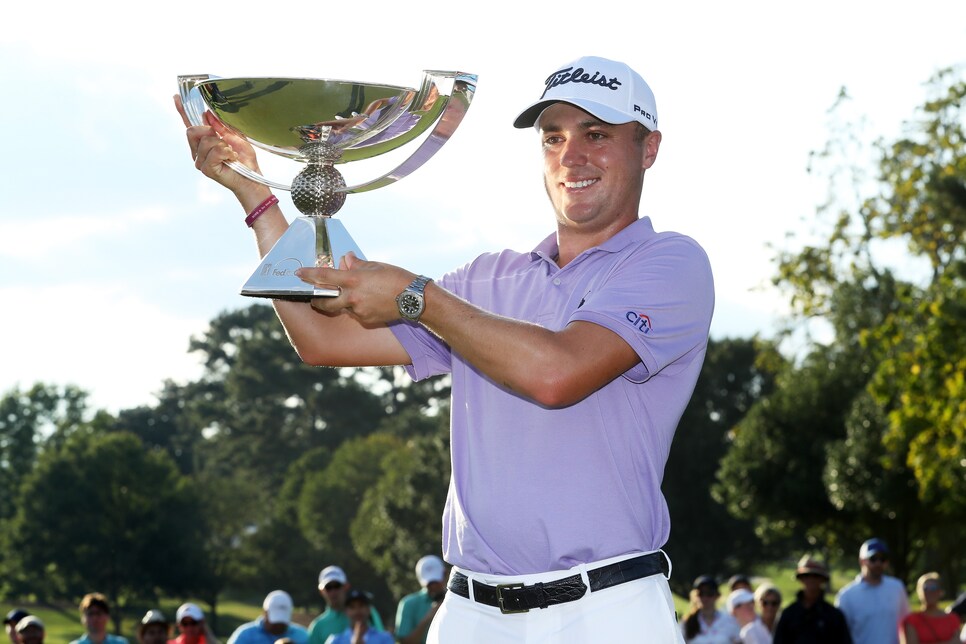 After completing a season in which he won five times, claimed his first major and captured the FedEx Cup, it shouldn't be surprising to learn that Justin Thomas accomplished most of the goals he set for himself at the start of the year. But just how close the 24-year-old star came to achieving everything he hoped is pretty damn impressive. And following a runner-up at the Tour Championship that locked up the PGA Tour Player of the Year Award, Thomas shared that list of goals with reporters at East Lake. As in, the actual list.
Just a little different than the goals you type on your phone, huh?
Seriously, what a list. And as you can see by the Feb. 27 timestamp, this isn't something Thomas concocted recently. That looks to be the last time JT modified the document, probably typing the two "Y"s next to his top two goals having already won three early season events that locked up his spot in the Tour Championship. Let's go through the rest of the list:
Be in the final 2 groups of a major on Sunday -- Y
+.25 strokes gained putting -- Y (+.289, which ranked 47th on tour)
Above 1 strokes gained tee to green -- Y (+1.33, which was good for 6th)
Top 10 in all-around stats -- Y (Thomas finished 6th)
Under par on par 3/4/5 -- N (But close. JT's stroke average on par 4s and 5s was under par and he was just over on par 3s at 3.04)
Top 30 in scrambling -- N (But not terrible at 54th, and much improved from 151st last season)
Top 10 in half my starts -- Y (Technically, Thomas was just under at 12 out of 25, but if you don't count the Dell Match Play. . . )
Under 70 scoring average -- Y (Easily at 69.359, ranking third)
Less short sides -- We're going to assume "Y" on this as well.
Incredible. And it should also be noted that Thomas actually accomplished more than what's on this ambitious list. Nowhere on there does it say "Shoot a 59" or "Shoot 63 in the U.S. Open." Check and check. It also doesn't say "Have a great #SB2K17" or "Edge Jordan for Player of the Year." Done and done.
So congrats to JT on a phenomenal season and for basically doing exactly what he set out to do. We can only imagine what he's going to jot down for an encore.