News
Justin Thomas joins Tiger Woods in conceding PGA Tour Player of the Year to Brooks Koepka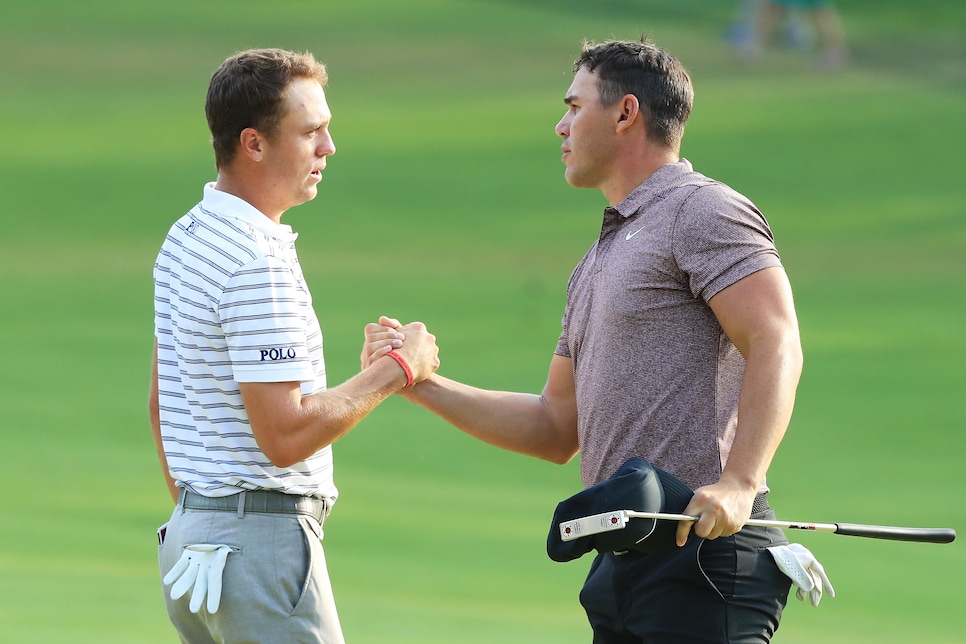 Last month Tiger Woods declared the PGA Tour's Player of the Year race over before the FedEx Playoffs even began. "You win two majors, you've got it," Woods said, referring to Brooks Koepka. "It's not real complicated." It's tough to argue with that, or with someone who knows so much about the award having won it a record 11 times. And the most recent winner agrees.
On Tuesday, the PGA Tour tweeted out the résumés of this season's top-five contenders, but one of them, Justin Thomas, who is the reigning recipient of the award, was quick to concede that Koepka has wrapped it up ahead of next week's Tour Championship.
Of those five players, Koepka is actually the only player not to have won three times this season. However, his two victories came at the U.S. Open and PGA Championship.
All five of the candidates have a great chance of also hoisting the FedEx Cup, although Koepka, currently No. 7 in the standings entering the season finale at East Lake, and Watson (No. 8) would need to win the Tour Championship and get some help from those in the top five. Thomas, Dustin Johnson, and points leader Bryson DeChambeau all would automatically claim the FedEx Cup and its $10 million bonus by winning the Tour Championship.
But if Woods and Thomas are any indications as to how the rest of the PGA Tour pros will vote for the Player of the Year Award, then that honor is a foregone conclusion no matter what happens next week.