News
Justin Thomas hasn't gotten over last year's Tour Championship. Or the 2015 Rookie of the Year race. Or losing a tournament when he was 8 years old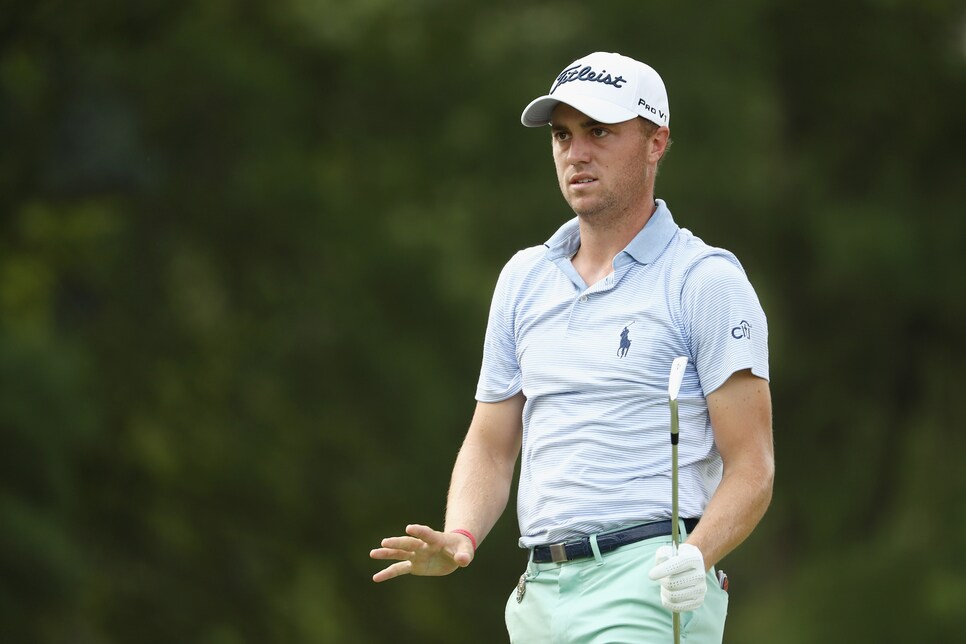 PARAMUS, N.J.—Money doesn't buy happiness. Or, in Justin Thomas' case, alleviate deep-rooted resentment.
Thomas is the reigning Player of the Year and FedEx Cup champ, the latter honor bestowing $10 million to the bank account. Even for one of Thomas' pedigree and projection, that's life-altering cabbage.
One problem: Thomas hasn't come to peace with how that transaction transpired.
The astute fan will remember Thomas actually finished second at the Tour Championship last season, losing the event to Xander Schauffele by one shot. Thomas' second-place finish at East Lake, combined with his five-win performance over the season, still correlated to capturing the FedEx Cup, yet it's a title that doesn't sit right with the 25-year-old.
"I'm still pretty mad that I didn't win that tournament," Thomas said. "(No. 18) is one of the easier holes on the course. It's a driver-5-iron for me and I had a 30-footer for birdie. And I should've have birdied that to have a chance at a playoffs. So it still bothers me."
Thomas isn't the first athlete to use past slights or shortcomings as motivation. Conversely, the Schauffele defeat isn't the only wrong fueling the former PGA champion.
Apparently Thomas remains aggravated at losing the 2015 Rookie of the Year race to Daniel Berger. Thomas was in the projected lead most of the summer, but Berger finished second at the BMW Championship to earn an invite to East Lake, while Thomas watched the season finale from home.
"I was very bummed just because, I mean, at that point in time I knew when Berger made it that he was probably going to win Rookie of the Year and that really ticked me off because I wanted to beat him out of that, and I didn't," Thomas said.
Which, after a slight pause, Thomas added, "So as you can see, I'm totally over it.
Lest Schauffele and Berger feel targeted, rest assured Thomas' vexation cannot be contained by time or space. As he was finishing his press conference, the AP's Doug Ferguson, noting the roll call of annoyances, asked how far back Thomas' grievances go. The answer to that query is...second grade.
"I totally choked the U.S. Kids when I was eight years old," Thomas said. "I shot 32, 30—I shot 37 on the second round. I'm dead serious. I lost in a playoff. I lost—I got up-and-down on the first playoff hole then I lost on the second playoff hole, made bogey."