News
Xander Schauffele's 'wild ride' ends with Tour Championship victory and a $3.5 million payday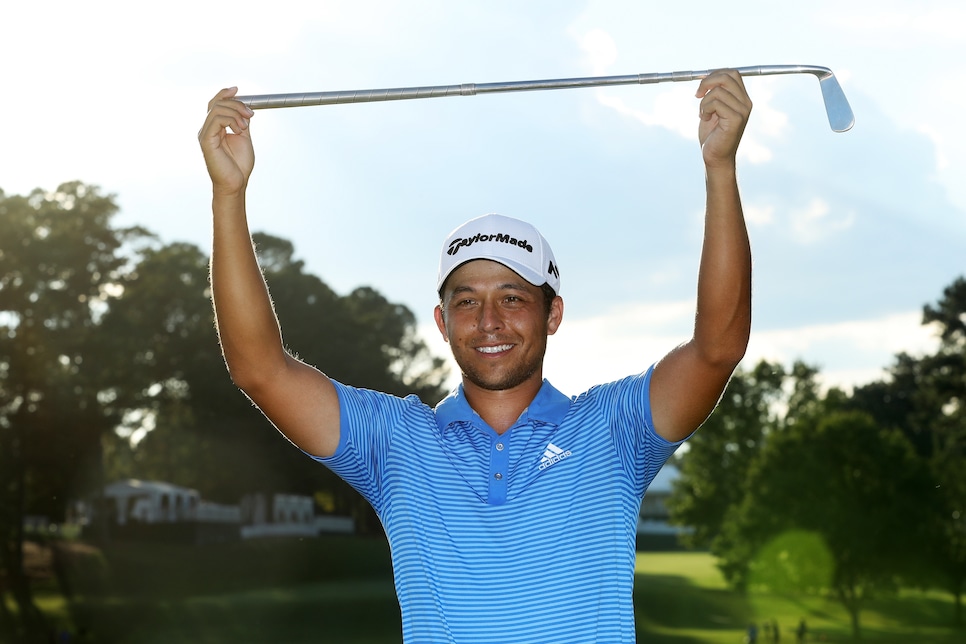 ATLANTA -- In June, Xander Schauffele survived a five-for-two playoff to qualify for the U.S. Open. The following month, he birdied the 72nd hole at the Greenbrier to win by one. Last week outside Chicago, he made four birdies and an eagle over his last six holes to tie for 20th to survive and advance in the PGA Tour's FedExCup Playoffs.
The 23-year-old was only a rookie on the PGA Tour this year and already developing a reputation as being awfully clutch.
Sunday, he only enhanced his stature. Schauffele rallied to win the season-ending Tour Championship, curling in a short birdie putt on the par-5 18th to cap a final-round two-under 68 to win by one over Justin Thomas, who took home the FedEx Cup and its $10 million in the process.
Schauffele, meanwhile, netted more than $3.5 million in earnings for his victory and third-place finish in the final FedEx Cup standings.
Only two rookies had made it to this year's season-finale and only 11 have since the inception of the playoffs in 2007.
None had ever won it. Until now.
"Five months ago, two months ago, three hours ago I wasn't really expecting a whole lot," said Schauffele as he sat next to a replica of Bobby Jones' famous Calamity Jane putter, the new trophy given to the winner at East Lake. "To be sitting here with this bad boy right here is very special."
The entire year turned out to be beyond special for Schauffele, whose name rhymes with awfully and in that regard he has been awfully good when it has mattered most.
Twelve months ago, Schauffele wasn't even sure if he'd have a PGA Tour card. Despite racking up four top 10s and earning $149,000 during the regular season on the Web.com Tour, he finished just $975 short of 25th place on the money list and an automatic PGA Tour card.
In the Web.com Finals, a T-9 at the Nationwide Children's Hospital Championship was enough to secure one of the 25 cards handed out in the postseason.
Once he got on the PGA Tour, though, it was mostly feast or famine. He finished fifth in his second start of the season but soon missed five cuts in six starts wrapping into the early part of 2017. The trend continued through the early part of summer, too, with three more weekends off in an eight-event span.
Then came the qualifier in Tennessee for the U.S. Open. Schauffele got in and at Erin Hills tied for fifth.
"I was struggling to keep my card and get in tournaments and found a way to breeze through the U.S. Open somehow with a cool head," he said Sunday night. "I looked at that and thought, 'Wow, I could actually do this.' I think back a lot to that moment and that week to realize I could be out here.
"There was never a matter of maybe I can't do it. I just wasn't doing it and thinking maybe I need more experience or find some way to gain more experience without losing my card, which is impossible. The thought of falling back on the Web.com Tour was in my head … I wasn't happy I was thinking that way but I was trying to be realistic."
Three weeks after his breakthrough moment on the big stage at the U.S. Open, Schauffele got his first win. He followed with top-20 finishes in the British Open and WGC-Bridgestone Invitational.
In the playoffs, he tied for 17th at the Northern Trust and kept advancing.
Then at East Lake he rode a hot putter all the way to taking home another putter, the favorite club of Bobby Jones. For the week, Schauffele made 67 of 69 putts inside 10 feet.
"It's been a wild ride," said Schauffele, who earned a three-year exemption with the victory. "I weaseled my way in last week and have been weaseling my way around all year."