Go-Getters
Justin Thomas reveals his annual list of goals for the past season, and they all seem impossibly hard to achieve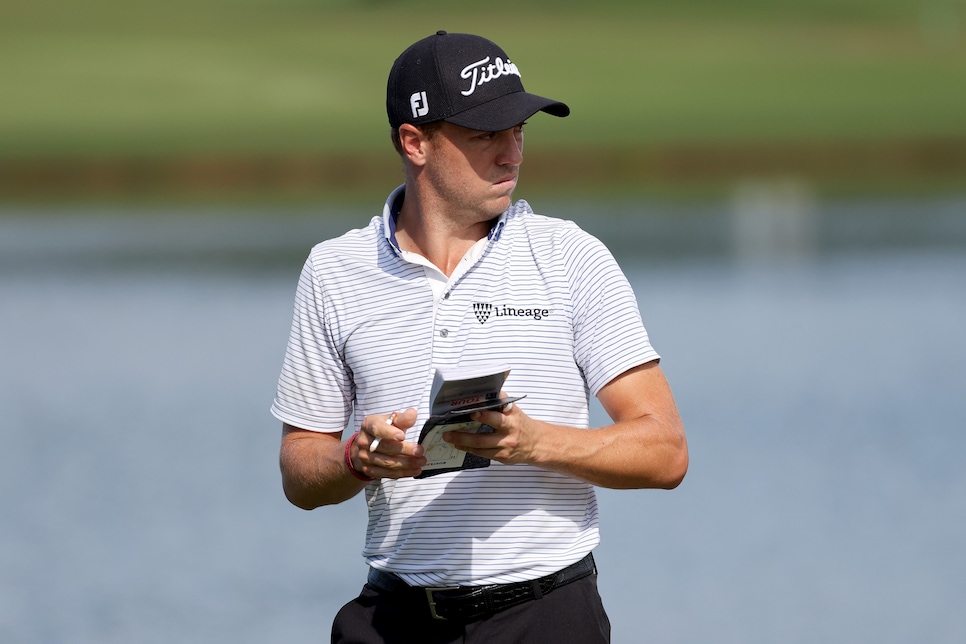 There are a few schools of thought when it comes to setting goals, be it in golf or any other walk of life. The first: Set the bar low so that you can actually check off each goal and feel good about it. The second: Set the bar high to challenge yourself, and even if you fail, at least you've given 100-percent effort.
Justin Thomas clearly endorses the second school of thought based on his annual lofty goals lists for each PGA Tour season. He'd not shared one since the 2017-'18 season, at least on social media. That season, the list was an extremely ambitious one, and he actually checked off a good portion of it.
On Tuesday, Thomas revealed his 2020-'21 list, with the tour's super season having just wrapped up on Sunday at the Tour Championship. Getting to East Lake was the first goal on list, so he was 1-for-1. Goal No. 2 was to make the Ryder Cup team and "bring the cup home." He's already made the team, making him 2-for-2, but the bringing the cup home part is still to be determined.
No. 3 was to win, which Thomas did at the Players Championship, giving him 14 career PGA Tour victories. But Thomas wanted not one win but five. He aimed even higher from there, setting a goal to win two or more majors and to hold on to No. 1 in the world for 10-plus weeks. This is where the red X's started to come in:
Thomas, unfortunately, didn't have his best season in the majors, though this list is technically for the super season and he finished solo fourth at the fall Masters and tied for eighth at the fall U.S. Open at Winged Foot. In 2021, though, he went T-21 (Masters), MC (PGA), T-19 (U.S. Open) and T-40 (Open Championship).
Still, it shows how highly he thought of his game heading into the year, and it's not like he hasn't come close to winning two majors in a season before. In 2017, he held the 54-hole lead at Erin Hills before collapsing on Sunday and tying for ninth. A few months later, he won the PGA Championship at Quail Hollow.
As for some of the loftier statistical goals, Thomas only picked off one, but not for lack of trying. His scoring average for the season was 69.773, not good enough to hit his 68.5 mark but good enough to rank sixth on the PGA Tour (ho hum). For strokes gained/around-the-green, Thomas finished 21st on tour, just shy of his top-15 mark. For strokes gained/total, Thomas finished the year 1.444, again ranking sixth. As you can see, he's setting the bar almost too high and still coming close to reaching it.
Off the course, Thomas is batting 1.000, a nice consolation prize in a year that featured plenty of ups and downs. We're already looking forward to his list of goals for 2021-'22, which will no doubt include winning seven times, including three majors, and ranking first in every strokes-gained category, and possibly ruling the world.