News & Tours
Justin Rose named 2021 Payne Stewart Award recipient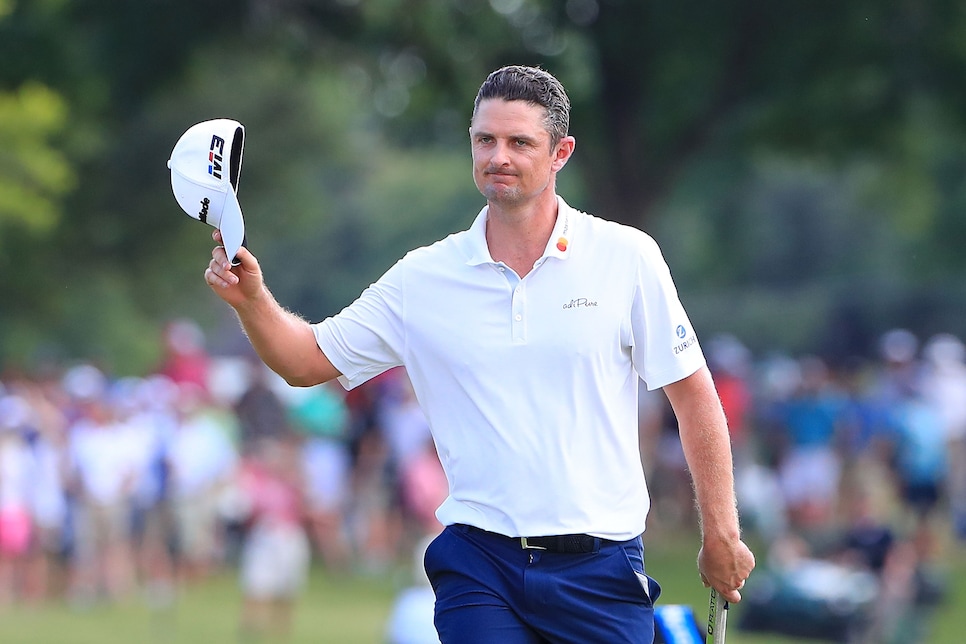 Tom Pennington/Getty Images
Justin Rose was named the 2021 recipient of the PGA Tour's Payne Stewart Award Tuesday afternoon.
"That's been a huge surprise and a lovely honor and something that's definitely uplifted me," Rose said Tuesday at this week's Wyndham Championship. "It's the kind of award I think that clearly it's not based around your golf. The golf's been a platform for me to sort of I guess do other things and be honored and recognized in this way, but it's the type of reward that kind of makes you reflect a little bit on all the things that contributed towards that. It's been a nice feeling to have just a little bit of time to reflect on all of the reasons that maybe I've been awarded it.
"Yeah, it's a nice feel-good feeling, absolutely. Something I'm very proud of, and obviously the list of the names I'm joining on that trophy, yeah, it's overwhelming actually. It's definitely some great players and more importantly some great role models in the game."
Rose and his wife Kate established the Kate & Justin Rose Foundation in 2009, a group that aims to "feed hungry tummies and curious minds" by providing nutrition, books and educational experiences to children in Central Florida. To date the foundation has raised over $3 million, provided over "500,000 hunger-free weekends" and donated more than 300,000 books.
Additionally, Rose and the foundation helped rebuild the Grand Bahamas Children's Home following its destruction from Hurricane Dorian in 2019. And when COVID-19 shut down a number of female golf tours last summer, Rose and his wife created the "Rose Ladies Series," an eight-tournament swing in England to provide playing opportunities and visibility for women players.
"Justin Rose embodies everything the Payne Stewart Award represents," said PGA Tour commissioner Jay Monahan. "Like Payne, he has been one of the premier players of his generation while using his platform to better the lives of those around him.
"The inspiring progress that he and Kate have made through their family's foundation is a terrific representation of how Payne chose to focus his efforts away from the golf course, by giving back and treating people the right way."
Rose has 24 professional victories in his career, highlighted by his triumph at the 2013 U.S. Open. The former World No. 1 also won the gold medal at the 2016 Summer Olympics and captured the FedEx Cup in 2018.
Rose will be presented the award at a ceremony during the Tour Championship in Atlanta.