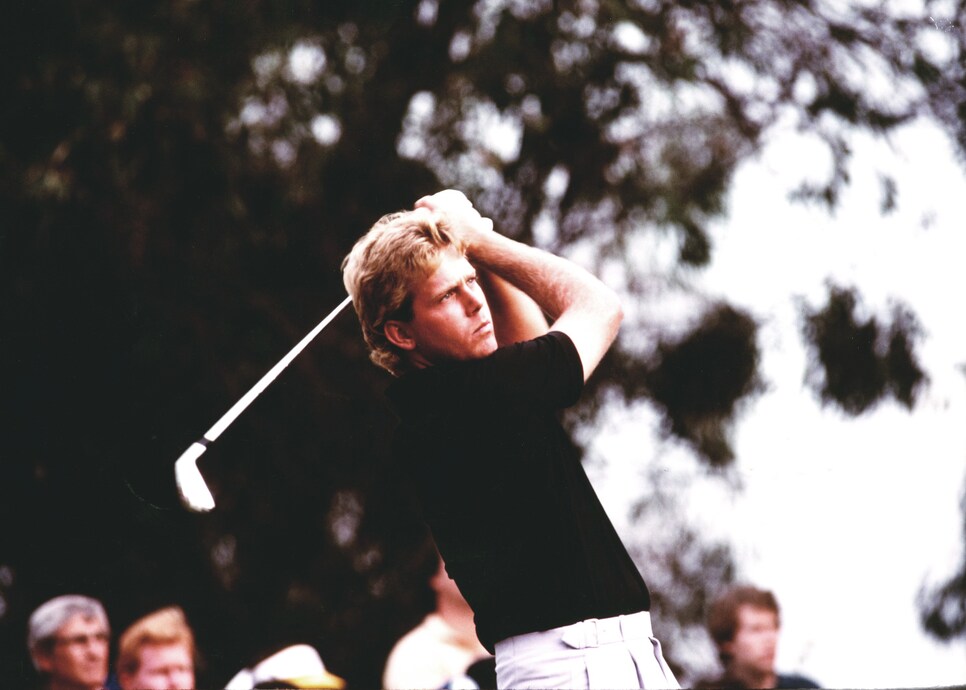 Courtesy of Southern Methodist University
As a broadcaster, you're sometimes asked to report on friends, colleagues or people you're close to and present the story with a distant air. That's a requisite of the job­—be objective, always, regardless of the subject matter. I'm not going to lie­, it's not always easy. I struggle to hide my feelings. That was never more the case than a day that is 20 years gone but indelible in my memory.
On Oct. 25, 1999, I was in a restaurant in Westport, Conn., having lunch when a waiter pointed to the TV above the bar. "What a terrible tragedy this is. That plane is going to crash with a famous pro golfer on board." We immediately riveted our eyes to the ongoing coverage of a small jet that was flying off course, with the news anchor speculating that all onboard were unconscious.
Seconds later, I received a call from a producer friend of mine at CBS News. My contact had a mole inside the ABC newsroom who told him that one of the plane's occupants was possibly Tiger Woods. They just needed to get it confirmed. CBS didn't want to get beat on the story, so I reached out to a friend of mine at IMG, which represented Tiger at the time. He assured me that Tiger was not on the plane.
Soon after, the plane ran out of fuel and crashed into a cornfield in South Dakota. The news was devastating: Reigning U.S. Open champion Payne Stewart and five others had lost their lives. It didn't take long for another call to come in from the news department requesting I put a package together for Dan Rather and the CBS Evening News. Dan was going to open his newscast with the wrenching story, and they asked if I would sit next to him on the set to lead to the piece and tag it with a thought or two.
On the drive into Manhattan, I wrestled with how I would hold it together on the air. I recalled the first time Payne and I met, in 1979. I was traveling with the University of Houston golf team to the Southwest Conference tournament, and Payne was a star at Southern Methodist. That year, the individual title had come down to Payne and my suite-mate, Fred Couples. The rules stated that if there was a tie after 54 holes, there would be no playoff. The players would be declared co-champions. But there was an important stipulation: The SWC winner would also be awarded a spot in the PGA Tour's Colonial National Invitation. If there was a tie, that honor would be decided by a match of cards from the 18th hole going back.
Fred came to the final hole one shot back of Payne. If Fred birdied the par 5—Payne had made par—he would earn a share of the title and the invitation to Colonial. Fred knocked it on in two and made birdie. He was heading to Fort Worth.
Or so we thought. Fred decided he should give Payne a fair shot at Colonial. "He's a senior, I'm a sophomore, and I'll have more opportunities to qualify," Fred said. "He deserves a chance to play off for it." So they headed to the first hole, and Payne won it with a par. Payne was headed to Colonial. Of course, both players went on to compete on the world's biggest stages. In 1999, Payne was fighting his way out of a four-year victory drought, leading the AT&T Pebble Beach Pro-Am by a shot going into Sunday. That morning, I approached him on the putting green and asked him about a new putter he was using. He said, "Here, try it yourself, Jim." I made a couple of lame strokes, which didn't satisfy Payne. "No, line up the putt until you can't see the red line on top of the putter," he said. "Once you do that, you'll have it lined up straight." Here he was, about to tee off, and he was giving me a lesson.
Shortly after the final round started, a huge storm hit, eventually shortening the event to 54 holes. Payne was a winner again. He expressed his love for his wife, Tracey, and children Chelsea and Aaron. He just glowed. Four months later, he won that iconic U.S. Open at Pinehurst. Four months after that, he was gone. These days I wonder where Payne would be if he hadn't been robbed of his life. It doesn't matter that 20 years have passed. It remains impossible to hide the feelings.