The Next Step
Why do some top juniors make it and others don't? The surprising answer
The junior ranks are overflowing with talent. But ask tour players about their own development and they say mindset is the difference maker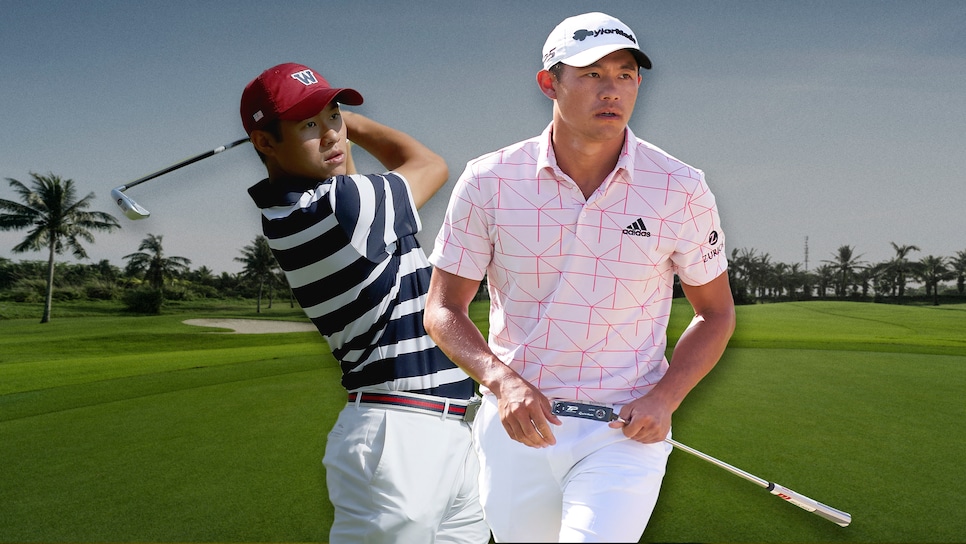 Collin Morikawa has won two major titles, helped the U.S. reclaim the Ryder Cup in his debut appearance and even captured the European Tour points title despite playing only sporadically in Europe.
Walking with Morikawa before a recent tournament, it felt reasonable to ask, when did you know you were better than everyone else?
Morikawa considered the question for a second, before answering, in so many words, I'll let you know when I do.
"I never wake up and I think, 'Oh, I've surpassed everyone. I'm better than everyone,'" Morikawa, 25, says. "Because from my perspective, I'm always learning from everyone."
False humility is easy to detect with professional athletes, yet Morikawa's answer felt neither dishonest nor naive. Of course he knows he is a great golfer. Yet part of that greatness is fueled by a stubborn insistence that his development is ongoing.
"I think there are kids who get to a point where they think they're good enough, but it never stops," Morikawa says. "I'm learning every day, and that's the biggest thing. The day you think as a player you've got it figured out, you're done. Because then you're going to do exactly what you've been doing, and everyone else is going to keep getting better."
This week offers a unique contrast between junior golfers and the game's elite players thanks to the Drive, Chip & Putt staged the Sunday before the Masters. Set on Augusta National Golf Club's lavish practice area, with full coverage on Golf Channel, the competition will feature boys and girls ages 7 to 15 with flawless golf swings and dreams of playing major championships for real not too far down the road. If it was simply a question of ability, many have been given reason already to believe they can get there. Yet ask current tour players why they made it to the next level when plenty of their gifted contemporaries didn't, and a consistent theme was a reluctance to believe their own hype.
"At 12 or 15, if you think you're good enough, well, you might be then. But you still have to get better," Morikawa says. "I still am never satisfied. It's in the back of my mind every time I play."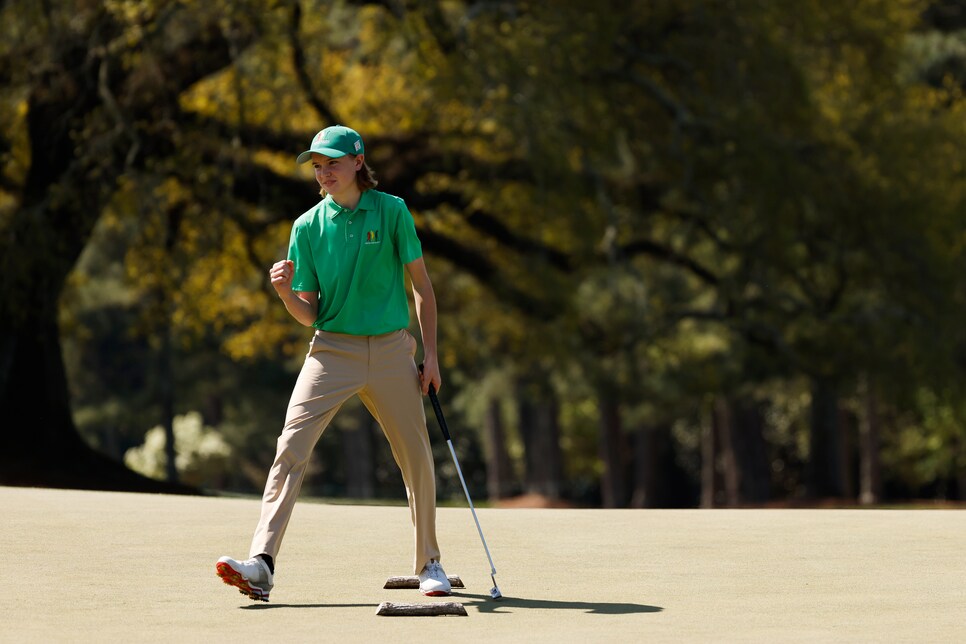 Brayden Dock from Queensbury, N.Y., is making his second appearance in the Drive, Chip & Putt.
Jared C. Tilton
Golfers like Jaden Dumdumaya from northern California, or Brayden Dock from upstate New York, both 15 and dominant in their respective regions, talk eagerly about their aspirations of professional golf, and the work required to get there. Dumdumaya references the putting matches against his older siblings that sharpened his edge ("I grew up playing with that drive for competition," he says). Dock reflects on the painful growth that inevitably arises from setbacks. ("I learned if you have one bad hole and there are still six to play, you have to make sure you get yourself back in the right mindset," he says).
Encouragingly, both players talk more about what they need to do versus what they've done. This is essential, tour players and coaches say, because the path to golf's highest level requires an almost allergic aversion to complacency.
"I have all these parents come to me and say, 'I want you to teach my son. He is so talented,'" says Rick Sessinghaus, Morikawa's longtime coach who also has a doctorate in sports psychology. "And my feeling is I've seen so many talented junior players and that is a very small part of the equation."
Scottie Scheffler knew he wanted to play professional golf as long as he could remember. Growing up at Royal Oaks Country Club in Dallas, Scheffler eyed the manicured part of the range where the tour pros practiced. He even wore long pants through the sticky Texas summers.
"Everybody used to make fun of me, but that's what I did," says Scheffler, who ascended to No. 1 in the World Rankings after his third win in 42 days. "That's what the pros did, so I wore pants."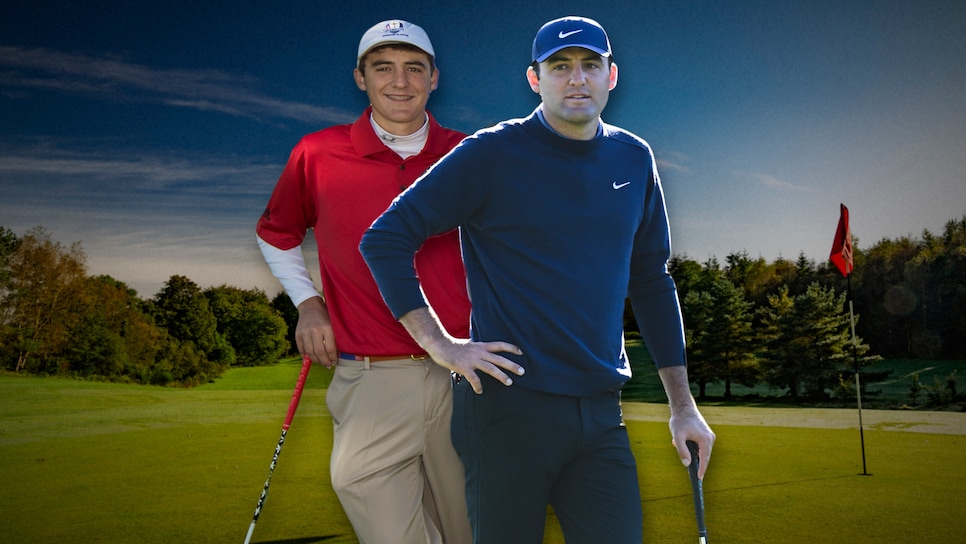 "I never expected to be out here," Scheffler says. "I was always just trying to get better."
The thin line great players walk, however, is that they set a goal for the future without letting it cloud the present. It seems an almost counterintuitive exercise: to get to where you want to go, stop focusing on where you want to go.
"It's kind of weird, I never expected to be out here," Scheffler says. "It seemed like something that I wanted to do, but I never was too focused on it until I was out here. I was always just trying to get better."
"I have all these parents come to me and say, 'I want you to teach my son. He is so talented.' That is a very small part of the equation."
—Rick Sessinghaus
Part of golf's maddening appeal is the definition of getting better always changes. You want to make solid contact and get the ball in the air at age 6, want to draw the ball at age 10, want to create backspin with a wedge at age 13. And it keeps going. (I know this in part because of my own junior golfer at home who could already put his feet up if his lone objective in golf were to beat me. Instead the more he improves, the more new challenges surface.)
Viktor Hovland says the biggest jump in his development came when he was a sophomore at Oklahoma State, one of college golf's premier programs. At that point, following a decorated junior record in his native Norway, one might think Hovland's skill set was fully baked. But he still struggled with a specific shot—a 3-wood off the deck that traveled too low. Perhaps another player would have been content to play around it, but with a month off between semesters, Hovland visited his coach in Florida and committed to learning to execute the shot higher and with more control.
"It was just such a frustrating way to play golf because I would watch my peers and they would just hit these high draws off of the ground onto the green on par 5s," Hovland says. "I spent the four or five weeks just grinding on my swing. And then when I came back for the next semester that sophomore year, I was kind of starting to hit it higher and draw it more. That was really exciting."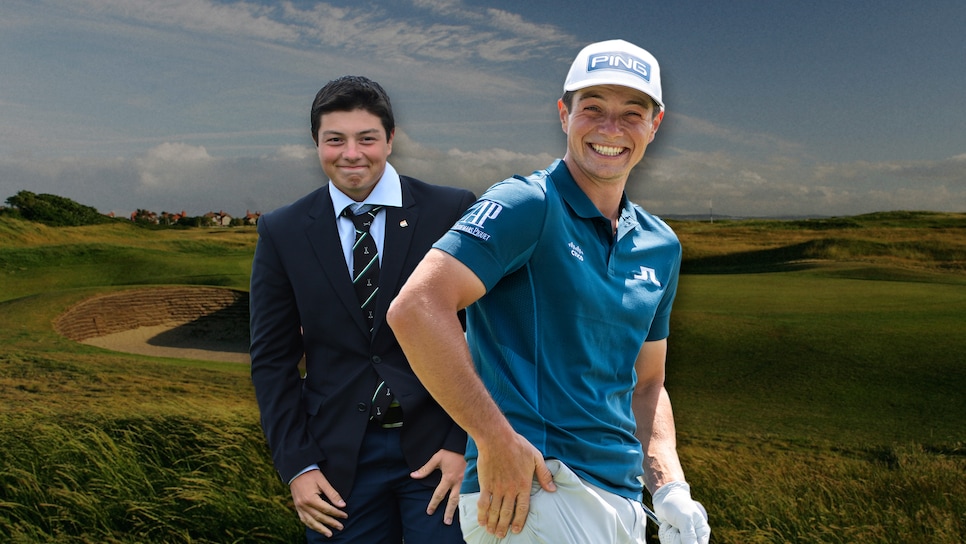 One shot in particular gave Hovland trouble. He devoted his winter break to solving it.
A golfer's persistent search for refinement is what Sessinghaus, Morikawa's coach, calls a "mastery mindset." It's the idea that a player's intrinsic motivation to improve should outweigh a desire for external rewards. A mastery mindset is an accomplished college player like Hovland devoting his winter break to improving the trajectory of his 3-wood. Or Tiger Woods winning the Masters by 12 shots, then determining he needed to break down his swing and begin anew.
"With a mastery mindset, it's as if you're always a beginner," Sessinghaus says. "You come to every experience with a beginner's mind and know you can get better if you're open to it and ask the right questions."
Growing up in Southern California, Morikawa was always a very good junior, but he never won an AJGA tournament. The moment Sessinghaus knew the player possessed a mastery mindset was following one of his worst rounds, an 84, in an AJGA event at PGA National. Typically after tournaments, Sessinghaus liked to put his player through a debriefing—what he did well, what he learned, and what needed work.
"Before I could even say a thing, he said, 'Hey, I need to learn how to flight these irons because those winds at PGA National really got to me,'" Sessinghaus recalls. "Most juniors and college players—I would say a good 75 percent—would come to me and make an excuse. 'Rick, I didn't play well because it got windy.' But he was never that way."
Future success is a complex cocktail, but a worthwhile indicator is how players react when things go sideways. Cameron Young recognizes this now. A PGA Tour rookie who just qualified for his first Masters, Young said there was a familiar pattern among the talented juniors he competed against growing up: First they realized they were really good. Then they realized golf is really hard.
"But when you figure out how to deal with how hard golf is and still get better through it, that's when you get really good," Young says.
Young's father, David, who is the head pro at Sleepy Hollow C.C. in suburban New York, has his own reminder of the pitfalls awaiting high-level junior golfers. His screen saver features rotating pictures of Cameron's junior tournaments, like the U.S. Kids World Championship in Pinehurst, some of which show a leader board.
"When you figure out how to deal with how hard golf is and still get better through it, that's when you get really good."
—Cameron Young
"Looking back at the scores, there were kids like Morikawa who were pretty mediocre back then. And then some of the kids who were winning them all are nowhere to be seen now," Young said. "It was so sad to see, because back then some of the kids you'd see were playing and having no fun. They had so much invested in it, and their parents had so much invested in it, it felt like a business. And they weren't mature enough to deal with failure."
This last part raises an important point: Golf can be so difficult it borders on demoralizing. Much as young players are cautioned against a false sense of achievement, they also need reminders that perfection is unattainable. It is one of the reasons many coaches are leery of juniors spending too much tweaking their swing on a Trackman. In a controlled environment where they obsess over optimal club path and ball-speed numbers, players are not adapting the problem-solving skills you need for real golf. Mike Tyson wasn't talking about tucked pins, but he still put it best: Everyone has a plan until they get punched in the mouth.
As Cam Young said, much as talented juniors develop a foundation of self-belief early, the real growth occurs when they learn to fight through enough resistance. It's why even from an early age Sessinghaus' training sessions with Morikawa were designed to shake the player out of his comfort zone—uphill lies, wind in his face—the type of shots that a player was likely to mess up the first time, but would want to try again.
"In a way you do want to force failure," Sessinghaus said. "We want the player to be childlike and creative, because that's how you get better."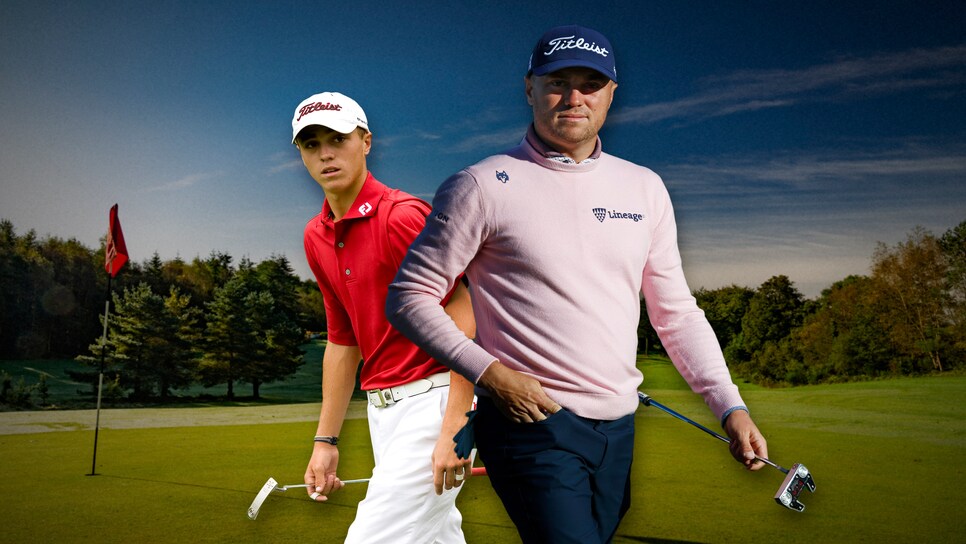 "It's golf," Thomas says of occasional frustrations. "I still go through that."
Paradoxically, the best evidence of a mastery mindset is an acknowledgment that golf can never truly be mastered, no matter how high your World Ranking. Walking to the practice range recently, Justin Thomas reflected on his own heady days as a junior. He remembers when he was 8 and he lost in a playoff of a U.S. Kids event that included bigger, older kids. "It was a nice confidence boost for me," he says. "Making it in golf was on my radar before, but it was even more so after that."
So Thomas knew what he wanted early, even if it wasn't always a straight line. In the intervening years, did he ever think, this is harder than I realized?
"Yeah," Thomas says with a chuckle. "It's golf. I still go through that."