From the Magazine
How Collin Morikawa became a cold-blooded competitor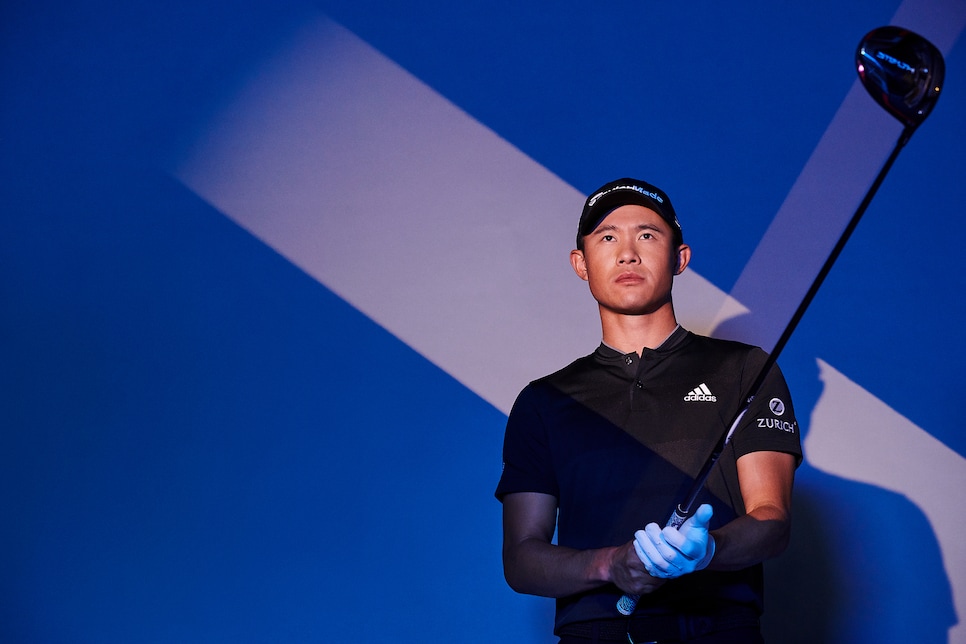 How does the world's No. 2 player and top-ranked American—a good-looking kid with global appeal, a radiant smile, two major championships, a college sweetheart-turned fiancee and a business degree from a top university—finish outside the top 10 in the PGA Tour's popularity contest? The $40-million Player Impact Program is designed to reward players who bring the most attention to golf, and on paper, Collin Morikawa ticks all the superstar boxes. In actuality, he can come off as bland. His consistent game is decidedly unflashy; Tiger Woods described it as "like an athletic Jim Furyk." Furyk never slammed clubs and neither does Morikawa. You won't find him beefing with anyone on social media. He is, one could argue, too nice.
That's the public perception, at least. As is often the case with public perceptions, the truth is more nuanced. Behind the toothy grin and unassuming disposition lies a young man addicted to winning, who uses golf as an outlet for an insatiable desire for competition. Collin Morikawa is not who you think he is.
"Competing is my life," he says. "I mean, I'm stupid competitive. It can become a problem with people who are not competitive. Like, it can get annoying."
Consider his chippy reaction to presumably finishing one spot outside the PIP top 10 and missing out on a minimum $3-million payday (results will be announced in February). "My favorite number is 5," he tweeted, "but maybe I'll make it 11 now." Soon after, he changed his Instagram and Twitter bio to include "Co11in." Not exactly a nice-guy move, putting the tour on blast in a public forum and turning a perceived slight into motivation. He has an edge; it's just beginning to show.
"I'm not aware of any other sports league that includes a player-impact program where just the top 10 people are getting paid on the side," Morikawa says. "Is it weird? Absolutely. Are guys that miss out going to complain? Probably. But, look, what that proves is that I need to engage more. That's what people want to see."
What they've already seen is a historically fruitful start to a career. About a year ago, he had amassed three PGA Tour wins, including a major championship before turning 24. His rise to the summit of the sport had been remarkable for its linearity: great junior career, terrific college player, world No. 1 amateur, a PGA Tour card within two months of turning professional, a win a month later, a major the next year.
'COMPETING IS MY LIFE. I MEAN, I'M STUPID COMPETITIVE. IT CAN BE A PROBLEM WITH PEOPLE WHO ARE NOT COMPETITIVE.' -Collin Morikawa
Each of his three worldwide victories in 2021 carried significance. He won his first World Golf Championship in February; in November, he won the DP World Tour Championship to become the first American to win the European Tour's season-long points race; in between, he doubled his major tally with a masterful performance in his first Open Championship. Just as impressive is the way he seized them: He closed the WGC with 16 bogey-free holes; the Open with 31 straight bogeyfree holes; and the DP World with 41 bogey-free holes. With those commanding, mistake-free performances, he has emerged as the game's premier closer—the rare player who feels most at ease in high-leverage moments.
"Everyone likes to say that his putting is a weakness, that he needs to improve that part of his game," says his caddie, J.J. Jakovac, "but all he has done under pressure is make putts that matter. You don't do that unless you have some extra level of focus when you need it. He is a ferocious competitor."
Morikawa had no links golf experience when he played the Scottish Open right before the Open Championship. The finest iron player in the world couldn't find the center of the face all week at the Renaissance Club and hated the way his clubs interacted with the firm Scottish turf. He also struggled with speed control on the slower putting surfaces. After a disappointing T-71 finish, it would have been easy for him to view his first Open Championship as a learning experience, go through the motions and head home.
Screw that. He got to work, all by himself. Many modern tour pros insulate themselves behind their agents, their mental-game gurus, their swing coaches. The idea is to control as many variables as possible, to keep the machine churning without incident. Change, especially during major-championship weeks, is the enemy. Morikawa instead embraced the urgency of the moment and began searching for answers. He aggressively tinkered on Monday and Tuesday before settling on two big changes: He would use a different grip for longer putts, and he would switch out three of his irons for more forgiving models. These were massive leaps of faith on the eve of a massive event.
By the back nine on Sunday, he found himself in a three-way race with two sentimental favorites: Louis Oosthuizen, overdue for a second major championship after all his near-misses, and Jordan Spieth, on the comeback trail. Sorry, no time for feel-good stories. Morikawa became the first player to win two separate majors in his first try.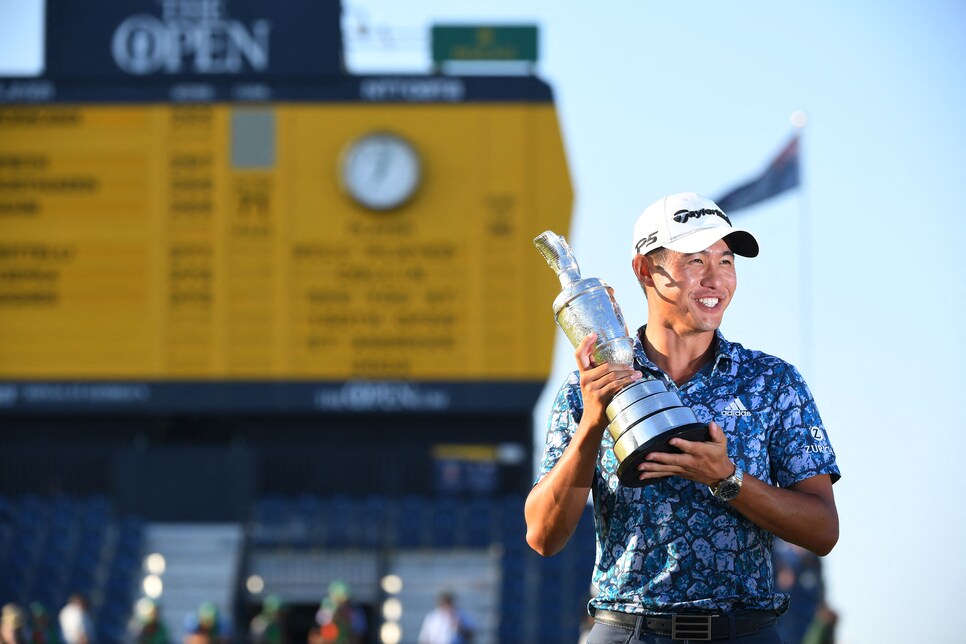 "This intangible that Collin has—he's a smiling assassin," says Paul Azinger, who called Morikawa's victory for NBC and has helped with his chipping. "His strength is that he seems so harmless. Whereas Tiger had this intimidating [aura]—it was almost a character he'd become, in the red and black—Morikawa doesn't give you that appearance. He's just a normal guy, small in stature. But he takes down the big players."
After Brooks Koepka won his first U.S. Open, he headed to Las Vegas for a week-plus of grown-up fun. Shane Lowry tossed back pint after pint after he won the Open Championship. Conversely, Morikawa had a low-key dinner with his inner circle: Jakovac, longtime coach Rick Sessinghaus, fiancee Katherine Zhu and agent Andrew Kipper. With the Olympics around the corner, he believed he had more work to do. There is always more work to be done.
"I probably don't take time to appreciate success as much as some other players do because I always want more," he says. "I want to keep winning. It's addicting. When you play against the best in the world, and you come out on top, it's incredible—pure joy. It's extremely gratifying."
"He always wants the next thing," says Sessinghaus, who has coached Morikawa since he was 8 years old. "We talk about a mastery mind-set. It's always about the future, never the past, and that's what I admire about him. He is so good at learning and moving forward. It's been that way since he was a kid. He wants to get better tomorrow."
'ALL HE HAS DONE UNDER PRESSURE IS MAKE PUTTS THAT MATTER. YOU DON'T DO THAT UNLESS YOU HAVE SOME EXTRA LEVEL OF FOCUS WHEN YOU NEED IT.' -J.J. Jakovac, Morikawa's caddie
The motivation, interestingly, does not stem from a lifelong romance with golf. He hardly ever watched golf as a kid. "I couldn't have cared less that tournament X was on." But he got good quickly, and he loves being good, so golf it was. Still, given the option of a free day tomorrow, he says he would rather go to Six Flags than play Pebble Beach. He's not one to discuss the nuances of golf-course architecture or spend time gawking at pictures of Bobby Jones. Sure, he will pick the brain of a decorated old-timer— Azinger showed him how to avoid taking divots when chipping off grainy Bermuda. Mark O'Meara is behind his "saw-like" putting grip, and a conversation with Woods is the main reason Morikawa tries to draw his wedges just a hair—but he views those exchanges through a utilitarian lens. The objective is to leverage these chats to his advantage, not to kiss any rings.
"I stayed all four years in college so that when I turned pro, I knew I would be fully ready. What I mean by that is that I wouldn't be afraid of anyone or anything."
This borderline pathological competitiveness reveals itself on the golf course, obviously, but also in heated board-game sessions during Masters week, or shooting hoops, or in goodnatured banter, where he always manages to get the last word. (He also fancies himself a bit of an adrenaline junkie and is keen to try skydiving. Kipper is less pumped about the idea of his client jumping out of an airplane.)
'HE SEEMS SO HARMLESS. . . . HE'S JUST A NORMAL GUY, SMALL IN STATURE. BUT HE TAKES DOWN THE BIG PLAYERS.' -Paul Azinger
At his first Ryder Cup in September, Morikawa paired with Dustin Johnson to go 3-0-0 in the team sessions. Collin and his famously laconic partner didn't talk much, but when they had a lead over Paul Casey and Viktor Hovland on Friday morning, Morikawa made an effort to say something to DJ: "Let's step on their necks." It's a mantra he repeated throughout the week, and those five words provide an unvarnished look at the type of golfer Morikawa is. He relished the combative nature of the competition and fist-pumped more in those three days than he had in nearly three years as a pro. Morikawa capped his first Ryder Cup by winning the clinching half-point in singles on Sunday. Two months later, dressed in a business-like all-black outfit, he won the DP World to put himself within reach of supplanting Jon Rahm as world No. 1. When Morikawa led December's Hero World Challenge by five with 18 holes to play, it seemed inevitable, but he squandered that chance with a bitterly disappointing final-round 76.
"As great as Collin is, he's not infallible, and that's a thing that amateurs have to understand—even the very best players struggle sometimes in big moments," says Dr. Bhrett McCabe, a sports psychologist who works with many tour players. "But one of the things Collin does brilliantly well is, he sticks to what his strengths are. He doesn't try to do things he's not capable of doing. He never tries to be someone he's not or match a player in his group. He's going to play his game, and that's a hugely underrated skill."
No two players comport exactly the same in big-time moments. The best in the world embrace their sui generis swagger, and Morikawa has found his. Whereas Rory McIlroy bounces around the golf course when he's in contention and Jordan Spieth rides an emotional roller coaster, Morikawa's levelheadedness borders on meditative. He could have used some of that equanimity in the lead-up to his proposal.
Morikawa popped the question in spectacular fashion—he and Kat were in the Bahamas for the Hero World Challenge, and Collin arranged for a boat to drive them around. As they rode jet skis toward a private beach, he worried the ring would fall into the Atlantic. Alas, it successfully found its way to her finger. Wedding plans are in their inchoate stages, but two things are definite: First, he wants it catered by Takeshi Tsujita, the chef behind their favorite ramen spots in his native Los Angeles. (When out to eat, they love to order two types of broth-noodle combos and switch bowls halfway.) Second, the wedding will have to take place during the offseason because Collin is not one to let his guard down when trophies are there for the taking.
The young couple recently closed on a mansion near Vegas' ritzy Summit Club, where Collin practices and finished second in last fall's CJ Cup. This wasn't always the plan, moving on so quickly from the modest but plenty-nice home he purchased shortly after turning professional. Life has changed drastically—and quickly. When he orders delivery, he does so under a pseudonym. He has to be more selective with what he says, where he eats, who he lets in—while still managing to engage more with the public so as to avoid another dreaded 11th-place finish in the PIP. Because even in a popularity contest, Co11in hates to lose.