He made the hard look easy. Professional golfers have a penchant for that, the best routinely making this impossible game seem impossibly effortless. Even against that standard, going wire-to-wire on the PGA Tour is a rare sight because it is damn tough to do.
Yet that is what J.T. Poston did at TPC Deere Run, a tour-de-force performance that leaves him as the new John Deere Classic champ and now a two-time tour winner.
"It is hard," Poston said afterwards, his 21-under 263 total in Silvis, Ill., good enough for a three-shot win. "Wire to wire, having the lead for so long, it's just hard not to think about that fine line all week. I tried to stick to the game plan. Got off to a great start and then kind of started to try and give some back. Hit a lot of good shots down the stretch. [Caddie Aaron] Flener did a great job keeping my head in it and focused on the next one."
Poston is not known for painting leaderboards red, beginning the month 160th in birdie average on tour. Frankly, the 29-year-old North Carolina native hasn't been known for much as of late; two weeks ago, he was ranked 112th in the FedEx Cup standings, needing a good summer just to avoid demotion. If you're wondering what changed in Illinois, the answer can be traced back to Connecticut at last week's Travelers Championship, where—thanks to an opening 62 and closing 64—Poston finished T-2 at 17 under, his best finish in a full-points tour event since his 2019 victory at the Wyndham Championship.
"I feel like in years past I kind of fizzled out towards the end of the year and not played my best," Poston said in Cromwell, Conn. "Hopefully this is a different year, and I can play better at the end of the year."
Poston proved his words true and carried that momentum to the Quad Cities, starting with a 62 on Thursday and backing that up with a 65 Friday and 67 Saturday, giving him a three-shot lead. Sunday's start featured much of the same: Poston rolled off three straight birdies to begin his final round. With a five-shot advantage it felt like the proceedings could have been called to allow everyone an early start to backyard barbecues and sparklers.
Of course, golf has a way of icing even the hottest of heaters. After that birdie-birdie-birdie start, Poston made back-to-back bogeys on the fifth and sixth, with a third knocking on the door at the par-3 seventh after he flew the green by a good 20 yards. Suddenly, the issue seemed very much in doubt. Yet when things seemed like they were going south, Poston stayed level. After all, he is a cool customer. He's a tough read when it comes to body language because he runs on an aplomb that is consistent and unchanging no matter the score.
"I've always been pretty level, even keel," Poston explained. "I think that's a strength, not getting too excited, especially today after a great start."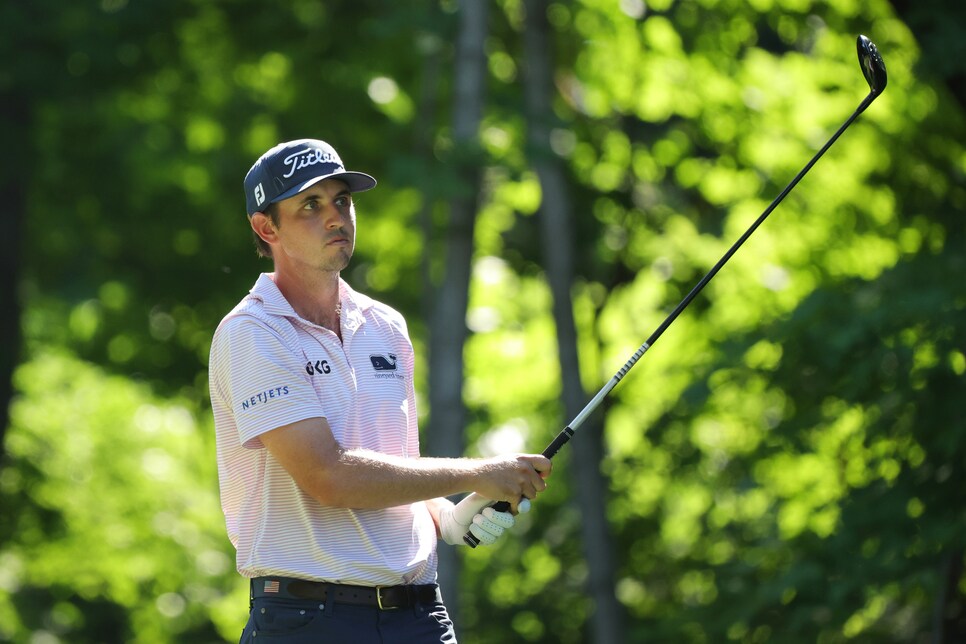 That nerve came in handy at the seventh, hitting a marvelous chip from a precarious spot and converting the 10 feet that remained for a par. "Flener, he said, 'you know, just really stick to our game plan and talk through every shot and just to make sure that we're fully committed,' " Poston said. "When you've got pressure like that and you're in that position and you're not 100 percent committed, then you can't really expect to hit a lot of good shots."
It wasn't the most dazzling of finishes. After providing plenty of pyrotechnics through three days, Poston decided he would wait for the Fourth of July for anymore fireworks. With 21 birdies and two eagles through his first 57 holes, Poston went on a 13-hole stretch without a red figure. Some of that can be chalked up to defensive play because that's what the lead called for. It partially can be subscribed to the course finally firming up. Truth be told, sometimes one is merely holding on to the bull for dear life and doing whatever they can not to fly off.
"I was just trying to breathe," Poston said. "I was really—I think there were a lot of nerves, a lot more than the first few days. I was just battling through them. I think after today, after this week, I feel like knowing I can play with those nerves and I can still win, still shoot a solid score considering the pressure and trying to win out here [means a lot]."
Poston's lead granted enough latitude, although the birdie drought kept the door slightly open for his competitors. Emiliano Grillo, searching for his first win since 2015, got Poston's lead down to one with a birdie at 10th. But the Argentinian bogeyed the 12th and made matters worse at the drivable par-4 14th. His tee shot found a greenside bunker, he flubbed his second and the third wasn't much better. When his par attempt did not fall, Grillo gave a sarcastic fist pump, knowing whatever trophy aspirations held were no longer there.
Christiaan Bezuidenhout made a charge with birdies at the 14th, 15th and 17th, and his approach to 12 feet at the final hole had a chance to really apply pressure to Poston, who was facing a tricky eight feet for par at the 16th. Only Bezuidenhout missed the birdie attempt to settle for a 66, and Poston made the par save. Poston shooed away whatever drama remained by ending his birdie slump with an up-and-down at the par-5 17th, returning the lead to three shots that allowed him to enjoy the red-carpet treatment down the 18th fairway.
Though it was Poston's tournament, the Sunday spotlight was shared with Chris Gotterup. The 22-year-old, who won the Haskins Award as the nation's top collegiate golfer this season, made the most of a sponsor's exemption, his final-round 66 lifting him to a T-4 finish. He did so in a way, with long drives (335.1 yards, third in distance) and pinpoint second shots (second in SG/approach), that is the formula for success on tour and portends more of the same. His solid display earned an invite to next week's Barbasol Championship, and after making the cuts at the U.S. Open and Travelers (to go with a T-7 earlier in the year as an amateur at the Puerto Rico Open), the Oklahoma and Rutgers product has an outside chance at earning his tour card.
"Yeah, kind of I've been prepping all year kind of for this," Gotterup said. "I knew it was going to happen. Not that I played really well, but I knew I had the opportunity, and to take advantage of it is amazing."
Speaking of opportunities, despite not claiming the top prize Bezuidenhout and Grillo didn't leave the JDC empty-handed, their T-2s earning them spots into The Open Championship via the Open Qualifying Series. "That's very special," Grillo said. "It's top-three places to play golf in the world, and I'm definitely looking forward to it."
Joining those two in Scotland will be Poston, who earned his first invite to the Open. Needless to say, the Old Course at St. Andrews for the championship's 150th edition is not a bad place to make a debut. He also became the first player in 30 years to go wire-to-wire at the John Deere, and just the second individual to do it this season following Joaquin Niemann's triumph at Riviera in February.
Now, this doesn't qualify as a breakthrough win; that would be his aforementioned triumph at the Wyndham. It's not an underdog story, either; with the Deere sandwiched between two New England events (the U.S. Open and Travelers Championship) followed by the Scottish Open and Open Championship overseas, many of the sport's marquee attractions passed on playing, leaving Poston as one of the handful of players ranked inside the top 100 to tee it up.
Poston doesn't need those sentiments because this win delivered something more cathartic. The list is deep of players who can run into four good rounds and win a tournament, or turn a decent stretch into a tour card. Poston knows because he's been that guy. But this week was an affirmation of the belief that so many have but few come to find: That Poston doesn't just belong out here, but truly, unequivocally and without doubt can be something more.
"You know, they don't come easy out here, and I really wanted to get that second win to sort of validate Wyndham, so it feels good to get it out of the way," Poston said. "I felt like this was coming, and it's nice to get it done."
Players spend a lifetime chasing that question. On this Sunday, Poston got his answer. It sounds easy. It is decidedly not.