second life
Between back troubles and big wins, Joseph Bramlett feels a kinship with Patrick Cantlay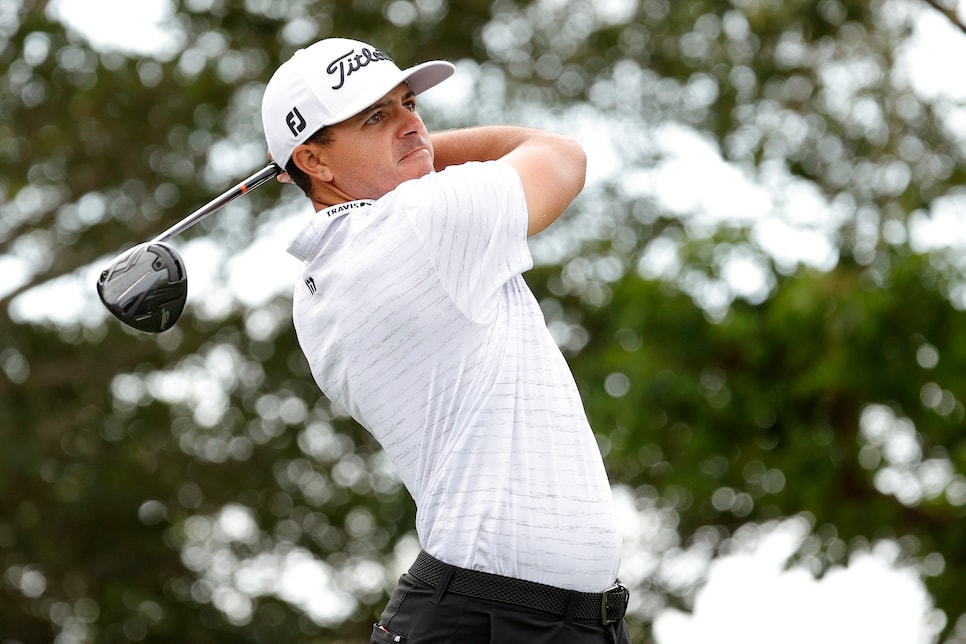 Joseph Bramlett plays his shot from the 14th tee during the second round of the 2021 Honda Classic.
Jared Tilton
Of all people, the coincidence—if it was one—was not lost on Joseph Bramlett. On the first Sunday in September, Bramlett scored his greatest career triumph by polishing off a four-shot victory in the Korn Ferry Tour Championship in Newburgh, Ind.—the first win as a pro for the 33-year-old who's experienced more than his share of career trials, including a back injury that sidelined him for nearly five years.
Four hundred miles away in Atlanta, Patrick Cantlay—another player who had career-threatening back trouble—was outdueling World No. 1 Jon Rahm to seize the Tour Championship and his first FedEx Cup title.
Coincidence or fate? Bramlett can't say, but he knows he's been inspired by Cantlay's journey.
"I certainly kept an eye on him as he was making his comeback and he started to have pretty solid success very early," Bramlett said on Tuesday in Napa, Calif, where he's opening the PGA Tour season in the Fortinet Championship (formerly Safeway Open). "What that did for me was just confirm that the game I had before I was hurt is still going to be there as long as I'm able to get healthy and I'm able to get the reps in and practice appropriately.
"And then to see him kind of rise towards the top of the PGA Tour and win the FedEx Cup last week, as well, it's awesome. It shows that just because you had a low back injury, which at one point in time would have ended your career—but these days with medicine and what we can understand about the body, we're kind of able to work through and continue a nice, long, healthy career with."
Bramlett suffered his back injury—an annular tear to his L4 and L5 discs—on the Korn Ferry Tour in 2013 and didn't play fulltime again until 2018. There were dark times when the Stanford grad didn't know if he'd ever compete again. "There's so many days that the rehab was going tough, and I wasn't making the progress I wanted to make and you just never know if it's actually all going to all work out," he said.
Bramlett earned his way back onto the PGA Tour for the 2020 season, but finished 141st in the FedEx Cup standings. Then, in the most recent campaign, he notched only one top-10 and again missed his tour card and the playoffs at No. 146.
But the Korn Ferry Tour Finals provide a second chance, and Bramlett caught fire in Indiana, where he shot 65 on Saturday and backed it up with a scorching stretch of seven birdies over eight holes to notch another 65 and win at 20 under.
The victory that put him back on the PGA Tour was the reward for a remarkable display of persistence and fortitude. Since turning pro in 2010 and reaching the PGA Tour through Q-school in '11, Bramlett hadn't won anything.
"It's massive for my confidence," he said. "It was my first win out here on either the PGA or the Korn Ferry Tour, so it's something I always believed I was capable of doing, but to actually prove it to myself and get it done, especially on such a demanding golf course with so much on the line, was really, really gratifying. I've done a lot of reflection this week and it's just, yeah, it felt really, really good."
Bramlett has had so much catching up to do, and though he says his FedEx Cup ranking didn't reflect it, he improved in nearly aspect of his game last season.
"My skills got better last year," he said. "I got a lotm ore speed off the tee, my wedge game is dialed in a lot better, and I've become a more consistnt putter. So for me, looking through ithat lens, there's a lot of optimism coming into this year. To finally prove to myself that I can win at this level as well, I feel a lot of positive"
Most of his strokes-gained stats from last season would make Bramlett a top-70 player on the tour, with one very glaring exception: He ranked 193rd in strokes gained/putting.
As for any areas he's particular targeting this season, Bramlett had a short, direct reply: "Yeah, the winner's circle."