WGC-Match Play
Jordan Spieth advances to face big test against Matt Kuchar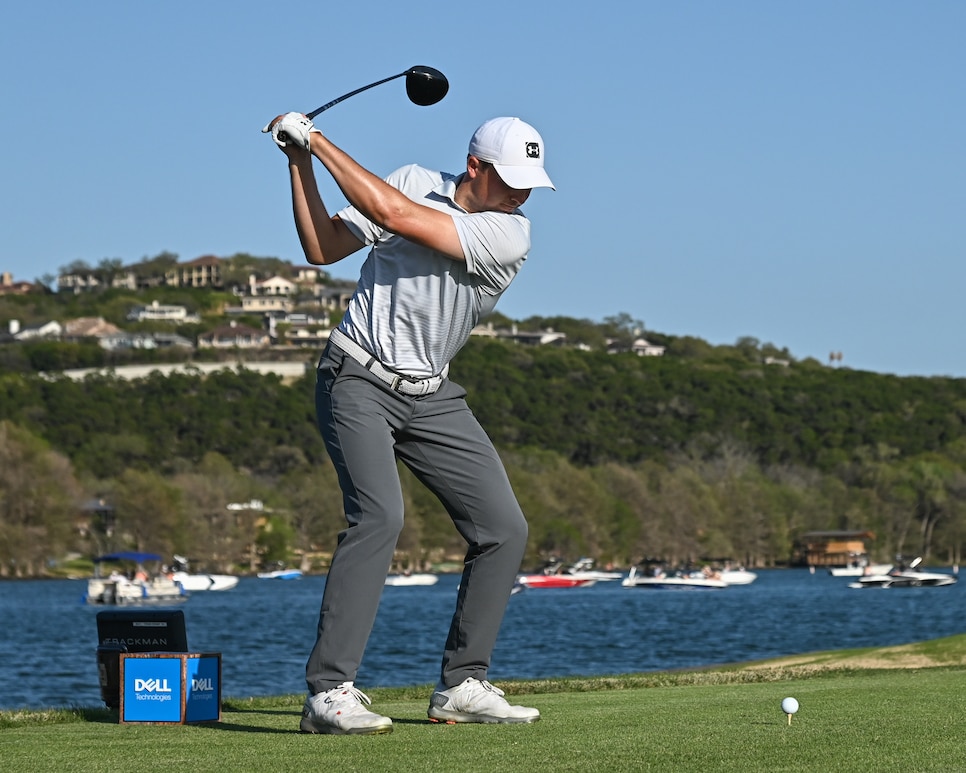 Jordan Spieth tees off on thr 14th hole during round three of the World Golf Championships-Dell Technologies Match Play.
Ben Jared
AUSTIN, Texas—The best way to sum up an incredible Friday at the WGC-Match Play, which featured a record eight sudden-death playoffs, is that Scottish man-of-the-moment Robert MacIntyre clinched his spot in the round of 16 with what had to be the drive of the year so far. His 371-yard bomb set up a three-foot eagle putt on the par-4 18th—and his moment in the sun lasted approximately 15 minutes before Sergio Garcia brought down the house with a walk-off ace.
Whatever you want out of a match play tournament, Friday offered, including upsets galore. And at the end of the day, in one of the last matches on the course, Jordan Spieth, seeded 52nd for the week, made good on his recent resurgence with a 3-up victory over Corey Conners to make the round of 16 for the third time in his career. That was the good news, and the better news for his legion of fans is that he did it under what he considers to be final round pressure.
"You feel like you're competing on the weekend," he said. "I've had a number of times where it's been me and another guy on a Sunday separated from the field, and it's kind of a little bit of that feeling ... you get the nerves going more so than you do on any Thursday or Friday and even most Saturdays."
On Thursday, Spieth took a 2-up lead into the 17th hole against Matthew Wolff, but failed to convert and had to settle a tie that left him leading the group with 1.5 points. tied with Wolff. On Friday, as Matthew Fitzpatrick began to run away from Wolff on the back nine, it became clear that the group would be Spieth's if he could exorcise the demons from a day before and close out Conners.
It wasn't easy. Despite the three straight holes Spieth won from 8-10 to establish a 3-up lead, Conners hung around, stole one back when Spieth drove into the water on 13, and had birdie putts on 14 and 15 to reduce the deficit further. On 15, though, from a greenside bunker, Spieth hit the decisive shot, setting up a gimme birdie. Conners reached the green in two using driver on his second ("Are you kidding me?" was how Spieth described his reaction afterward), but the pressure was squarely back on Conner's shoulders, and he missed a three-foot birdie to hand Spieth a 3 and 2 win.
After the match, he was pleased with the number of fairways he hit (all but the water ball on 13), but dissatisfied with his putting. "The game is I think still trending upwards by the way it feels right now, but I've got to start rolling in some more putts," he said, and he knows his win against Conners could have been more lopsided with some opportunistic birdies.
Saturday morning, his task gets tougher with a round of 16 match against Matt Kuchar, the No. 46 seed who came through the Group of Death at 3-0 and finished with a relatively easy 2-and-1 win against defending champion Kevin Kisner.
There's an argument to be made that coming through that gauntlet can wear a player out, but Spieth won't be expecting anything but a battle. His path back to the top of the game has been a slow and steady climb, and he's too smart and too experienced to let his guard down just two days from what would be his biggest victory in years.
On a chaotic Friday that delivered dramatic moment after dramatic moment, the quiet winner is the one who carries all the momentum.