Nightmare Fuel
Jordan Spieth remembering a random shot that cost him a trip to East Lake in 2018 is the most Jordan Spieth thing ever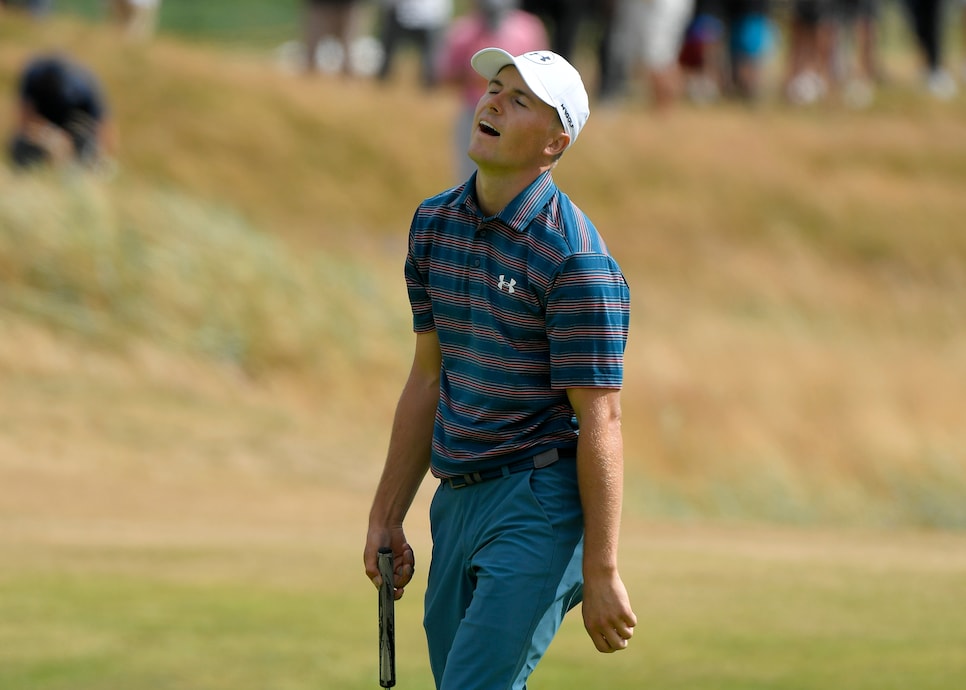 As any highly successful coach will tell you, they all remember the painful losses much more than the glorious wins. PGA Tour players, especially ones as good as Jordan Spieth, are very similar in this way.
Spieth has 13 career victories on tour, three of them coming in majors, the first and most dominant of the bunch taking place at the 2015 Masters. And yet, each April when he returns to Augusta National, all anybody wants to talk about is his stunning collapse in 2016. He knows that's part of the deal, and he's even admitted it has "haunted" him ever since.
Spieth's golf memory, much like the memory of Tiger Woods, gets even more granular than that, though. These guys have brains that can remember specific shots from specific rounds at specific times on specific days and their specific consequences, while the rest of us struggle recalling what we ate for breakfast this morning.
One such moment arose on Tuesday at the Sony Open in Hawaii, where Spieth was hit with a variety of questions during his presser that ranged from "did you get a place lined up for the Waste Management Phoenix Open?" to "do you ever remember mailing in a round?" The latter, which came up in a discussion of money vs. prestige and which of those drives Spieth, caused the 29-year-old to recall a single shot from the 2018 Open Championship that he believes cost him big time later that season.
"Actually, it's funny," said Spieth when asked if he ever remembers mailing in a tournament round. "I really didn't think about it, and something made me think about it the other day. The tournament that stuck out to me that year was The Open Championship. I was in the final group on Sunday and I played a really bad round. I played with Xander and I played a really poor round and a really bad finish to a round. A couple like ones that almost scooted a bunker and tipped in the back lip on like maybe 15, the par-4. That would've been a wedge but it was a full stroke penalty."
Spieth was referring to the 2017-'18 PGA Tour season, which ended with him missing out on the Tour Championship at East Lake for the first time in his career.
"I finished 9th [in the Open], and in a major with heightened points, if I finish eighth I'm in the Tour Championship. Like that one stroke, I don't care about it then because I'm trying to win the tournament, play aggressively. It probably cost me the Tour Championship playing aggressively versus playing a round that if I wasn't going to win I was going to finish sixth or one or two shots better.
"But I would never play that way, and it's just the way the cookie crumbled that year. I should have played better in the playoffs."
Spieth's point? No, he's never "mailed it in" and no, it would never cross his mind to go a conservative route in order to guarantee himself a bigger paycheck that week.
"In a tournament on Saturday or Sunday, I can't say that I've ever just not sat and picked target and tried to hit the right shot," he said. "I don't think it ever had to deal with the fact that it could affect -- I mean, like afterwards I would be like, yeah, I'm glad I didn't give up because that shot or two could mean something at the end.
"But in the process I just hate when the course beats me. I want to beat the golf course. I want to win that hole, you know."
Of course, that attitude can lead to some ugly shots, but some heroic ones, too. As you can see, it's the ugly ones that own beachfront property in Spieth's brain.