The Loop
Jordan Spieth on Jason Day's recent run: "That bothers me"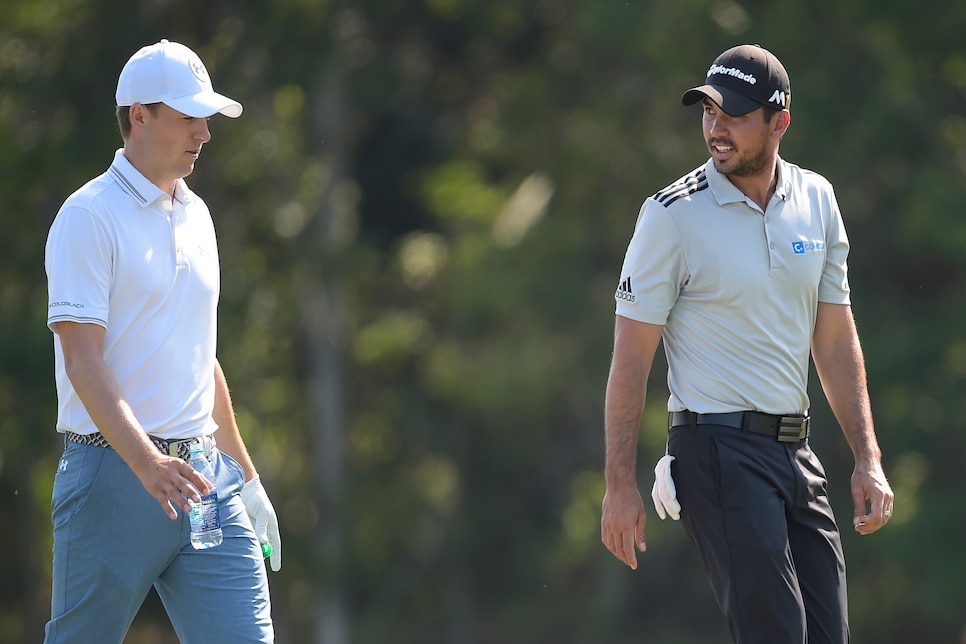 Jordan Spieth left the Players earlier than he had planned, missing the cut in his first event since his back-nine collapse at the Masters. The frustration was evident on the 22-year-old star's face -- not just from struggling with his own game, but from getting an up-close view of Jason Day's impressive form after playing with the World No. 1 the first two rounds.
"It's tough when you're getting shellacked by 15 shots in the same group, you know?" Spieth said before exiting TPC Sawgrass. "When someone's birdieing almost every single hole, every other hole, you start to wonder why in the world you aren't making any of them."
At his pre-tournament press conference for the AT&T Byron Nelson, Spieth echoed similar thoughts about trying to compete with the red-hot Day.
"What he's doing right now, I think I can win the next two events and I'm still not going to surpass him in the world rankings," Spieth said. "He's separated himself and that bothers me and it motivates me."
Spieth separated himself from the pack last year by winning back-to-back majors at the Masters and the U.S. Open. But after both he and Day came up just short at the British Open, it's been Day that has seized control of the sport. The Aussie has won seven of his past 17 starts, including picking up his first PGA and Players titles.
At the PGA at Whistling Straits, Day beat Spieth head-to-head in the final group to win his first major and set the major championship scoring record. A few weeks later, he destroyed Spieth and the rest of the field at the BMW Championship to take the top spot in the Official World Golf Ranking from Jordan.
"Going back to Chicago to Sunday of the PGA to last week, watching the commitment that he had, the focus and then the commitment in each swing that this ball is going where I'm looking and this putt is going in, just stalking it," said Spieth, who now trails Day by 2.5 points in the OWGR. "I know that feeling and I'm looking to get that back and definitely there's some motivation there. He's playing his game. He believes his game is better than anybody else's, and he's on his game and so it is better than everyone else's."
Spieth will begin trying to get that feeling back -- and close the gap in the world ranking -- in his hometown event where he made his PGA Tour debut at age 16 and finished T-16. That should be a reminder of how quickly Spieth has risen in a short time also -- and that he's got a lot of time still to get back on top.