Sony Open
'Just a bad day': Jordan Spieth goes from first-round leader to missing the cut in shocking stumble at Sony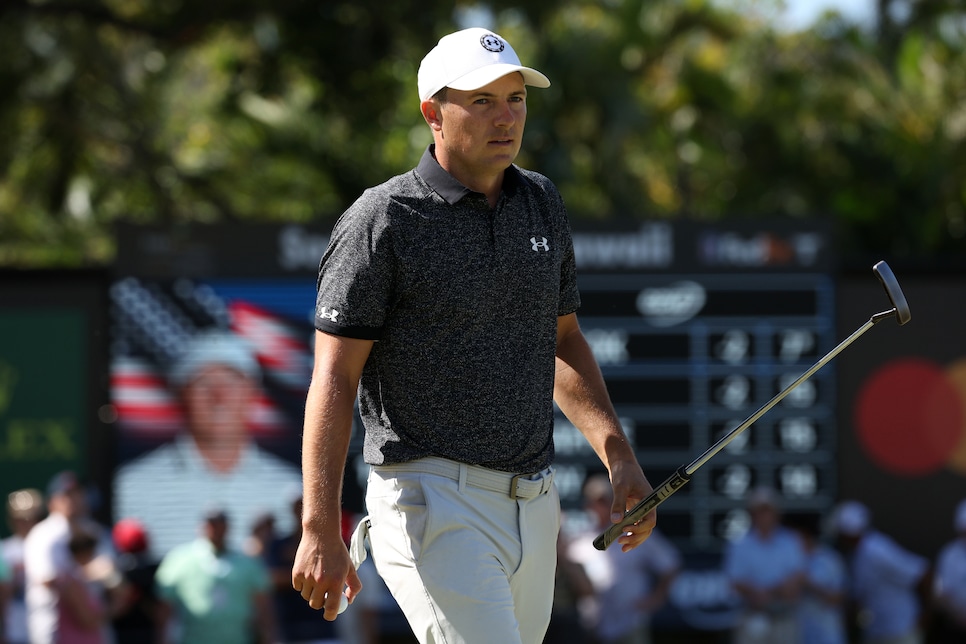 By now, nothing Jordan Spieth does on the golf course should shock us. The good, bad and ugly are to be expected every time he tees it up. Spieth would not know a boring round of golf if it came up and smacked him in the face.
Still, Friday's second-round stumble at the Sony Open was legitimately shocking, even by Spieth standards. After grabbing a share of the first-round lead with an almost-squeaky-clean 64 at Waialae, Spieth found himself in need of an 11-foot birdie putt at the par-5 18th just to make the cut on Friday. Yes, you read that correctly: to make the cut.
As you could have probably guessed, that 11-footer did not fall, Spieth early-walking the poor stroke in disgust before cleaning up his par for a five-over 75. The 11-shot difference between Thursday and Friday put him at one under for the tournament, one shot off the cut line. It was the second-worst round of the day at Waialae, one that featured just one birdie and six bogeys. He needed 34 putts; this, just one day after he ranked sixth in the field for strokes-gained/putting. Spieth hit only six fairways and went 11-for-18 on greens in regulation. Even his scrambling, which often gets him out of a jam, was ugly, with the three-time major champion going 1-for-7 in that category.
"Just a bad day. Didn't feel like it was much different," said Spieth. "Felt like I had a really bad deck of cards today. Made a couple really -- made a couple bad swings from off the tee. Other than that, I didn't play that different. I just ended up a foot into the rough here, right behind a tree here, it was a weird, weird day."
The below clip just about sums it up:
"I've never shanked a bunker shot," he said. "I hit the hosel but wasn't much of a play. The play was either 25 feet or try and hit it close, and just came off a yard or two from being perfect."
Per the PGA Tour, Spieth is the first player to hold a share of the lead after Round 1 and then miss the cut since Matt Every did it at the 2020 Arnold Palmer Invitational. For Every, an extremely volatile player in more ways than one, his 65-83 performance that week at Bay Hill was very on-brand. Yes, Spieth can be volatile, too, but first-to-worst displays rarely come from a player of his caliber.
Making the MC extra painful is the fact that Spieth sounded confident after his opening 64, a headspace he hasn't found himself in all that much since 2017. Even in wins at Valero (2021) and at Harbour Town (2022), the when's-this-going-to-go-wrong feeling was present. He said himself on Thursday that he felt he could "shoot five or six under each day out here," before essentially predicting what was going to happen on Friday.
A cut-missing 75 less than 24 hours after this pump-up speech of sorts certainly can't be great for the confidence. Knowing Spieth, though, he'll probably go out and win in his next start, rendering all of it moot.
"Yeah, this sucks," Spieth said. "I mean, I've never led a tournament and missed the cut before. It's not like I wouldn't have replayed anything that I -- I made a bad swing; didn't really make any bad decisions. Just got just the ball in the wrong spots at the wrong places, and out here you just have to be fairway, fairway, fairway."