Good Guys
Jon Rahm confirms exactly what we all already knew about Tony Finau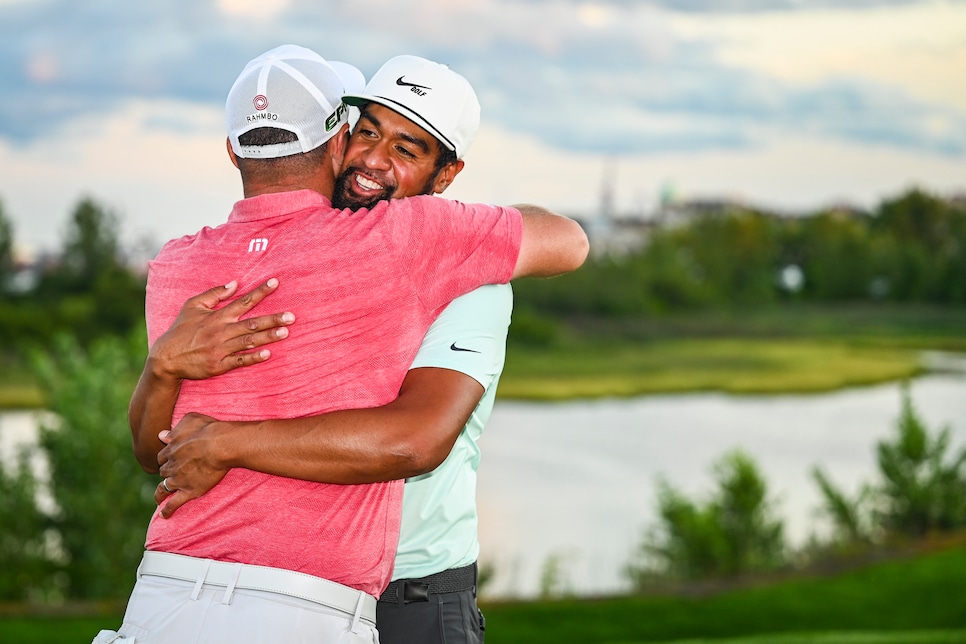 In today's sports environment, many fans lament the fact that there isn't enough hate between opponents. Flip on the end of an NBA or NFL game and you'll often see opposing players embracing one another, and even swapping and signing jerseys.
In golf, a lone-wolf sport, everyone is your opponent. Still, while the Bryson-Brooks saga has brought what some might say is a much-needed "rivalry" to the game, for the most part everybody is fairly buddy-buddy.
Even Jon Rahm, one of the more fiery competitors in golf, couldn't help but cheer on good friend Phil Mickelson at the PGA Championship in May. (Mickelson returned the favor in June, when Rahm won the U.S. Open at Torrey Pines.) On Monday at The Northern Trust, Rahm could be seen embracing another pal, Tony Finau, behind the 18th green at Liberty National after Finau snapped a five-year win drought by beating Cameron Smith on the first playoff hole.
It was surprising and not surprising at the same time. Surprising because Rahm had just essentially thrown the tournament away down the stretch, making a pair of late bogeys that dashed his own hopes of victory. Not surprising because Finau and Rahm are good friends, and Finau is one of the nicest guys on tour, a fact we already knew but Rahm confirmed on Tuesday during a pre-tournament press conference for the BMW Championship.
"If you don't like Tony Finau, there's something seriously wrong with you," Rahm said from Caves Valley. Take that, haters.
"He's about as nice a guy as you'll ever meet. He's a great friend, a great father and a great golfer. We all recognize his talent. We all see it. He's been close so many times."
The Spaniard added that while he was upset that Finau's (second) breakthrough victory came at his expense, it was still special to see him get it done, for a number of reasons.
"I know he was wearing green again because it was his mom's favorite color. If you ask him, I don't want to talk too much, but the day his daughter was born, part of her name is related to his mom.
"I was happy for him because I know that was something special. I know what it is to win when something is that meaningful, there's something more special than just a tour win. That's a big one for the Finau family. As a friend I was really happy, but I know there was something up above willing for him to win that helped him out."