Takeaways
Jon Rahm finally cools off, Taylor Montgomery's historic putting continues and a trio of huge underdogs lead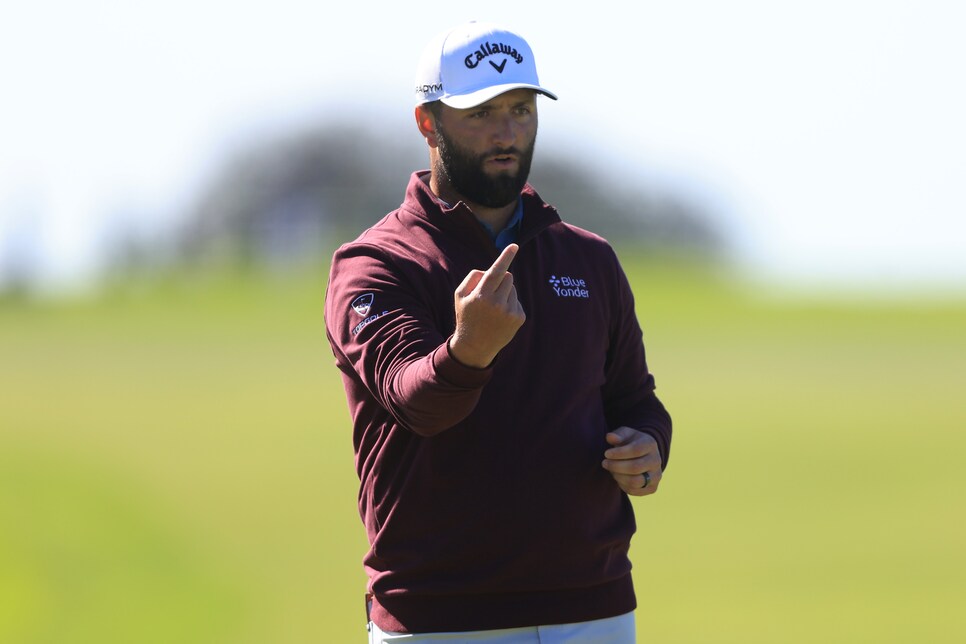 A calm day in San Diego produced low scores in the first round of the 2023 Farmers Insurance Open no matter which course golfers were playing at Torrey Pines. But that's expected to change Thursday with the Santa Ana winds forecasted to wreak havoc for the second round. That could keep some players up tonight, but it could provide some extra entertainment for fans watching from the comfort of their couches. In the meantime, though, there's plenty to talk about. Here are our takeaways from Day 1 at Torrey Pines.
Jon Rahm finally cooled down
Look, it had to happen at some point. And it's not like Jon Rahm had a terrible day. He just wasn't the Jon Rahm we've seen the last few months ... aka the guy who has won four of his past six tournaments worldwide, including back-to-back PGA Tour starts to kick off 2023.
Actually, if you're going to shoot one over, doing it at Torrey Pines' penal South Course isn't a bad place. Sure, scoring was easy today, but the U.S. Open track is still one of the toughest on tour.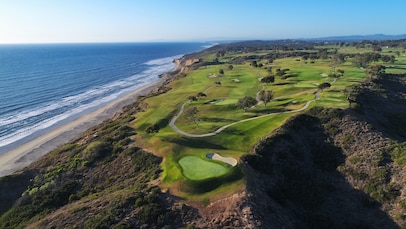 Torrey Pines sits on one of the prettiest golf course sites in America, atop coastal bluffs north of San Diego with eye-dazzling views of the Pacific. Rees Jones' remodeling of the South Course in the early 2000s not only made the course competitive for the 2008 U.S. Open (won by Tiger Woods in a playoff over Rocco Mediate), it also brought several coastal canyons into play for everyday play, especially on the par-3 third and par-4 14th. An annual PGA Tour stop, Torrey Pines hosted its second U.S. Open in 2021.
View Course
Rahm entered the tournament having shot an incredible 54 under par in his past eight rounds, but he only made three birdies during Wednesday's 73. Still, he didn't think he was that off, saying the approach that flew the green on No. 7 and led to a double bogey was "arguably the best swing of the day."
"I mean, I've hit that shot over 25 times in the past with the same wind and I've never seen a ball get pin high, and today I don't know what happened," Rahm told reporters after. "Somehow we ended up flying the pin by 10 yards in the hazard. If it just flies the green and stays in the rough, it's OK, but that was costly."
Rahm has a chance to become the first player since Dustin Johnson in 2016 to win three consecutive PGA Tour starts. And the Spaniard could also, finally, move back to No. 1.
He's got his work cut out for that to happen, but this is where he won his first PGA Tour title, his first major championship, and proposed to his wife. With those kind of vibes, and with the run he's been on, we wouldn't count the overwhelming pre-tournament favorite out of it just yet. Speaking of pre-tournament odds …
Three big underdogs lead the way
And by big underdogs, we mean BIG underdogs. Huge underdogs, in fact. Sam Ryder, Aaron Rai and Brent Grant all had pre-tournament odds of 150-to-1 or higher, but they share the first-round lead after all firing 64s at Torrey Pines' easier North Course.
Grant is the longest shot by far, teeing off as high as 500-to-1 odds at some sportsbooks. Heck, he doesn't even have a Wikipedia page. The 26-year-old rookie, who hails from Hawaii and played collegiately at BYU-Hawaii, earned his tour card at the Korn Ferry Tour Championship in September.
He's only made two cuts in nine starts this season with his best finish a T-35 at the Butterfield Bermuda Championship. But he's in position for a life-changing week in California—not that he's getting ahead of himself.
"I said this on Tuesday, obviously these are the best players in the world and the Korn Ferry Tour has great competition, but it's nothing compared to what it is out here," Grant said. "Each shot is that much more penalizing if you hit it bad, but it's also rewarding as well. So again, I'm thankful to be out here and thankful for this good round, but so far it's been one hell of a grind and it's not going to stop, it never does. So to think that I've made it or that I've done something special doesn't aid me in any way."
If the guy currently ranked 387th in the world keeps this up for a few more days, a lot more people will know Brent Grant belongs among those best players. Heck, he might even get that Wikipedia page.
Taylor Montgomery's historic putting continues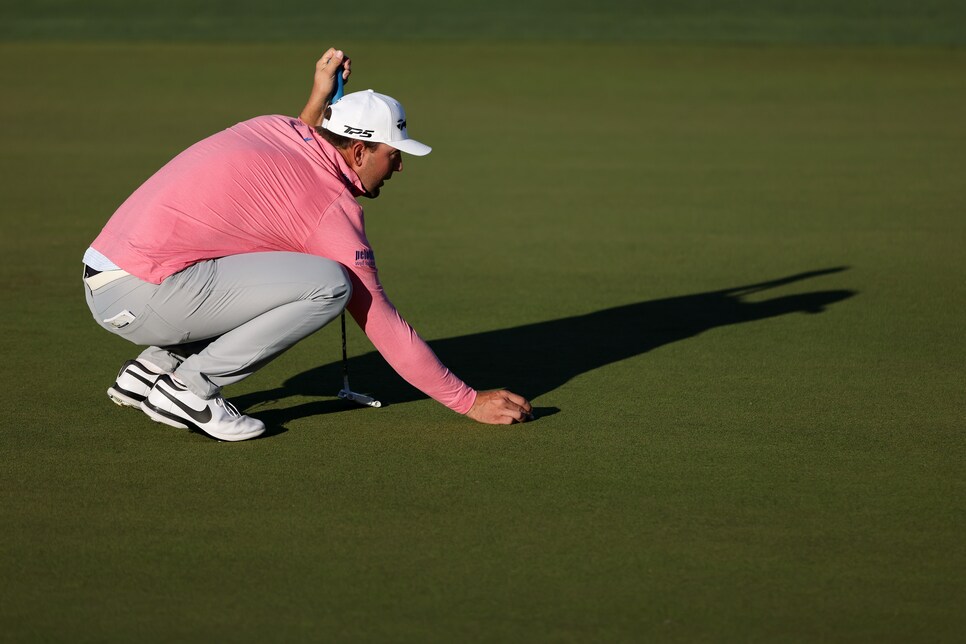 And we don't say that lightly. Montgomery didn't even do anything crazy Wednesday on Torrey Pines' South Course, but he gained another 1.766 shots on the greens during a 67 on the South Course that has him in great shape. Yet again.
Montgomery's rookie season has been incredible as the 27-year-old UNLV product has racked up eight top-15 finishes in nine starts. That includes a solo third in Napa to start the season and a solo fifth last week at the American Express.
But it's his putting that has led the way. Check out this stat from Data Golf that shows Montgomery has gained more strokes putting through his first career 40 starts than anyone in the Shotlink Era:
Pretty darn impressive. Not that we should be too surprised considering he won the biggest prize ($75K!) at the inaugural Major Series of Putting in 2017.
Anyway, a lot more money will be on the line as this week goes on. And as we saw last week with a late shank, even Montgomery isn't quite immune to that type of pressure. But the more cracks he gets, the more comfortable he'll get. And if he can just get his ball anywhere on the putting surface, he'll have a great chance.