Ryder Cup
'It's sad politics have gotten in the way': Jon Rahm laments fact he won't play with Sergio Garcia at Ryder Cup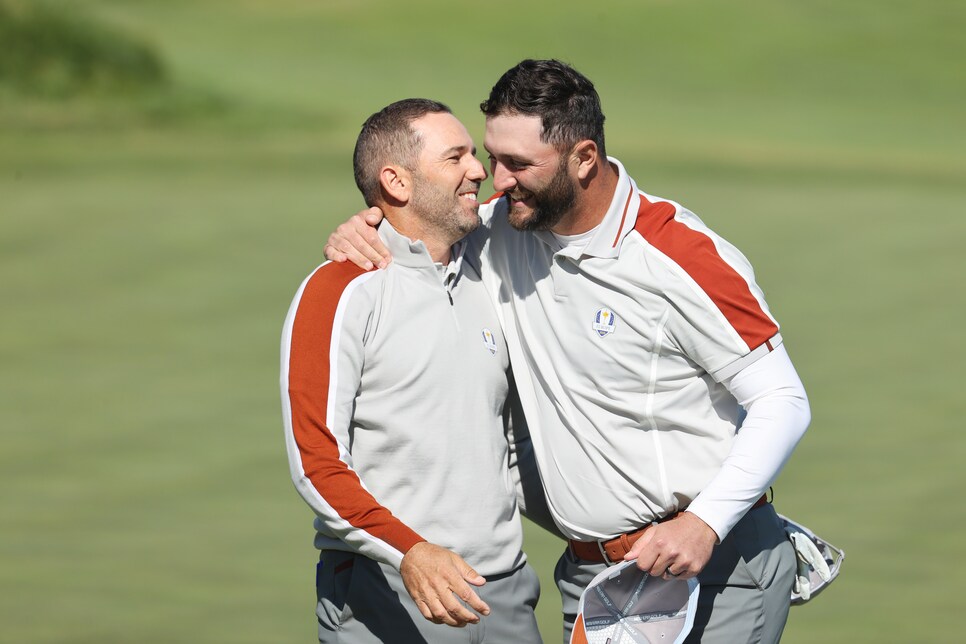 Of the nine points the European Ryder Cup team was able to muster up in their 2021 defeat at Whistling Straits, Jon Rahm and Sergio Garcia, as a duo, were responsible for three of them. They went 3-0-0 together, calling to mind another great Spanish Ryder Cup duo, Seve Ballesteros and Jose Maria Olzabal, who were paired together for a record 15 times in the biennial event, amassing 12 points along the way.
Unfortunately, it appears as though Rahm and Garcia won't be able to reach such heights, not that they would have anyway due to Garcia's age. That said, they could have at least run it back one more time in Italy this fall if not for the chaos caused by the creation of LIV Golf and Garcia making the jump to the Saudi-backed tour.
As of writing, LIV golfers are still technically eligible to play in the Ryder Cup, as no formal announcement has been made by either team's captain. Brooks Koepka, for example, is currently second in the rankings for the U.S. Team despite being a member of LIV's Smash GC team. However, to maintain eligibility for Team Europe a player needs to keep DP World Tour membership, and Garcia was among a number of individuals who resigned from the Old World Circuit earlier this month, meaning Garcia is officially out for the Ryder Cup.
Rahm, when asked his thoughts on being without his fellow Spaniard this fall in Italy, said Garcia will be sorely missed.
"I'm going to miss him," Rahm said Tuesday at Muirfield Village. "We had a great partnership at Whistling Straights. I'm going to mention history again one more time. A Spanish duo in the Ryder Cup I think to me is embedded into the roots of the Ryder Cup.
"Look with Seve and Ollie were able to do throughout their partnership, right. So it's a little sad to me that politics have gotten in the way of such a beautiful event."
Garcia had appeared in 10 Ryder Cups in his career, collecting 28.5 points, a European Ryder Cup record.
"Again, it's the best Europeans against the best Americans, period," Rahm added. "And whatever is going on, who is playing LIV and who is not playing LIV to me shouldn't matter.
"It's whoever is best suited to represent the European side. And I have a hard time to believe that the best player Europe has ever had, the most successful player Europe has had on the Ryder Cup isn't fit to be on the team. So, it's unfortunate. I will miss him."