PGA Tour
Jon Rahm's Muirfield Village debut went so poorly that he told caddie Adam Hayes that he didn't want to come back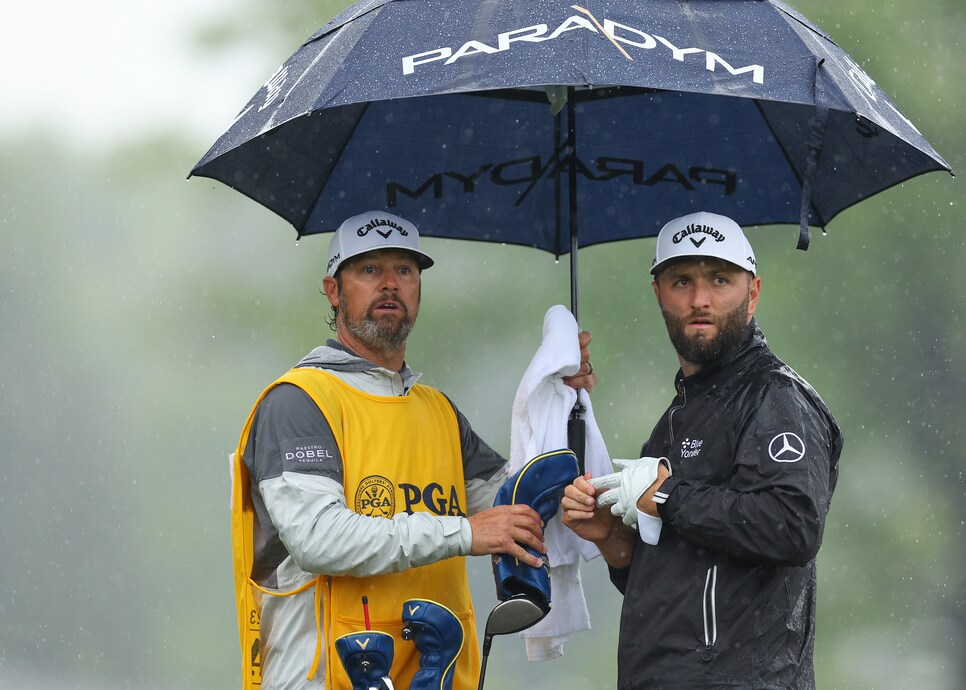 Given everything that's transpired for Jon Rahm at Muirfield Village over the last handful of years, it's hard to imagine a Memorial Tournament occurring without the Spaniard's presence. For Rahm, there was once a time when that was a legitimate possibility. For good.
In his tournament debut at the iconic Jack Nicklaus design, Rahm badly missed the cut, shooting rounds of 73 and 77 despite nearly winning at Colonial the week before. Naturally, Rahm wondered if it was the course, and not himself, that was to blame.
"It's funny, first time I played here I played bad, I missed the cut. I think I told Adam [Hayes, Rahm's caddie], Man, I don't know if I'm ever going back to that golf course," Rahm said Tuesday at Muirfield Village.
For two years, Rahm kept his word, skipping the tournament at Jack's place because, evidently, he thought it didn't fit his eye. Hayes disagreed.
"[Hayes] was telling me, You're going to go back and you're going to love it. You are tailor made for that golf course," added Rahm.
Extenuating circumstances, also known as the COVID-19 pandemic, forced Rahm to return, as golf was the first sport back in full force in May of 2020. Due to scheduling changes, there were two events hosted at Muirfield Village on consecutive weeks in July of 2020, the Workday Charity Open and the Memorial Tournament. Rahm returned to Jack's place for the Workday Charity Open, struggling over the first 54 holes, shooting one over.
Something clicked on Sunday, however, with Rahm posting an eight-under 64 and carrying that momentum over into the following week. Despite a final-round 75 marred by a rules controversy, he won the 2020 Memorial Tournament, making Hayes' words feel prophetic.
The following season, in his title defense, Rahm led by six strokes after 54 holes before infamously being forced to withdraw due to a positive test for COVID-19. Barring an epic collapse, he would have likely been a back-to-back Memorial Tournament winner just a few years after thinking he didn't want to come back to Muirfield Village. When listening to your caddie pays off.
"I think it's a golf course you kind of need to learn to play a little bit," Rahm said. "It gives you a lot of options off the tee on a couple of holes. Getting a couple reps helps. But it's mainly, it's a little different to what we play throughout the year. It's target golf. You put it on the fairway, put it on the proper side of the fairway to give you the best angle to the green. Par-3s are all difficult. You have to be really accurate with your iron play. No surprise Tiger has such a success here, right. You just need to come out and be the best. While you're doing that it actually makes you think a little bit more than some of the golf courses we go to. So like I said, it's a fun test and I think that's why I've played well."
Much like Augusta National, a place Rahm has also had success, Muirfield Village is very much a second-shot golf course, which has allowed strong iron players like Woods, Patrick Cantlay and other great ball-strikers to thrive in Dublin, Ohio. In the strokes-gained/approach department, only two players (Collin Morikawa, Scottie Scheffler) have been better than Rahm this season. There aren't many safe bets in golf, but Rahm continuing his hot run at Muirfield Village, a book he once judged by its cover, feels like a safe bet this week.