The Loop
Jon Rahm romps, Jordan Spieth hangs with GOATs, and creative ways to practice your short game
Welcome to another edition of The Grind, where we suddenly have an urge to get into falconry. That's what watching that Phil Mickelson ad for the Greenbrier Sporting Club on loop for four hours will do to you. Actually, I was the best man at a wedding where a hawk swooped in (almost decapitating several guests) and brought the ring to the groom while I stood by and held the large bird's food in a cup (People thought I was boozing during the ceremony). This is a true story as evidenced by this photo of me staring at the cup (I wish it contained booze, that bird food stunk) while also having a glove to handle the hawk in my pocket: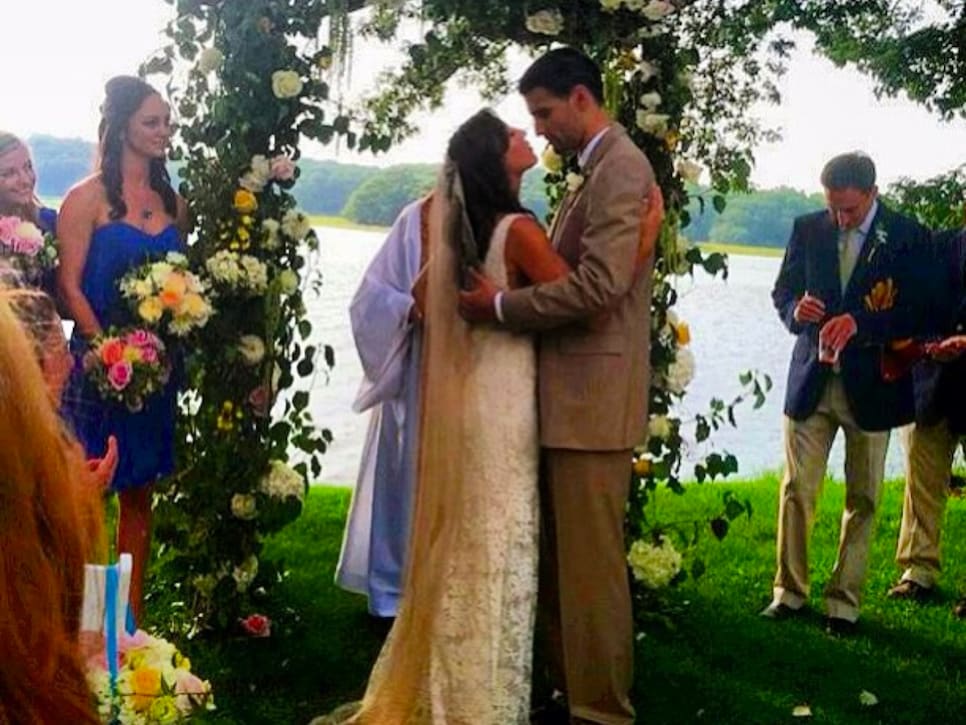 Even though I had no actual contact with the hawk, the whole experience was pretty terrifying, so even better than participating in some falconry would be just watching Phil Mickelson do some falconry. And, of course, listening in on Phil and Bones discussing falconry strategy. Oh. Right. Never mind. Man, we're going to need more time to adjust to that breakup. In any event, here's what else has us talking.
Jon Rahm: Not even a rules controversy could deter this young star from running away from the field at the Irish Open by six shots. With his second pro win, Rahm,moved to a career-best (for now) No. 8 in the Official World Golf Ranking. He is also now tied with Jordan Spieth as the second favorite heading into next week's Open Championship. That's a lot of respect for a 22-year-old with just one prior Open start, but it makes sense. This guy is a beast.
Xander Schauffele: When he popped up on the leader board at the U.S. Open, most people dismissed him as a fluke, but Xander is clearly here to stay following his first PGA Tour win at the Greenbrier Classic. And he did it by sticking a wedge from 162 yards to three feet on the final hole. Just a month ago, he was No. 352 in the Official World Golf Ranking and now he's all the way up to 82nd. So we've got the 22-year-old Rahm and the 23-year-old Xander, and yet they're grizzled vets compared to. . .
Atthaya Thitkul: At 14(!) years, four months and 19 days, Thitkul won the Ladies European Tour's Thailand Championship to become the youngest winner ever on a major golf tour. By nearly 17 months! The Thai phenom broke what seemed like an unbreakable record set by Lydia Ko four years ago. You'll be seeing her a lot on the LPGA at some point. The only question is whether she'll be able to get her driver's license first.
Jon Rahm's rules controversy: If you've ever moved your ball marker out of someone else's line, you know it can be tricky to move it back to the exact same spot -- especially if your playing partner picks up that wedge you were going off of. All kidding aside, I didn't find Rahm's error on the sixth hole of the final round to be egregious. Was it a tad sloppy? Perhaps, but you can't compare it to what happened to Lexi Thompson earlier this year. First of all, she hadn't moved her mark out of an opponent's line, and secondly, the new rule that it sparked is what saved Rahm. And it may have even saved Lexi, too, had it been in place.
Golf manslaughter: That's what Dale Pike, the head of a golf ball retrieval company in Wales pled guilty to after a man he employed to dive for golf balls drowned in a lake on a golf course. Instead of paying a crew of trained divers 1,000 pounds per day, Pike paid a friend 40 pounds and provided him with shoddy equipment. Just awful, and it sounds like he got off light with a 32-month prison sentence.
My parents blowing a cool nickname: My parents were in town this past week and as we watched the end of the golf, my mom remarked: "Xander? That's a cool nickname for Alexander. Why didn't we think of that for you?" Great question. Why didn't you think of that, mom?! Sigh. Although it's never too late. . . Feel free to call me Xander going forward.
The PGA Tour heads to Illinois for the John Deere Classic, AKA that event that Steve Stricker or Zach Johnson seems to win every year. There's also the U.S. Women's Open at Trump National Bedminster. Not surprisingly, the President is expected to be there. We just hope he keeps his golf cart off the greens until the tournament has concluded.
Random tournament fact: Actually, Jordan Spieth has won the John Deere twice in three appearances as a pro. However, he is not playing this year. That's good news for Stricker and Johnson.
RANDOM PROP BETS OF THE WEEK
-- Steve Stricker will win the John Deere Classic: 25-to-1 odds (Actual odds)
-- Zach Johnson will win the John Deere Classic: Also 25-to-1 odds
-- Stricker and ZJ will have the biggest crowds at the John Deere: LOCK
Here's Jordan Spieth hanging with one of the most impressive collection of GOATs ever assembled: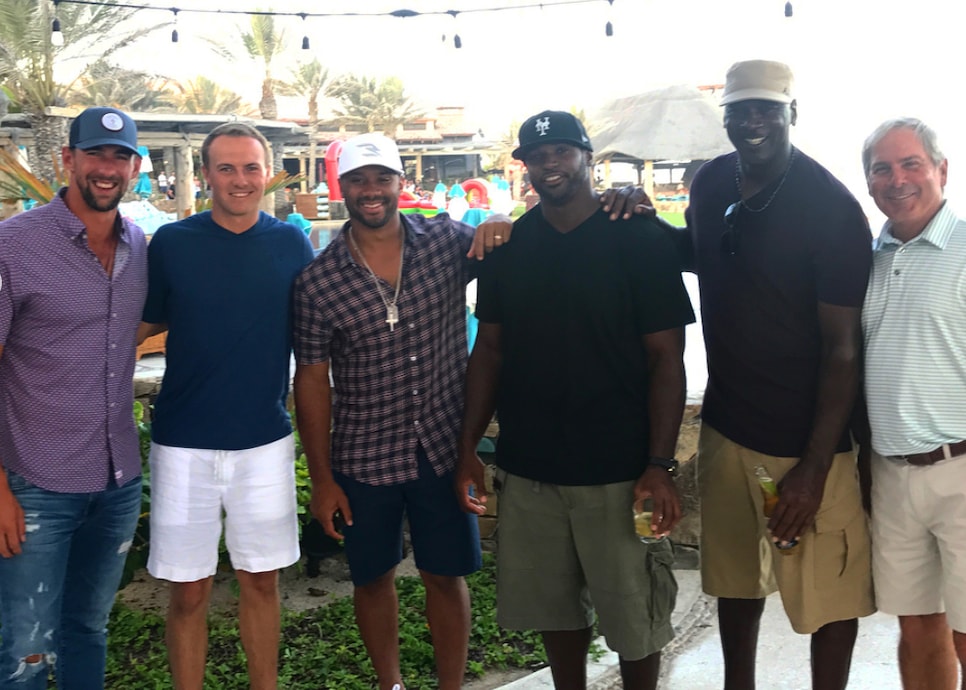 In case you can't tell, that's Michael Jordan (Basketball GOAT), Michael Phelps (Swimming GOAT), Russell Wilson (potential scrambling QB GOAT), Dwight Freeney (Undersized defensive end GOAT) and Fred Couples (General coolness GOAT). If any of that GOATness rubs off on Spieth, the rest of the field has no chance at Royal Birkdale next week.
VIRAL VIDEO OF THE WEEK (EMOTIONAL GOLFER DIVISION)
Check out Chesson Hadley's reaction to winning the Web.com Tour's LECOM Health Challenge to punch his ticket back to the PGA Tour:
So cool. Just a couple months ago, Chesson was thinking about a career change:
VIRAL VIDEO OF THE WEEK (DAD GOLFER DIVISION)
That's some inspiring parenting -- and hand-eye coordination -- right there.
VIRAL VIDEO OF THE WEEK (AVID GOLFER DIVISION)
And check out this nut working on his short putting at an airport baggage claim:
Emiliano Grillo summed the bizarre scene up best:
"I think it honestly just changed my life, really." – Xander Schauffele after winning his first PGA Tour title. Nailed it.
THIS WEEK IN DUSTIN JOHNSON-PAULINA GRETZKY SERGIO GARCIA-ANGELA AKINS PUBLIC DISPLAYS OF AFFECTION
In what we'll call a pre-Honeymoon, the engaged couple did some sightseeing in London:
Sergio, looking dapper in that green jacket also crossed paths with a couple of superstars in Rafael Nadal and David Beckham:
Not quite Jordan Spieth's Cabo crew, but still pretty impressive.
THIS WEEK IN GOLFERS IN BIKINIS
Here's Blair O'Neal. . . being Blair O'Neal:
And here's former University of South Florida golfer Jordan Wolf using pool time – and her dog – to get in some short-game practice:
We think Jordan and Airport Baggage Claim Guy would get along swell.
The awkward moment eventually had a happy ending, though:
Jim "Bones" Mackay will be an on-course reporter for NBC's golf coverage (great hire), beginning with the British Open. That was quick. . . . More good news for NBC as Johnny Miller signed an extension that will keep him in the booth through at least next year. . . . In other TV news, HBO announced the long-awaited ninth season of Curb Your Enthusiasm will premier Oct. 1. Considering how much golf Larry David puts in the show, this should also be considered golf news. . . . Chambers Bay revealed it will switch from fine fescue greens to Poa annua in the hopes of attracting another U.S. Open. Too little, too late for Dustin Johnson. . . . And finally, I finally saw Billy Joel in concert at Madison Square Garden. What. A. Legend.
Unfortunately, he didn't get to all the songs I wanted to hear, but how could he? The man has probably penned more memorable tunes than anyone other than The Beatles. That's right. Come at me.
RANDOM QUESTIONS TO PONDER
What's the best episode of "Curb Your Enthusiasm"? (Other than Crazy Eyes Killa, obviously)
What's the best Billy Joel song? (Other than Piano Man, obviously)
Has Phil Mickelson ever tried falconry?