Genesis Invitational
Jon Rahm predictably hits another gear in taking command at Riviera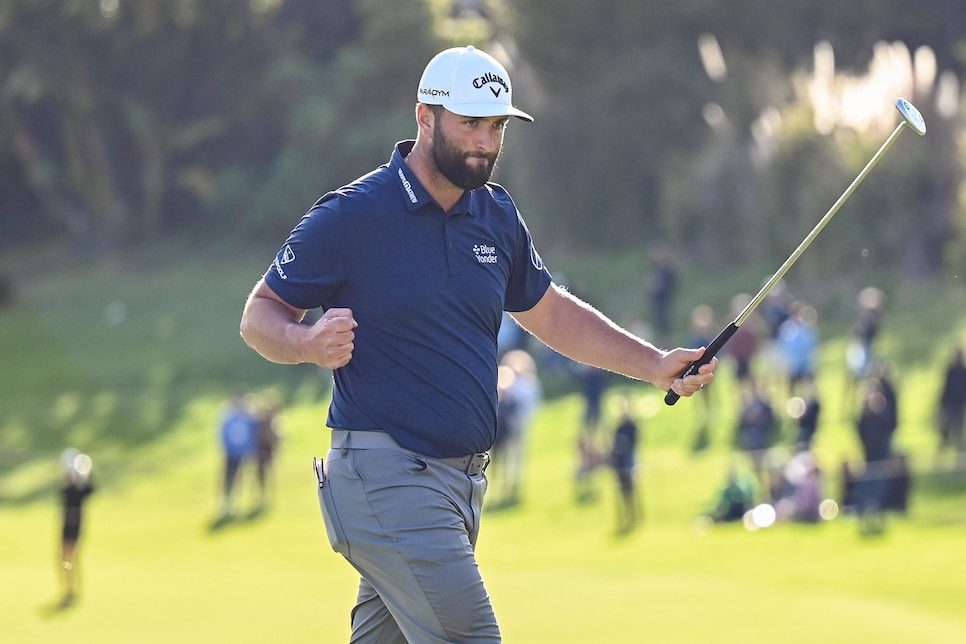 Jon Rahm reacts to making a birdie putt on the 18th hole to take a three-shot lead in the Genesis Invitational.
Keyur Khamar
PACIFIC PALISADES, Calif. — The formidable posture and play of Jon Rahm when he's at his best is something to behold, and on Saturday it was all on display over just a few minutes in the late afternoon light at Riviera Country Club.
The day's last threesome of Rahm, Max Homa and Keith Mitchell arrived at Riviera's majestic 18th in the third round of the Genesis Invitational with the Spaniard holding a two-shot lead over the other two. Rahm made three birdies over four holes in the middle of the round, while Homa cracked a bit with bogeys at 15 and 16, and Mitchell was hanging on for dear life without a bogey.
If either of the pursuers could birdie the finisher to go with a Rahm par, the margin would be a single shot heading into Sunday's final round.
But this is Jon Rahm in Southern California, playing on the kikuyu and poa annua surfaces that are like an expensively woven carpet to him. And he is a man playing with the highest of confidence that comes with two wins and a pair of other close calls in a calendar year that is not two months old.
So this is what happened: Mitchell missed a six-foot putt for par, Homa terribly fluffed a greenside chip and made a nervy par save, and Rahm lofted an iron from the rough to 24 feet and drained the birdie putt to elicit a roar in Riviera's grass amphitheater.
Is there any better way to step on the necks of your closest competitors than to have them witness it first-hand?
Rahm's bogey-free, six-under-par 65 pushed him to a 15-under total and a three-shot lead over Homa (69) and a four-stroke advantage against Mitchell (69) heading into a final round in which they will again be grouped together. Behind them and barely within striking distance, considering Riviera's stubbornness at giving up low scores, are UCLA alum Patrick Cantlay (68) at 10 under and Gary Woodland (67), who won the 2019 U.S. Open at Pebble Beach, at nine under.
There's a pattern there. Mitchell, with one PGA Tour victory, is the only player among the top five who has not won an event in California, and Rahm is seemingly on his way to joining the likes of Johnny Miller, Phil Mickelson and Tiger Woods in becoming golf's golden boys in the Golden State. He's won twice at Torrey Pines (in the Farmers Insurance and 2021 U.S. Open) and twice, including this year, in the Coachella Valley, and a victory here would give him the SoCal trifecta, along with a distinction that Rahm himself pointed out on Saturday: Neither Woods nor Nicklaus have ever lifted a trophy at Riviera.
"I can make an argument about any event that I play in about being able to check something off, but the fact that Tiger is the host—the fact that he's out here playing and the history of this golf course as a venue—is two reasons why I would love to be able to win here," Rahm said. "It's a very select group of champions, and you join a list of champions that, frankly, Tiger and Jack have never joined, which probably never happens on any other golf course but this one, right?"
Woods' presence was felt in the third round after he made the weekend cut on the number at one over and started on the 10th tee. There were times when Woods' and Rahm's galleries were nearly side-by-side on the cozy property, albeit with a much larger crowd following the tournament host. They got their share of excitement when Woods eagled the first en route to shooting 67, but the man playing in his first tournament since last July finds himself 12 shots back of the leader and World No. 3.
As proof of just how consistently menacing Rahm has been, the 28-year-old will play for the third straight time in the last group on Sunday. Last month at Torrey Pines, Rahm trailed third-round leader Sam Ryder by two, but he stumbled with a closing 74 in Homa's eventual victory. And last week in the WM Phoenix Open, the margin also was two, with Rahm trailing Scottie Scheffler, who pulled away with a 65 to Rahm's 68 to regain the World No. 1 spot.
"I wouldn't say I played bad in Phoenix; Scottie just shot a bogey-free six under, that would have been really hard to catch," Rahm said. "… None of those cases I was in the lead, right? It's a little bit different. The only thing I can say is Torrey Pines is a freaking difficult golf course to play and if you don't have a day, it's going to kick you in the teeth, much like this one. Just got to make sure I do what I've been doing and come out tomorrow with my A-game."
Rahm admitted that his driver has been a bit loose this week, and the stats show that he has hit only 15 of a possible 42 fairways. That's usually death on this course lined with eucalyptus trees. But he's overcome the wildness with stellar iron play that has him third in the tournament in strokes gained/approach, and, more importantly, he's No. 2 in SG/putting on the poa annua surfaces on which he grew up.
"The main thing is I grew up on poa annua greens, so I'm a little more comfortable than the average [player] on them, and it shows," Rahm said. "Same with Torrey Pines, right? It's a golf course, both of them, I play really well on.
"This is mainly a ball-striker's golf course. There's a reason Ben Hogan had that success here and why it's very difficult to be able to have people win back-to-back or win three, four times. You can't really just get lucky; you have to come out here and be the best."
Max Homa watches his tee shot on the fourth hole as Jon Rahm looks on.
Icon Sportswire
Homa, the Los Angeles native who won the Genesis in 2021 and has four victories in California, seemingly went into the third round with just as much chance to forge an advantage. And he did mostly keep pace with Rahm by making four birdies against no bogeys though 14 holes. But the two-time winner this season faltered by making bogey at the par-4 15th after driving into a fairway bunker and another bogey at the par-3 16th when he found more sand and couldn't get up and down.
"I played awesome today," Homa, 31, said. "Yesterday I was scrappy and I hearted it out for whatever I shot [68]. Today, I played great and … I didn't feel like I got the bounces."
As forthcoming as most players on tour, Homa admitted that he is "chasing down the hottest golfer on the planet" in Rahm.
"I relish it. It's exciting," he said. "It's an opportunity, and I think in this life it's just about opportunities, getting them and then when you have them, take advantage. So I'm excited to test myself with that."