Takeaways
Jon Rahm's Torrey love story continues, Jordan Spieth's streak ends and a farm boy hoops eight(!) birdies in a row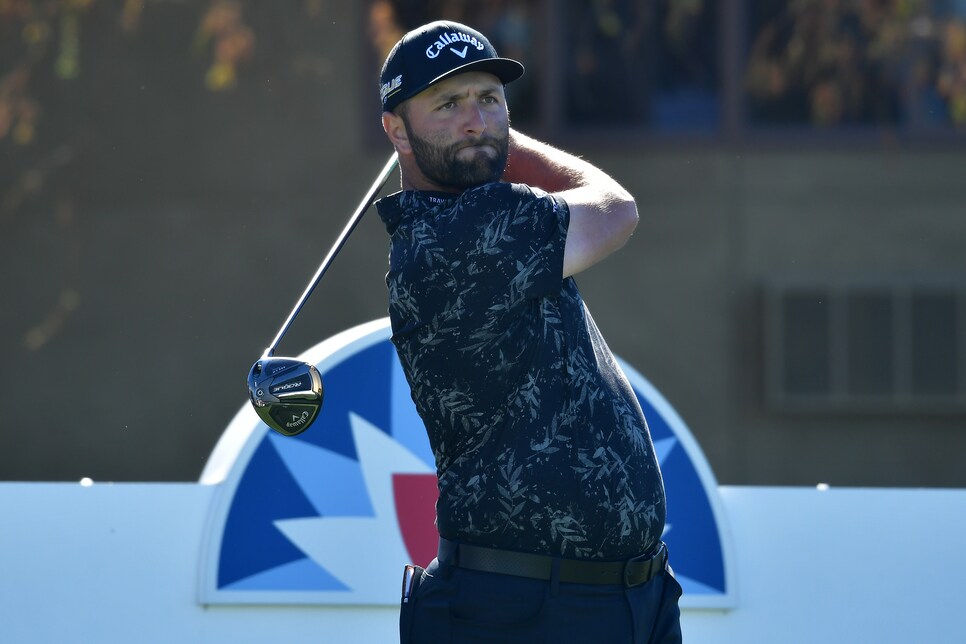 If your circadian rhythms revolve around the PGA Tour schedule like ours do, you're as confused as we are. Today was cut day at Torrey Pines, but today is Thursday, and Thursday is not usually cut day. Yes, we know the Farmers Insurance Open opted for a Wednesday start to avoid "competing" with the NFL for eyeballs on Conference Championship Sunday—we use the quotations because that wouldn't be much of a competition—but that doesn't make the tempo of this week any less strange. That said, here are four takeaways from the second round of the Farmers as we cruise into the weekend. Er, Friday.
Rahm's love affair with Torrey continues
Predicting what's going to happen in a golf tournament is, with all due respect to the Golf Digest's own "Be Right" boys, the ultimate fool's errand. Just last week, Hudson Swafford was somewhere around 200-1 and proceeded to win The American Express. The Farmers, then, is a ripe opportunity for bookies to take a victory lap, for the top two pre-tournament favorites share the lead after 36 holes.
Jon Rahm and Justin Thomas, two of the three highest ranked players in the field, are tied at 13 under after Thomas shot nine-under 63 at Torrey's gentler North Course while Rahm countered with a 65. The two played together these last two days, with World No. 4 Dustin Johnson (seven under) rounding out the high-powered threesome.
For Rahm, this week sure looks like the next chapter in a long love affair with Torrey Pines. It's where the 27-year-old Spaniard won his first PGA Tour event, with that winding 60-foot eagle putt on the final hole in 2017. It's where he proposed to his wife, Kelley. And it's where he won his first major championship just seven months ago, holing birdie putts on 17 and 18 for a one-shot victory in the U.S. Open. It doesn't get much better than that. Rahm's more than comfortable in San Diego and he's been the No. 1 ranked player in the world for the better part of the year. JT—and the rest of the field—have their work cut out for them.
"I'm here to win," Rahm said of a potential showdown with Thomas. "Doesn't really matter who I'm with. I feel like—if you're playing with a better-known name like JT, I think it makes for better TV. And for us, if we were to play together or go on to win, it would probably be a little more satisfying. But either way a win's a win, it doesn't really matter who's out there with you."
Farm boy keeping up with the superstars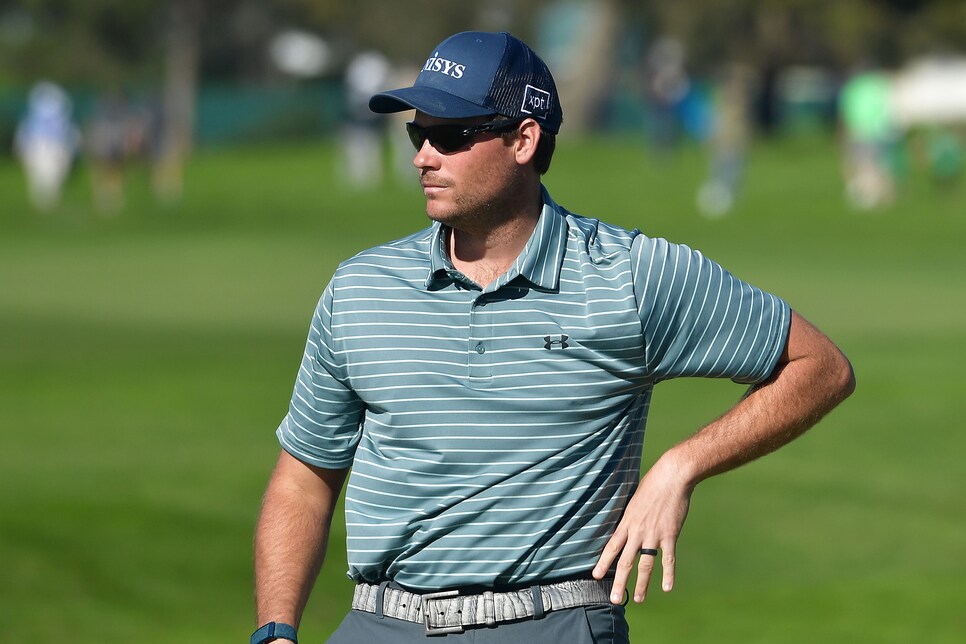 Adam Schenk stands on the 18th hole of Torrey Pines North during the second round of the Farmers Insurance Open after shooting a career-best 62.
Donald Miralle
Speaking of the rest of the field, Adam Schenk currently leads the non-Rahm/JT division after shooting a 10-under 62 on the North on Thursday that included eight straight birdies mid-round. Eight! After Schenk lipped out a birdie putt on the 18th hole, he wanted his caddie to confirm that it wasn't a par 70—or, put differently, that the putt he just missed wasn't for a 59.
"He said, 'Yeah, it's 70.' I was like, 'No way, it wasn't.' He was just joking with me, like he likes to do."
Schenk is a 30-year-old Midwesterner through and through. He was raised on a sod farm in Vincennes, Ind., and played college golf at Purdue. He was asked Thursday about his upbringing.
"A lot of mowing, but we had a seven-acre field of Zoysia in front of our house, so I would just go out and have basically a driving range whenever I wanted to, so that was definitely beneficial. I needed a chipping green is what I needed—that's what I need to improve on the most, but we're working on it."
The low scoring continues, even at Torrey
As is often the case after Hawaii and the desert, there's been much talk this week about scoring on the PGA Tour. Namely, how low it is. Cameron Smith broke the tour's 72-hole record in relation to par by shooting 34 under at Kapalua. Meanwhile, a viral video showing Jon Rahm calling The American Express a "putting contest" took the chatter into a new, viral dimension. Rahm, to his credit, doubled down on his take in his pre-tournament interview this week.
"I mean, the video's pretty self-explanatory. I mean, we're the PGA Tour, we're the best golfers on the planet and we're playing a golf course where missing the fairway means absolutely nothing. There were times where missing the fairway by an inch was worse than missing the fairway by 20 yards. That to me is a mistake. I don't know what else to say."
Translation: Courses need to be harder tee to green. (Interestingly enough, Rahm hit just four fairways on Thursday en route to his 65.)
Thomas also was asked about scoring: "I don't know how many times I have to say you give soft greens and no wind, we are going to shoot nothing. Doesn't matter if the course is 8,000 yards, we're going to find a way to shoot 20 under par. We have such good control over how far the ball goes and the kind of spin we can put on it. You give us soft greens where if you do miss a green it's easier to get up and down and there's no wind, it's just, it's easy. Those courses are very scorable."
Those courses would seem to suggest that Torrey Pines would offer a stiffer test. It is a U.S. Open venue after all. And while the North Course certainly plays a factor, it's still jarring to see the cut at three under and to see five guys at 11 under or better through two rounds. The weather has been perfect and is expected to stay that way throughout the final two rounds. If that's the case, expect more of the same: birdies, birdies and more birdies. Armed with ever-better equipment, tour players are better than ever before. The start to 2022 has made that abundantly clear.
Jordan Spieth's streak comes to an end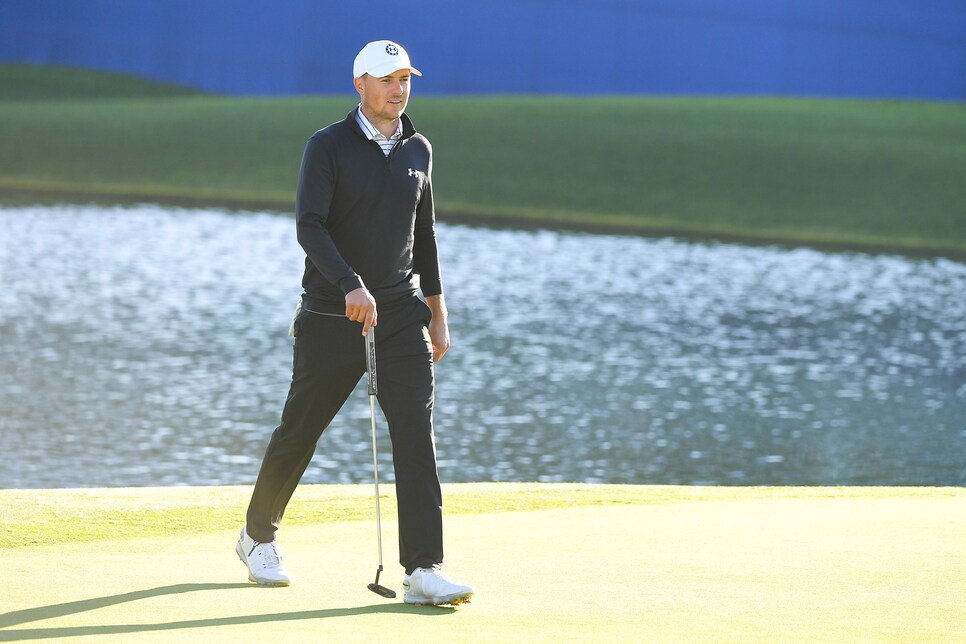 Jordan Spieth shot a six-over 78 in the second round to miss the cut, ending the longest active streak of made cuts on the PGA Tour.
Ben Jared
It seems like the longest active made-cut streak on the PGA Tour constantly hovers in the 18 to 25 range, which only serves to underscore the utter ridiculousness of Tiger's record of 142.
Jordan Spieth had the longest active streak heading into this week with 20, a nod to the consistently solid play that has keyed his resurgence in 2021. That streak came to an end on Thursday, however, and it wasn't at all close. Spieth finished at four over, a good seven behind the magic number.
It sounds like he might deserve some slack, however; according to the Golf Channel broadcast, he went to the hospital on Wednesday night with non-COVID stomach issues. When he returned to the South on Thursday morning, his group couldn't have had worse vibes—he played poorly, Rickie Fowler followed up his opening round of five under with a clunker to miss the cut, and Bryson DeChambeau battled hand and back problems and also missed the cut.
And to think, Spieth was only 122 short of Mr. Woods.