Farmers Insurance Open
Jon Rahm celebrates latest win with soccer star Gareth Bale at Torrey Pines while eyeing the rare victory trifecta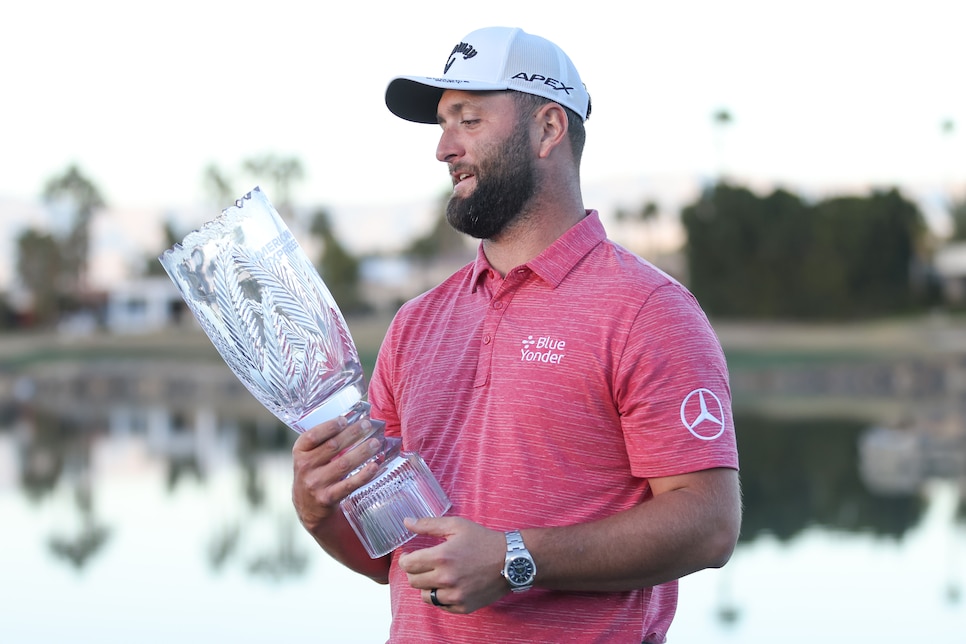 Jon Rahm of Spain celebrates with the trophy after winning The American Express.
Katelyn Mulcahy
SAN DIEGO — For superstitious reasons alone, there are players on the PGA Tour who wouldn't have touched the question with any kind of thoughtful answer. It's the silly "don't speak of a no-hitter" mentality. Thankfully, Jon Rahm has never been that kind of guy. Ask him something and he'll speak his mostly unfiltered opinion, whether he thinks you'll agree or not.
So when the inevitable query came up on Tuesday at Torrey Pines about Rahm's opportunity in this week's Farmers Insurance Open, which begins on Wednesday, to pull off the rare feat of winning three straight PGA Tour starts, the World No. 3 didn't beg off or couch his answer.
"It's on my mind, obviously," he said with a smile. "I've been reminded it of it many, many times. And even more knowing where we're coming—a place where I've played so good at."
A few minutes later, when asked if he had the ability in this moment to savor what he's already accomplished of late—four wins in his last six starts worldwide, including the Sentry Tournament of Champions in early January and last week's American Express—he said he didn't have the luxury to do that.
"I don't want to do too much of stepping back when tomorrow I'm teeing off again for another tournament. I'll do that on Sunday or next week," Rahm said. "Right now, trying to make it three in a row and extend that if possible.
"I wouldn't say I'm taking anything for granted, no. I'm aware very few people have been able to do this. I saw some list—think there's only five or six of us to start the [calendar] year with two wins—Justin Thomas being the most recent one six years ago [in 2017]. I'm aware this is very rare, and I appreciate it because, if anything, it's a humbling feeling of how much work you need to put in to be able to do something like this because of the talent you have out there."
Dustin Johnson was the last to achieve the trifecta in 2017 and was preceded by Rory McIlroy in 2014 and Tiger Woods in 2008. Woods, of course, put together the longest winning streak of golf's modern era when he won seven straight tournaments that bridged the 2006 and '07 seasons, while Byron Nelson holds the all-time tour record of 11 in a row in 1945.
That Woods' seventh win in his streak came at Torrey Pines was fitting, given his love for the place. Though Rahm hasn't yet compiled Tiger's record on the cliffs of La Jolla (eight wins total, including the 2008 U.S. Open), he carries just as much affinity for the two municipal courses. Rahm notched his first PGA Tour win here in the 2017, his first major triumph in the 2021 U.S. Open on the South Course and has finished T-5, second, T-7 and T-3 in the last four years at the Farmers.
"He's going to be a pretty tough man to beat, since he loves this place," said Xander Schauffele, the second-highest ranked player in the field at No. 6 in the world.
Schauffele said he spent some time at the TOC with Rahm and he was raving about his new Callaway driver. "So, a confident man, that's a very dangerous place to start," he said.
"He's gone on runs in the past," Schauffele added. "To me, there are only a few players currently who can go on these runs where they play like the No. 1 player in the world. Rory has shown it; Rahm has shown it; there have been a few others since Tiger in his heyday. They've got that confidence, that walk, that swagger. I'm going to try to get myself to a point where my game is complete enough to do that."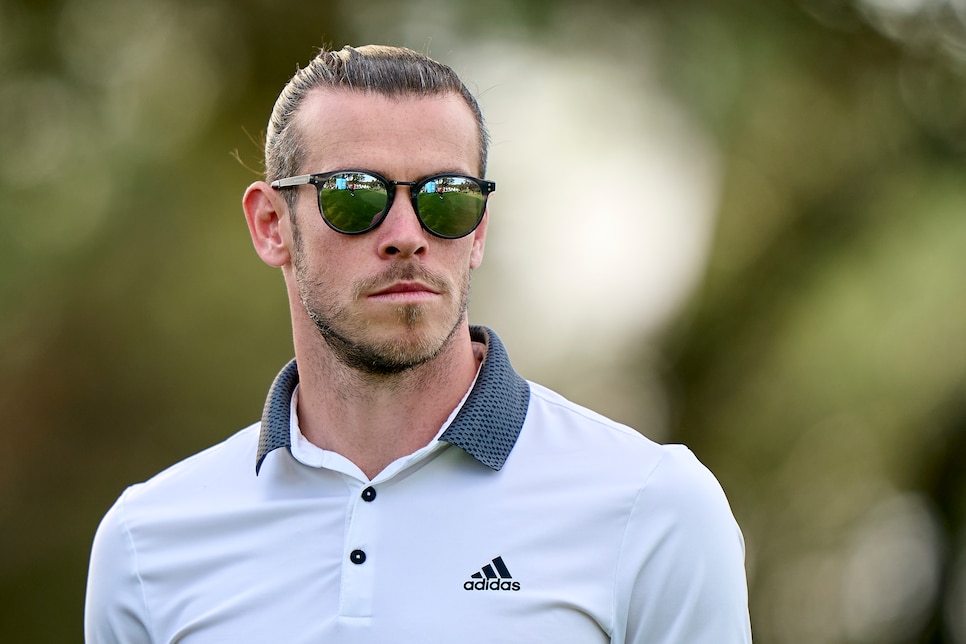 Welsh soccer star Gareth Bale is an avid golfer and has hosted the DP World Tour's Cazoo Open.
Quality Sport Images
Rahm appreciates how precious and potentially fleeting this current vibe could be. It was just more than a year after Woods' seven-win streak that he suffered the injuries to his right leg that would hamper him for a couple of years. Johnson, after he won the WGC-Dell Match Play in 2017 to complete his trifecta, suffered a back injury less than a month later to keep him from playing in the Masters. He also had a knee injury in the 2019 season that sidelined him for months, though he won nine more times on tour before heading to LIV Golf last year.
"Who knows how long till one of those comes again," Rahm said. "…Definitely got to appreciate it while it's there, but I'm still playing for No. 3."
Only 48 hours after his AmEx win, on a crisp and cloudless day at Torrey Pines, Rahm's Farmers week got off to an enjoyable start when he was paired for nine holes in the Tuesday pro-am with Gareth Bale. It was two superstars enjoying the day, with the Welshman Bale having headlined the Spanish powerhouse Real Madrid. Rahm would have never worn that logo, though, because he's always cheered for Bilbao.
"He's the reason why Real Madrid beat my team pretty much for 10 years," Rahm said. "I wasn't really a big fan of that, but obviously respect him a lot as a player."
Bale, who recently announced his retirement from soccer, is an avid golfer who will complete as an amateur next week for the first time in the AT&T Pebble Beach Pro-Am. He also has hosted the DP World Tour's Cazoo Open at Celtic Manor in Wales. How much does the 33-year-old enjoy the game? He incensed Madrid fans in 2019 when he was pictured with a banner that read, "Wales. Golf. Madrid. In that order."
Rahm raved about Bale's golf after Tuesday's round.
"I told Gareth, 'You can't be so good at professional football and golf at the same time, it just doesn't seem fair,' " Rahm said. "…He's looking to retire soon, and you can tell he loves this sport, he loves golf and he really wants to get to play a little bit more, so hopefully in the future I'll see him more times in the pro-am …
"The second he's done [with soccer] and can practice more, he's going to get a lot better. He got two strokes [in the pro-am], which I think is already wrong. He should be giving strokes back to the rest of the amateurs because he is a very, very good player."
Like we said of Rahm—no holding back.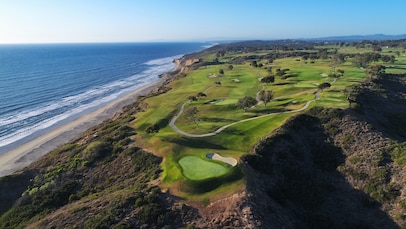 Torrey Pines sits on one of the prettiest golf course sites in America, atop coastal bluffs north of San Diego with eye-dazzling views of the Pacific. Rees Jones' remodeling of the South Course in the early 2000s not only made the course competitive for the 2008 U.S. Open (won by Tiger Woods in a playoff over Rocco Mediate), it also brought several coastal canyons into play for everyday play, especially on the par-3 third and par-4 14th. An annual PGA Tour stop, Torrey Pines received another boost by Jones prior to hosting its second U.S. Open in 2021, this one won by Jon Rahm.
View Course