Betting Analysis
Farmers Insurance Open picks 2023: This former major champ is worth a look in longshot territory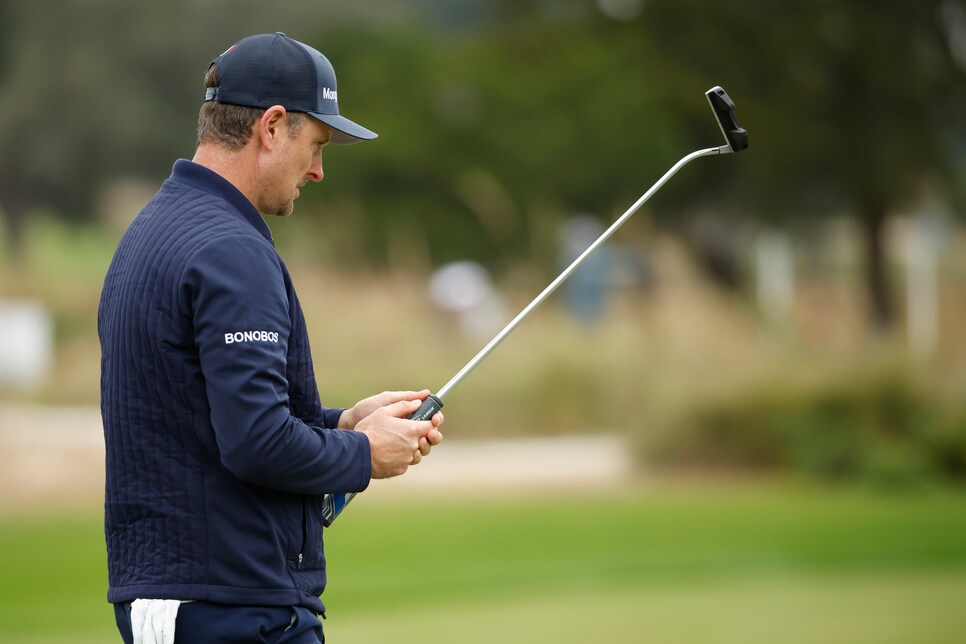 Depending on the type of golf bettor you are, these first few weeks have either been really easy, or really frustrating.
If you're the type who isn't afraid to back an overwhelming favorite, than Jon Rahm has probably made you some solid coin to start the new year. If you're the type who scrolls past the top of the odds board and peppers the mid-tier section, you've come up empty.
We're presented with the same dilemma this week, as Rahm is yet again a single-digit favorite, as low as +390 at one sportsbook. Considering his form, and his past history at Torrey Pines, it's impossible to make a case against betting him again this week. But, as always, there are plenty of other intriguing names at intriguing odds that will be tough to pass up, too.
Scroll down to see who we like this week at the 2023 Farmers Insurance Open.
Farmers Insurance Open picks 2023: Our Experts' Outright Predictions
Anonymous Caddie Picker of the week: Tony Finau (14-1, BetMGM) — One of the longest hitters in the world who has been playing insanely good golf with great course history. No, I'm not only talking about Jon Rahm … but Tony Finau's resume can match Rahm's here, minus the wins. But Finau has three wins in his past nine PGA Tour events, plus he has the T-2 here two years ago.
Pat Mayo, DraftKings/Fantasy National, Mayo Media Network analyst: Will Zalatoris (18-1, DraftKings) — Came within a half ball rotation of a win a year ago, and after watching him in his first two starts in 2023, it's clear the injuries are behind him. Time to get revenge.
Brandon Gdula, FanDuel/numberFire managing editor: Xander Schauffele (11-1, FanDuel) — The strong showing last week is enough proof that the back isn't an issue. I think someone at the top is the one to dethrone Rahm this week, and he's rating out as a plus value in my simulation model for the week.
Rick Gehman, data scientist and RickRunGood.com founder: Collin Morikawa (18-1, DraftKings) — Morikawa isn't the blueprint for the normal winner at Torrey Pines because he lacks the driving distance of his peers. What he lacks in distance, he makes up in accuracy and elite iron play. Obviously I don't need to convince anyone that Morikawa can win a golf tournament and he's coming in with three straight top-15 finishes. The one thing that really helps Morikawa is his improvement putting on Poa Annua greens. He gained a total of 11.37 strokes putting in his last three events on these surfaces, per the RickRunGood.com golf database.
Stephen Hennessey, Golf Digest dep. managing editor: Will Zalatoris (18-1, DraftKings) — The pain of being sooooo close to hitting Zalatoris last year is a top-five gambling loss for me. I'm going to attempt to rectify it here with a narrative play on Willy Z getting redemption at a course he has said is his favorite on the PGA Tour.
Christopher Powers, Golf Digest staff writer: Collin Morikawa (18-1, DraftKings) — This would be a great Morikawa number against a truly elite field, and we're getting it against one of the weaker Torrey fields in recent memory. Plus, if you use the +200 odds extension DK is offering this week, you can get the two-time major champ, who has three consecutive top-15s if you count the Hero, at 20-1. The Sentry choke isn't scaring me off this bonafide winner, and I'll happily ignore the "he's not long enough for Torrey" noise since he can make up for that with his iron play and strong Poa putting. Also, he finished fourth in the 2021 U.S. Open at Torrey, so it's not like he doesn't have a good track record.
Andy Lack, RickRunGood.com and Inside Golf podcast: Justin Thomas (16-1, DraftKings) — On talent alone, Justin Thomas is the most under-valued of the elite players on the odds board. There are four extremely important checkpoints that players must hit to succeed at Torrey Pines: Long (and preferably accurate) driving of the ball, elite long iron play, elite short game and a proven track record of success on Poa greens. JT is one of the very few players in the field that checks all four boxes. He remains one of the longest players on tour off-the-tee and he is an elite long iron player. Over a large sample size, I have him as the No. 1 player in this field in around-the-green play, which often gets overshadowed by how good his irons are. He's also had some excellent putting performances on pure West Coast Poa at both Torrey Pines and Riviera, and I expect him to return to the winner's circle this week in San Diego.
Past results: Golf Digest's betting panel caught fire at the end of the summer, correctly predicting the winner in five of the final six events of the season. We cooled off a bit during the Fall Swing, though we were able to still pick off one winner at the Houston Open, with Stephen Hennessey and Brandon Gdula each hitting on Tony Finau at 16-1. Here's to many more winners in 2023.
Farmers Insurance Open picks 2023: Sleepers/Dark Horses Who Could Win
Caddie: Justin Rose (55-1, DraftKings) — If Rose is going to bag another PGA Tour victory, Torrey Pines is a likely spot. It was just three years ago he won here … and his game is trending up.
Mayo: Justin Rose (55-1, DraftKings) — A former winner at Torrey who is quietly trending back upwards in his career with the injuries in rearview mirror. Even during his slump Rose still managed to squeak out a T-6 in this event last year.
Gdula: Kurt Kitayama (95-1, FanDuel) — Kitayama is a top-20 tee-to-green golfer over the past 50 rounds among this field. The putter is always a concern, and putting will be tested this week. That being said, we see some upside from Kitayama when things are clicking.
Gehman: Taylor Pendrith (60-1, DraftKings) — Pendrith struggled last week, missing the cut, but we knew Palm Springs wouldn't be a great fit for his game. Torrey Pines, on the other hand, is probably one of the better spots on tour for him. He'll be able to separate himself from the field off-the-tee and look to improve on his T-16 finish from last year.
Hennessey, Golf Digest: Hideki Matsuyama (45-1, PointsBet) — Borderline longshot range, but Hideki's probably the longest-odds guy I'd bet this week. He has the exact skill set you want: Long off the tee (and getting longer), elite with his mid- and long-irons, and deft touch around the greens. He hasn't been great lately, but that's why he's nearly 50-1. It's worth taking a flier.
Powers, Golf Digest: Ryan Palmer (150-1, DraftKings) — Do I think Ryan Palmer is going to be able to beat Jon Rahm or Justin Thomas or Collin Morikawa if he's in the mix come Sunday? Absolutely not, but him being 150-1 at a course he's finished 21st or better at for five straight years, with two runner-ups in that stretch, is impossible to pass up.
Lack: Cameron Davis (66-1, BetMGM) — Cam Davis has now been featured in this column for a third week in a row, and I do not fault anyone for refusing the possibility of more pain. Still, either he is a complete Ponzi scheme, or the former Rocket Mortgage Classic champion remains one of the best values on the board at a course that should accentuate his skills. Once we get past Rahm, Xander, Finau, Zalatoris, Sungjae, and Homa, the list of players that possess all four essential Torrey Pines skill sets get extremely short. Hideki Matsuyama and the Australian are the only two players in this field past 30-1 that possess elite driving ability, are top-20 long iron players with above average short games, and a proven track record of success on West Coast Poa greens. Coming off a missed cut by seven strokes at the American Express, we are getting a top-10 player in my model this week at a completely depressed price.
Farmers Insurance Open picks 2023: Players We're Fading
Caddie: Jon Rahm (+450, DraftKings) — It's not the deepest field, but there are some great players here with great history. It's not really a foregone conclusion he's gonna win here.
Mayo: Jon Rahm (+450, DraftKings) — At these odds, you have to ask yourself: Does Rahm win more than 25 percent of the time? Crazy part is, you'd have to think about it. But sheer probability says no. Scary fade, but one that needs to be made.
Gdula: Collin Morikawa (12-1, FanDuel) — Morikawa's putter was super hot at the Tournament of Champions—one of his best performances ever. The irons will help him separate on the smaller greens at the South course, but the price is too high due to the recent 54-hole dominance at Kapalua.
Gehman: Hideki Matsuyama (45-1, PointsBet) — Matsuyama has been literally average over his last 36 rounds, gaining just 0.01 strokes per round to the field in that span. It's the worst rate of any golfer at the top of the betting board. He's also been the second shortest driver during that span and the second worst in driving accuracy. This is a tough combination of metrics for Matsuyama to overcome.
Hennessey, Golf Digest: Collin Morikawa (12-1, FanDuel) — With a great player winning seemingly every week, it's tough to have conviction on a fade amongst the elites. (Which makes it tough for some people, ahem, Powers below, to make a pick here.) But to me, Andy outlines perfectly why Morikawa really needs a special week to overcome his around-the-green deficiencies.
Powers, Golf Digest: Jon Rahm (+450, DraftKings) — Honestly hoping he wins this week so Steve finally realizes we need to get rid of this stupid fade section.
Lack: Collin Morikawa (12-1, FanDuel) — I've spoken extensively about the importance of checking the major boxes at Torrey Pines, and of the elite players, Morikawa's skill set presents the most question marks. He ranks 116th in this field in driving distance and he ranks far lower (46th) than the other elite players in SG/off-the-tee on long courses with difficult to hit fairways. This can easily be mitigated by elite long iron play, and the two-time major winner does rank third in this field in long-term proximity from 300 yards plus. The issue is that his short game, another fatal flaw compared to others in his price range, has been an absolute disaster (119th), and we haven't even touched on the putting. Despite being from California, the Berkeley alum only ranks 71st in Poa putting. Torrey Pines is also the hardest course on the PGA Tour in putting inside 10 feet, and Morikawa ranks 144th in putting from 0-5 feet, and 132nd in putting from 5-10 feet, laying a claim as one of the worst short-range putters in the entire world over a large sample size. I'm always a believer in his upside, but this is a pure percentage play. Statistically, the odds of something in his game going horribly wrong are exponentially higher that the other players he is priced around.
Farmers Insurance Open picks 2023: Matchups
Caddie: Matthew NeSmith (+100) over Beau Hossler (DraftKings) — You need ball-strikers at Torrey, and NeSmith is one of the more underrated, power hitters on tour. You gotta like him at plus-money here.
Mayo: Kurt Kitayama (-110) over Rickie Fowler (DraftKings) — Kitayama rates out excellently in every key metric while Fowler in his prime was a bad match for Torrey Pines, and he's far from his prime at this point.
Gdula: J.J. Spaun (+100) over Justin Rose (FOX Bet) — Spaun is the better long-term golfer than Rose, who has played really well at Torrey Pines in the past, but Spaun's got some good results here, too. The form is strong for Spaun and is centered on iron play.
Gehman: Gary Woodland (-125) over Davis Riley (Bet365) — Woodland has been making great progress recently and he's getting back to that familiar skill set. He's gained strokes off-the-tee in four of his last five and has gained strokes on approach in four of his last six. Crank up the conditions and see Woodland thrive.
Hennessey, Golf Digest: Keegan Bradley (-110) over Sahith Theegala (DraftKings) — Theegala is a West Coast kid, but his inefficiencies off the tee are likely to cost him at Torrey Pines. He can be very wild off the tee, and so I think Keegan's more consistent ball-striking numbers give him an edge here over Sahith. We just need Keegan to not lose a million strokes putting to cost us this one.
Powers, Golf Digest: Adam Hadwin (+100) over Cam Davis (DraftKings) — You'd think Torrey would be a bad fit for Hadwin given his lack of distance off-the-tee, but his elite iron play and solid Poa putting have helped him pick up three top-35 finishes here in six trips. On the contrary, Torrey seems perfect for Cam Davis, but it's been anything but, with the Aussie failing to post a top-30 here in five starts. Not to mention his so-so start to the new year, with a 32nd at Sony and a MC at AMEX.
Lack: Thomas Detry (-110) over Patrick Rodgers (BetOnline) — I hate to even bring this to the attention of my close friend and fellow Golf Digest betting panel member, Chris Powers, but something is horribly wrong with Patrick Rodgers right now. After an encouraging fall, the former Stanford star withdrew from the Sony Open, before returning to the American Express for his season debut where he missed the cut by a robust eight shots. Thomas Detry, on the other hand, is a top-35 long iron player in the field, a top-35 driver of the ball on longer courses, with a respectable short game, who immediately gained 2.4 putting on Torrey Pines' tricky Poa greens in his first appearance here, which came at the 2021 U.S. Open. Sorry CP, but this one is a slam dunk.
Matchup Results from the American Express: Mayo: 1 for 1 (T. Kim (+100) over Harman); Gdula: 1 for 1 (Scheffler (-118) over Cantlay); Powers: 1 for 1 (Griffin (+100) over Jaeger); Caddie: 0 for 1; Gehman: 0 for 1; Hennessey: 0 for 1; Lack: 0 for 1
Matchup Results from this season (Wins-Losses-Pushes): Hennessey: 8-4-0 (up 3.54 units); Gehman: 7-4-1 (up 2.3 units); Powers: 6-6-0 (down 0.28 units); Lack: 1-2-0 (down 1.09 units); Mayo: 5-6-0 (down 1.47 units); Caddie: 4-8-0 (down 4.19 units); Gdula: 3-8-1 (down 5.22 units)
Farmers Insurance Open picks 2023: Top 10s
Caddie: Xander Schauffele (+145, Bet365) — The San Diego native seems to have gotten over his Torrey Pines woes with two good finishes in his past two starts, including a T-2 two years ago. Plus, he has seven top-10s in his past nine starts. It'd be a surprise if he doesn't contend this week.
Mayo: Max Homa (+230, DraftKings) — When you're doing the checklist of skills you want to have this week, Homa fills up the sheet. He's above average in distance and inside the top 25 percent for accuracy among the players in the field. That will work. Then in the case of chipping and long irons, Homa rates out top 15 of all players. Throw in his penchant for California greens and a previous top-10 finish in this event, and you have a top-10 play, and maybe even a winner.
Gdula: Keegan Bradley (+500, FOX Bet) — Bradley is a great tee-to-green golfer with two top-fives here in his past five starts. The blip with the irons at the Sony has the odds dropped a tad; the form otherwise has been good.
Gehman: Maverick McNealy (+320, DraftKings) — McNealy has been a staple on the first two pages of the leaderboard this season, earning a T-27 or better in six straight starts. Now he heads to the West Coast where he should be able to continue his success. He's the best putter on Poa Annua greens in this field, gaining a full stroke per round on the surfaces.
Hennessey, Golf Digest: Wyndham Clark (+650, Bet365) — Wyndy C, as our guy Brian Kirschner dubbed him, has a sneaky great game for a long, tough golf course like this. He's in the top-10 in distance on tour and also has an elite short game. I'm not sure if he can win with all these elites here, but he can definitely scare the top 10.
Powers, Golf Digest: Taylor Montgomery (+280, DraftKings) — Well folks, I hope you had fun. The Taylor Montgomery top-10 party is officially over now that I'm showing up this late. Kidding aside, it does feel foolish to not try to cash in on this run by the KFT grad, who has four top-10 finishes in nine starts this season, plus four other results inside the top 15. Apologies in advance for mushing his career.
Lack: Hideki Matsuyama (+320, DraftKings) — If you're noticing a theme, Torrey Pines rewards an extremely specific skill set that very few players in the field possess. My one concern with the former Masters champion is his recent off-the-tee play, but I actually believe that Torrey Pines is a perfect get-right spot for those struggling with their driver. Barely half the field hits the fairways here anyway, and you would be surprised how little the difference is between missing a fairway at Torrey Pines by one yard, versus missing a fairway here by 30 yards. Matsuyama ranks top 25 in this field in SG/off-the-tee on long courses with difficult to hit fairways, and he's gained strokes off-the-tee in seven of his nine appearances at the San Diego staple. Similar to Justin Thomas, Hideki's elite short game gets completely overshadowed by his generationally strong iron play. Say what you want about his putting, but Poa has been his most reliable surface, and he's gained over six strokes on the greens twice at Torrey Pines. I'm on his egregious outright number of 45-1 as well.
Top-10 results from the American Express: Gdula: 1 for 1 (Taylor Montgomery +410); Mayo: 1 for 1 (Tom Kim +220); Everybody else: 0 for 1
Top-10 results from this season: Gdula: 5 for 12 (up 13.4 units); Hennessey: 3 for 12 (up 3.55 units); Gehman: 3 for 12 (up 2.05 units); Mayo: 2 for 11 (down 2.8 units); Lack: 0 for 3 (down 3 units); Caddie: 2 for 11 (down 3.95 units); Powers: 1 for 12 (down 7 units)
Farmers Insurance Open picks 2023: One and Done
Gehman: Jason Day — Jason Day will be a staple in most fantasy formats, betting cards and everything in between. One of the best ways to deploy him is in a one and done format. He's been elite at Torrey Pines in his career and is playing some of the best golf we've seen from him in years. He'll be popular but it's early in the season and this is not an elevated event. No need to get crazy yet.
Previous weeks: Fortinet Championship: Emiliano Grillo. Sanderson Farms Championship: Sam Burns. Shriners: Taylor Montgomery. Zozo: Sungjae Im. CJ Cup: Matt Fitzpatrick. Bermuda: Denny McCarthy. Mayakoba: Viktor Hovland. Houston Open: Aaron Wise. RSM Classic: Brian Harman. Sentry TOC: Cameron Young. Sony Open: Hideki Matsuyama. American Express: Brian Harman.
Hennessey: Will Zalatoris — You might not want to burn Willy Z in a non-elevated event, but if he wins (which I think he will), you won't be too disappointed with your decision.
Previous weeks: Fortinet Championship: Cam Davis. Sanderson Farms Championship: Denny McCarthy. Shriners: Emiliano Grillo. Zozo: Hideki Matsuyama. CJ Cup: Sungjae Im. Bermuda: Mark Hubbard. Mayakoba: Viktor Hovland. Houston Open: Jason Day. RSM Classic: Brendon Todd. Sentry TOC: Patrick Cantlay. Sony Open: Matt Kuchar. American Express: Brian Harman.
Powers: Taylor Montgomery — He's on fire and possesses all the necessary skills to win at Torrey Pines. Will be a big ask if the big boys are in the mix on Sunday, but I'll take my chances on a guy who keeps putting himself in position to win.
Previous weeks: Fortinet Championship: Sahith Theegala. Sanderson Farms Championship: J.T. Poston. Shriners: Sungjae Im. Zozo: Hideki Matsuyama. CJ Cup: Tyrrell Hatton. Bermuda: Russell Knox. Mayakoba: Thomas Detry. Houston Open: Sepp Straka. RSM Classic: Davis Riley. Sentry TOC: Xander Schauffele. Sony Open: Gary Woodland. American Express: Cameron Young.
Pat Mayo is an award-winning video host and producer of long- and short-form content, owner of the Mayo Media Network and host of The Pat Mayo Experience. (Subscribe for video or audio.) Mayo (@ThePME) was named 2021 Daily Fantasy Writer of the Year by the Fantasy Sports Writing Association, while also being a finalist for Podcast of the Year and Golf Writer of the Year. Mayo won the 2020 FSWA Daily Fantasy Writer of the Year and Golf Writer of the Year awards, along with the Fantasy Sports Trade Association Best Sports Betting Analyst award in 2020. He was finalist for four FSWA Awards in 2020 (Best Podcast, Best Video, Daily Fantasy Writer of the Year, Golf Writer of the Year). Mayo is on the board of governors at www.fantasynational.com.
Brandon Gdula, managing editor and analyst for NumberFire, a FanDuel daily-fantasy analysis company, recently won the 2018 FSWA Golf Writer of the Year. Gdula also co-hosts the DFS Heat Check podcast.
Rick Gehman is the founder of RickRunGood.com and the RickRunGood YouTube Channel, is one of the industry's leading experts on golf DFS and gambling. Gehman is co-host of the First Cut Podcast and appears regularly on the Pat Mayo Experience golf podcasts. Follow him on Twitter: @RickRunGood.
Andy Lack is a PGA Tour writer and podcaster from New York City who now resides in Los Angeles. He hosts Inside Golf, a twice weekly podcast focused on the PGA Tour, betting, daily fantasy, golf course architecture, and interviews, as part of the BlueWire podcast network. As well as contributing to Golf Digest, Andy is also a data analyst and writer for RickRunGood.com, where he covers PGA Tour betting and daily fantasy. He came to Golf Digest's betting panel after previously writing for Golf.com, the Score and GolfWRX. In his free time, Andy can likely be found on a golf course. Follow him on Twitter: @adplacksports