PGA Tour
Rahm finishes* with a bang, Rory's blunt honesty and a Canadian takeover at the top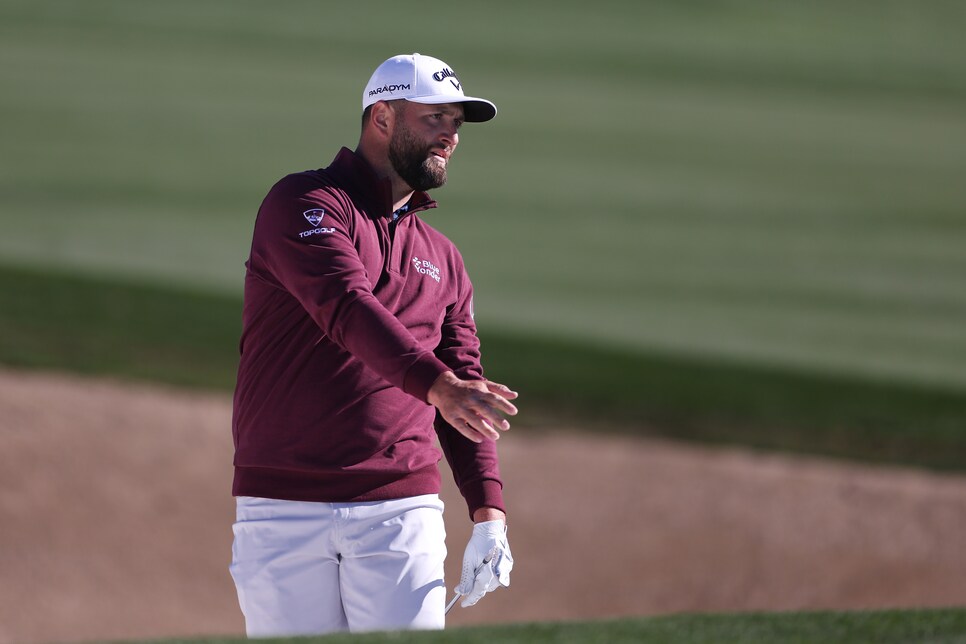 SCOTTSDALE — Things could have easily gone off the rails for Jon Rahm on Thursday at the WM Phoenix Open. He had all the excuses in the world, too. A late start (frost delay), a rough start (three-putt bogey at No. 1), and un-Arizona-like wind gusts up to 16 mph causing chaos all over the golf course for the entirety of the first round. Mix in a few untimely yells from fans and it was the perfect recipe for a Rahm outburst.
Even at one under on his round through 10 holes, he was running a little hot when a seemingly ideal drive down the right side of the par-4 11th fairway took a huge kick into the right rough. "The last four times now," Rahm said. "Every [expletive] time it bounces right."
At this point, darkness was setting in and the temperature was dropping rapidly. It was a race to the horn, and given how well he was hitting the ball off the tee all day, he had to be feeling like he wasn't getting the most out of however many holes he'd end up playing.
That changed in a big way at TPC Scottsdale's par-5 13th, which wound up being Rahm's final hole of the day. After saving par at 11 and making another par at 12, the Spaniard pounded a drive 333 yards down the middle of the fairway, then hit his 229-yard approach shot to 19 feet. Despite the horn sounding, Rahm was allowed to finish the hole if he chose. He chose right, pouring in the 19-footer for eagle to go from a "meh" one-under start to three under, which puts him just two off the lead heading into Friday.
In the morning Rahm will begin at the uphill dogleg left 14th, which is not a fun one to play at any point in the round let alone your first hole of the day. He'll have a long, chilly cart ride to think about it, too, as 14 tee is as far away from the clubhouse as it gets. Makes that late-night eagle feel that much more important.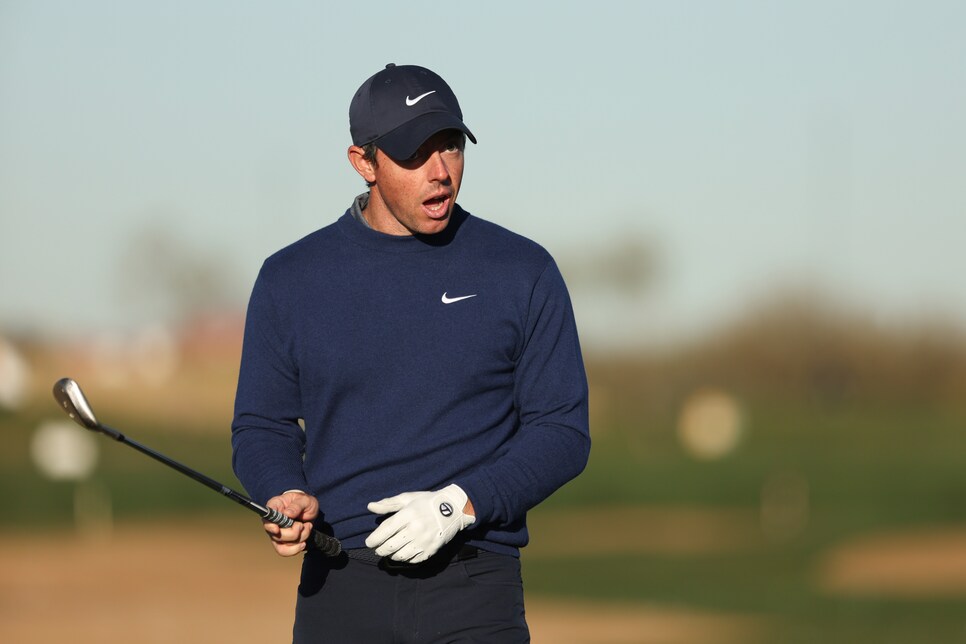 On Wednesday Rory McIlroy sounded as confident as ever, and with good reason. The World No. 1 is on an epic tear, one that caused him to describe himself as a more "complete player" now than back in 2014, the year he won two majors. Naturally, he shot a two-over 73 on Thursday. Classic case of "golf."
"I felt like I hit it OK," he said. "It was hard, I've been struggling with the left miss a little bit, so last week I was doing a lot of sort of trying to clear my body and almost trying to just hit like little fades, and there was a ton of left to right winds out there today, so it really felt like my ball just going on those left to right winds pretty hard and just never really got a handle on it.
"Again, I felt like I played OK and swung it OK, just one of those days."
Typically, this would be an event McIlroy would steer clear from, having only played it once (2021) and finishing 13th. Now with its designated event status, it's one we'll likely see him at more. That didn't stop him from being his usual honest self when he was asked if there were benefits to being "forced" to play tournaments he otherwise wouldn't.
"I get a chance to win $3.6 million," he said. "Look, I wouldn't say that this is a golf course that sets up terribly well for me. I struggle off the tee here. I feel like all the fairway bunkers are right in my landing zones. But it's a challenge, and again, like I'm trying to embrace that challenge. Yeah, look, not an event I historically play, but I feel like I'm a good enough player to figure it out and contend and win on any golf course."
Should he not figure it out on Friday, it won't be the end of the world. Even if he doesn't love the course, there's no better tournament to MC in.
"I was joking to Harry out there today, it's like almost you get two free rounds at this because you can go out and just completely wing it, either shoot 63 or 80, and you know you're going to have a good weekend regardless," McIlroy said. "Either have a chance to win the tournament or you go and enjoy everything that this tournament has to offer if you don't make the cut."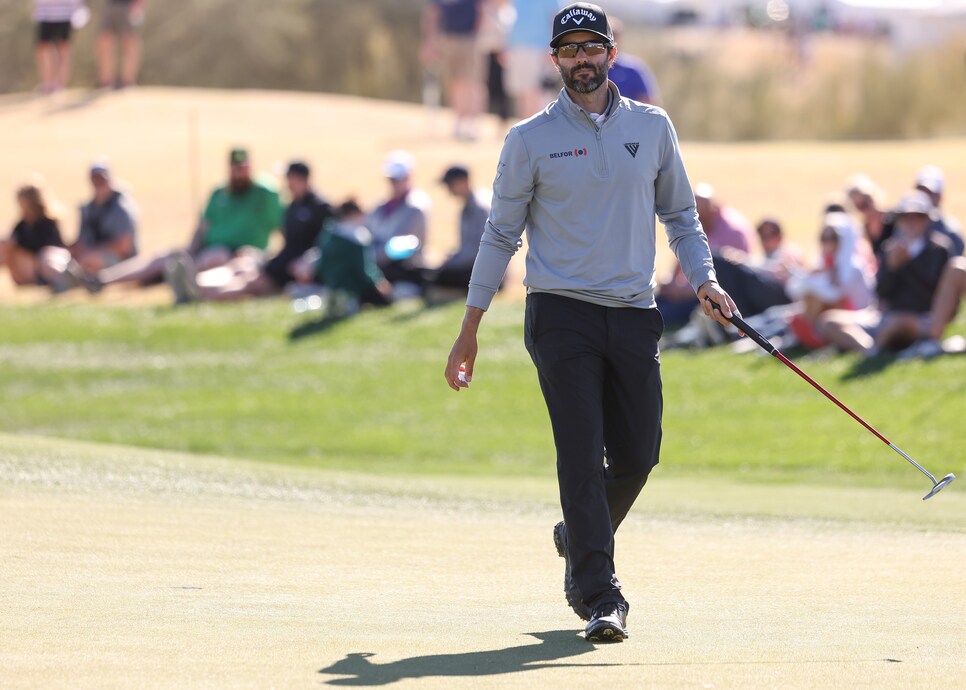 Bettors are always looking for the "home game" angle each week. It's only Thursday, but it feels like we all swung and missed in that department this week.
Adam Hadwin and Nick Taylor, two PGA Tour winners from Canada, both live in Scottsdale. Taylor spends most of his time practicing at TPC Scottsdale, sometimes buzzing over for nine holes on occasion. Hadwin says he plays it quite often.
"Living here and playing this course as much as I have, I've seen a lot of it," Hadwin said. "But yeah, it definitely—you had to be a lot more patient than you normally do around this place. You couldn't really chase birdies like we typically do out here."
Hadwin was referring to the blustery conditions, which he and his fellow Canuck handled nicely. They are tied at the top at five under, both having completed their first rounds in the morning wave. O Canada? More like O Scottsdale.
"Canadian golf has been in a great place for a while now," Hadwin said. "Corey [Conners] and Mackenzie [Hughes] kind of leading the way. We had Adam Svensson winning this year, as well, along with Mackenzie. It's a great group to be a part of. I'm really disappointed I didn't get to six under because I saw Nick up there, and I wanted to hold it over him tonight. But yeah, it's fun. It's a great group to be a part of, and we share a lot of laughs together."
The Canadians will have a late tee time on Friday, and by the time they send balls in the air they likely will not be leading. But for tonight it's a Canadian, and Scottsdale-ian, takeover at the top.