PGA Tour
It's already chaos at the 16th at TPC Scottsdale, but not for the reason you think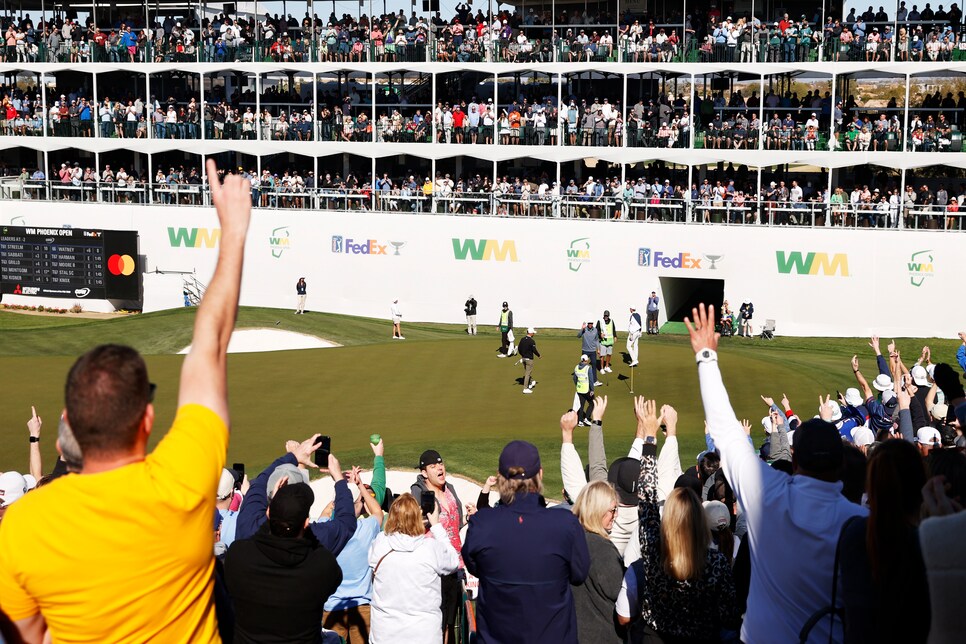 SCOTTSDALE — It's absolute chaos on the 16th hole on Thursday at the WM Phoenix Open, but it's not the fans who are causing it. It's Mother Nature.
Davis Thompson had just tapped in for birdie at the par-5 15th, having just expertly used the wind on a 102-yard wedge shot that caught the slope and funneled to kick-in range. He was two under through six, with the Coliseum at 16, normally a legitimate birdie opportunity, awaiting.
Thompson waited, and waited, and waited for the breeze to die down, then struck his tee shot just for his ball to get gusted. It went so far right that fans in the first row of the stands well right of the green were reaching out to try and catch it like a home-run ball at a D-Backs game. Boos rained down, and it only got worse from there from the Georgia Bulldog.
With fans directly over his right shoulder ready to jeer him again, Thompson fatted a chip that barely stayed on the front-right fringe, leaving him with an impossible par putt from 70 feet. "ONE OF US! ONE OF US!" the fans screamed, stealing an iconic line from "The Wolf of Wall Street." A three-putt for double bogey ensued. All his early-round hard work undone.
Thompson wasn't the only one to make a mess on the 16th, where the wind has been pummeling golf balls all morning. In the same threesome, Charley Hoffman came up miles short with a 6 iron (!). He then blasted a bunker shot over the green and managed to get up and down for bogey, one impressive enough to get a medium-sized cheer from the people.
Not long after, Keith Mitchell hit a carbon copy of Thompson's shot, his actually banking off the grandstands on the right, allowing him to get out of there with a bogey. If only Thompson was so lucky:
As if the raucous and potentially overserved fans weren't enough to deal with, the left-to-right wind has now made it much more tense of a golf shot. So far on Thursday, it's playing nearly 0.3 strokes over par. Of the 24 players who have come through, just two have made birdie. One came from Tony Finau, who somehow managed to stiff one to tap-in range:
The other came frorm Scott Piercy, who holed a 15-footer that has yielded the only true roar of the day so far at the 16th. Fans who woke up early to sprint to their seats at the stadium haven't exactly been treated to a show, unless carnage is what they're into.
Winds are as high as 16 mph on Thursday, and they don't seem to be slowing down. The PM wave of players definitely got the better end of the deal, but forecasts still call for 10-13 mph this afternoon. It's made the early leaderboard look more like a leader board at a U.S. Open, with just two players—Xander Schauffele and Charley Hoffman—at three-under par. Of the 66 players on the course, just 15 are currently under par.