Farmers Insurance Open
Jon Rahm has an answer for the one thing he won't do at Torrey Pines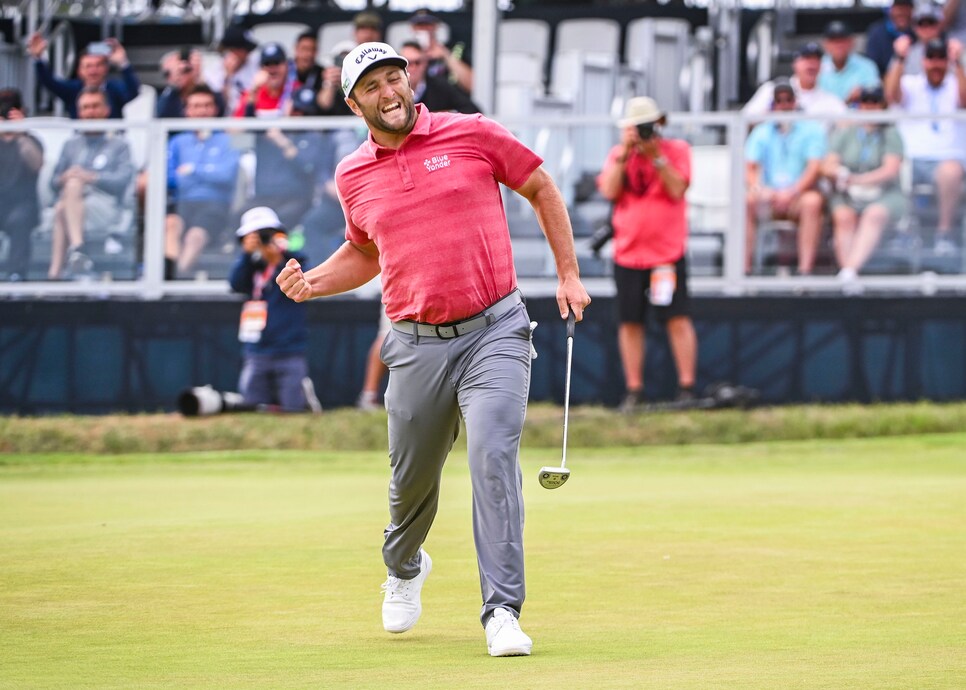 Jon Rahm celebrates after making a birdie putt on the 18th hole green during the final round of the 121st U.S. Open.
Keyur Khamar
SAN DIEGO—There is the favorite sushi joint. The favorite store for a sandwich and favorite place for lunch near Callaway's Carlsbad headquarters. Even a favorite coffee shop in La Jolla. Jon Rahm moves around San Diego—"my family's favorite city"— as if the Spaniard has lived here all his life. In golf terms, there perhaps isn't a more comfortable fit for him than Torrey Pines.
That was evident early in Rahm's career when he won the 2017 Farmers Insurance Open at Torrey Pines for the first of what is now six PGA Tour wins over five years. And it became holy ground for the World No. 1 last June, with a memorable late Sunday charge that secured Rahm's first major championship.
He and his young family of wife Kelley and son Kepa make frequent trips to Southern California from their Arizona home throughout the year, but Tuesday was the day that Rahm played on the South Course for the first time since he birdied the 17th and 18th holes in the final round to beat Louis Oosthuizen by one in the 121st U.S. Open.
"It will probably hit me a little bit more when I'm on 18 green, remembering me with my dad and my son standing there on Father's Day, right?" Rahm said on Tuesday morning. "I think it will hit me a little bit more. I don't know where the pin locations are, but I'm playing with my friend Jared [du Toit], who Monday qualified, and I'm sure he's going to want to hear about the putts on 17 and 18. And I don't blame him, I would ask as well.
"I don't know exactly what to tell you because there's so many things that come to mind, right? The first thing is it's an incredible sense of pride just because I remember where I come from and I remember all those times when I was a kid thinking, oh, this is to win a major. And heck, I have the moment right here, right?"
With a T-2 at the Sentry Tournament of Champions and T-14 last week in The American Express, where he thought he played poorly, Rahm is back and showing no signs of a drop in form after a season in which it felt like he had a shot to win in nearly every start from March to September.
After the Torrey Open triumph, Rahm tied for third in the Open Championship, started the FedEx Cup Playoffs with a third at The Northern Trust, tied for ninth in the BMW Championship and closed with a solo second in the Tour Championship.
"Feeling confident, feeling comfortable," Rahm said. "Last week was not my best week, didn't feel good swing wise. Nothing, really felt good. Putting felt about as bad as it can feel and I somehow still managed to sneak in a top-15, so that gives me a lot of confidence knowing what I'm working on is going on the right track and when I'm having a bad week I can still post a score. Hopefully I can tidy up a couple details in the next few weeks, but hopefully I can start playing good this week."
Rahm made his Torrey Pines debut in 2017 memorable when he rolled in a 60-foot eagle putt on the 72nd hole for a three-shot win over Charles Howell III and C.T. Pan. Since then, he has three top-7 finishes in four starts and was solo second in 2020, one shot behind Marc Leishman.
"If anything, every time I go by [certain holes on Torrey South], I'll remember the times I had a chance to win and I didn't," Rahm said. "That's just me as a competitor always wanting more, more than what I've done."
Even he admits his love of San Diego has become a bit of a tired talking point. "Trying to think of something I haven't said before," Rahm offered. But he does keep providing good fodder about the relationship. Though he proposed to Kelley on the red sandstone hiking trails just south of the golf courses, he said they haven't been back to the spot and will probably wait to take Kepa and his potential future siblings there when they're older. There was one other nice tidbit from Tuesday: Rahm said his dad once flew paragliders like those that get a bunch of TV time during the tournament. He recalled asking his dad at the U.S. Open if he'd like to try it again.
"He does get the feeling of wanting to do it and I think me and mom are like, 'Yeah, you're not putting the parachute on.' I'm pretty sure last time he did it he broke his elbow. He did have a crash landing, so I think that's when my dad and my mom said, 'We're parents now, you're not doing it again.'"
So, would Jon try that running leap off the cliffs?
"I have no interest in even being close to that," he said. "No chance."