Takeaways
Poston keeps coastin', a college star catches fire, plus flops and animal talk at the John Deere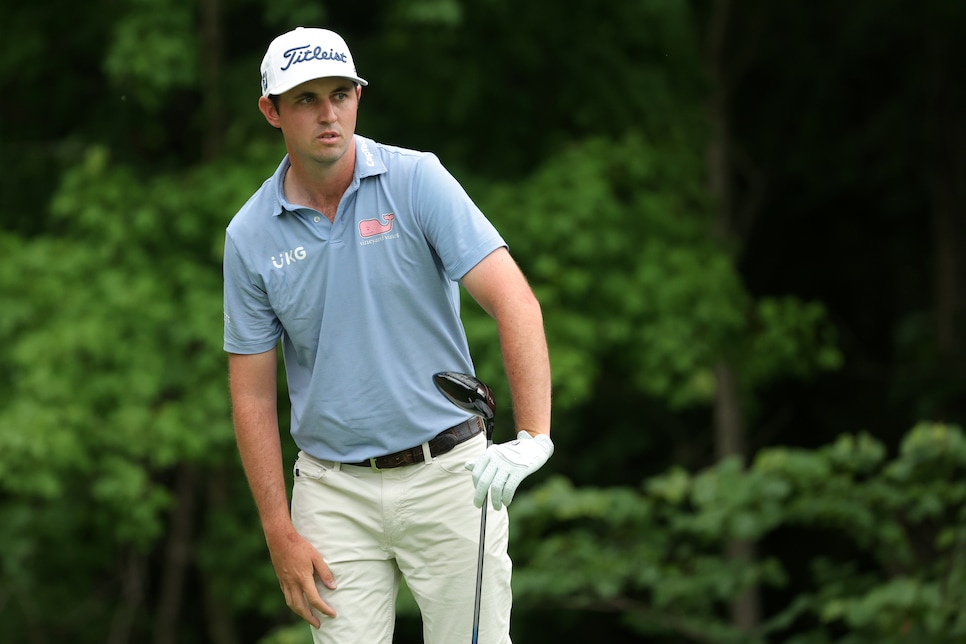 J.T. Poston watches his shot from the second tee during the second round of the John Deere Classic.
Stacy Revere
To J.T. Poston, missing the cut at the RBC Canadian Open must seem like a million years ago. It was actually just two weeks, but in the time since his 73-71 sent him packing at St. George's, he's been a human firecracker on the course. At the Travelers, an opening-round 62 and a closing 64 propelled him to T-2 finish, and this week, at the John Deere Classic, he hasn't missed a beat.
On Thursday, it was another 62 to give him the outright lead, and the Poston Tee Party was in full swing yet again on Friday, when five birdies on the front nine and a bogey-free back gave the 29-year-old a 65. That expanded his lead, and he's now up on his nearest competitor, Denny McCarthy, by four shots.
If you don't believe The Postman was delivering, may I present approaches like this, and putts like this:
Poston has one PGA Tour victory in his career, at the 2019 Wyndham Championship, along with a handful of seconds. With his Travelers finish, he cracked the OWGR top 100 for the first time since last summer. With a win in Illinois, he could be looking at breaking inside the top 60 for the first time in his career.
"Last week, the one thing I learned after playing well Thursday was to try and keep the pedal down," he said. "I didn't want to take my foot off the gas. I wanted to try and build that lead as much as I could going into tomorrow and going into Sunday, and just try and go as low as I can."
As to why he seems to have caught lightning in a bottle in the past two weeks, Poston didn't know much more than his inquisitors.
"I don't know if it's anything too specific," he said. "Because when I had those good weeks earlier in the year, those top finishes, it was a lot of stuff like this week where I was hitting the ball in the fairways and I was really sharp with the iron play and not making too many mistakes."
Poston had a similarly large lead at the Barbasol Championship last year, which he ended up losing in a playoff to Seamus Power. He referenced that weekend on Friday, and understands that the battle lasts for 72 holes, not 36, and that nerves will come into play. All he can do is exactly what he did Friday, which is to build the lead as much as possible in preparation for the moment of truth.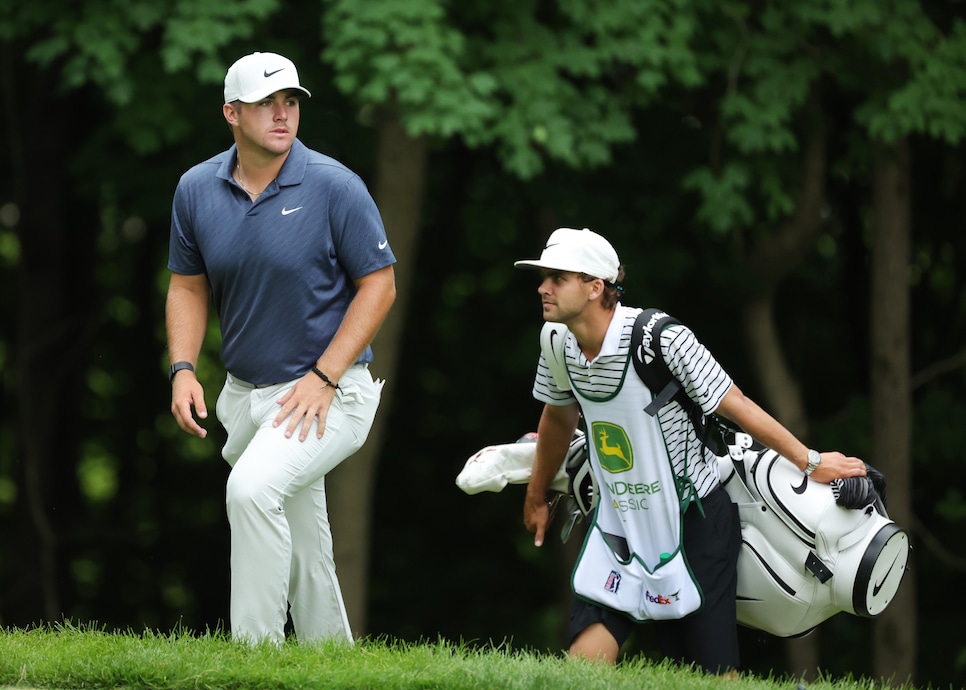 Chris Gotterup walks on the sixth hole during the second round of the John Deere Classic.
Stacy Revere
Chris Gotterup, recently of the University of Oklahoma, had a dream season as a fifth-year senior (he transferred from Rutgers). He won two of the three big national player of the year prizes, (the Haskins and Nicklaus awards), finished second individually in the Big 12 Championship and T-5 in the NCAA Championships. Counting those two tournaments, he's now playing for a seventh straight week, a stretch that included a T-43 at the U.S. Open.
He may be just a bit exhausted, but he had a sponsor's exemption into the John Deere, and to say he's made the most of it is an understatement. After driving the green on the par-4 14th, he buried his 41-foot eagle putt to reach 10 under. That landed him in a tie for second, and he's in a tie for fourth heading into the weekend, which isn't too bad for a guy without a Wikipedia page, and whose PGA Tour headshot is still just a gray silhouette.
"Hopefully I'm here every day in front of you guys," he said to the gathered media, on his goals for the weekend. "Just keep going, put in good rounds out there, and slowly try to eliminate some of the dumb bogeys I'm making here and there."
Gotterup finished T-7 at the Puerto Rico Open as an amateur earlier this year, his best showing in a professioanl event thus far, and he plans to draw from that experience. He's already committed to a more aggressive mentality, a result of his frustration with fighting to merely make the cut the last two weeks. Now he wants to win, and though he's put himself in a good spot, he's not overly stressed.
"I bet I'll be in bed by 8:30," he said. "It's been a long couple weeks ... I've had no trouble getting to sleep on the road here."
I love flop shots, you love flop shots, let us honor the noble flop shot
Today's flop king is Morgan Hoffmann, better known recently for his exploits in Costa Rica and fighting his way back from a muscular dystrophy diagnosis. Today, though, it was all about the flop. Watch the magic:
The flop shot is a wonderful genre as it is, but when you have no green to work with and it's downhill to the hole, the landing area is minuscule, and the whole thing becomes more epic. I like to think Hoffmann's hours of meditation and spiritual communion with the gods of nature gave him the skills to pull this off. It's almost certainly not true, but I like to think it.
Last week at the Travelers, Hoffmann made his first cut since returning to golf in April, and managed to do it again in Illinois, finishing at six under after a bogey-free 64. Bombs like this one certainly didn't hurt.
Here's one for the rules nerds AND the animal nerds
The context of this dispute is pretty funny. Dylan Frittelli yanked his drive on 17 way left, and it ended up inside the hollow of a tree. However, there was apparently a burrowing animal hole inside the tree, or somewhere nearby, and normally a player gets relief from "hazards" like these (think Bryson DeChambeau trying to get anthill relief). Frittelli argued that he should still get that relief, even though, again, his ball was inside a tree. It's a little like hitting the ball into the ocean at Pebble Beach and asking for relief because of sharks.
The rules official was not buying it, and apparently there's even an actual rule for this situation that basically says if another object like a tree is blocking you out, you don't get free, uhhhh ... animal relief. Watch the conversation, it's a delight: