Takeaways
Cameron Young's golf ball switch, Ludvig Aberg's A+ outlook and a surprise John Deere Classic contender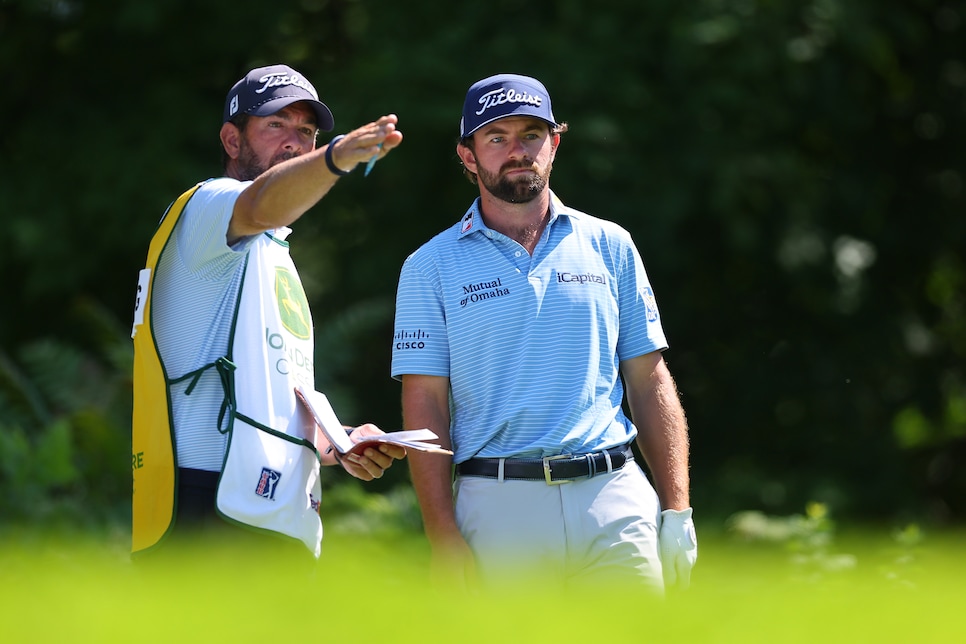 It wasn't exactly a golf ball "rollback," per se, but Cameron Young did go back to an old golf ball ahead of the John Deere Classic this week. Judging by his 65-64 start, the switch was a stroke of genius.
Of course, we're not talking about a balata here, just the ball he played all of last season, a season that featured seven top-three finishes, two of them in majors, and a PGA Tour Rookie of the Year award.
"The Left Dot Pro V1," Young said Friday at TPC Deere Run. "I had been playing the [Pro V1] X, so it's kind of a high-spin and low-spin, kind of both ends of the spectrum."
The Wake Forest alum went on to explain that it didn't take much of an adjustment, saying it "felt like two weeks ago" when he played it last. It also wasn't a switch he made with the John Deere Classic in mind, though he certainly wouldn't mind if it continued to pay dividends. Possibly in the form of an elusive first tour win.
"I kind of made the switch thinking that as long as I can control the ball in the wind, I felt like more spin and higher launch was going to help me at majors and some of the big events as well," he said.
Shots like this one from his second round would indicate that he's in full control of the golf ball:
Filthy stuff. Exactly the type of shot Young will need in two weeks at Royal Liverpool for the final major of the season. Young burst on to the scene a year ago with runner-up finishes at the PGA Championship and the Open Championship, then backed those up with a top-10 at the Masters earlier this year. That remains his last top-10 on the PGA Tour, a streak that is on track to end this week, though the 26-year-old is thinking bigger than a top-10. Here's what Young had to say when asked if he's thinking about winning already or if he's not allowing himself to to that.
"It's some of both. I feel like thinking about winning is not, like—I feel like you can be thinking about it without it being a bad thing.
"I think everybody came here this week to win a golf tournament, and in that way you're all thinking about it right off the bat," Young added. "Obviously I'm in a better position than you find yourself most weeks to do that, but that just really means I'm kind of accomplishing my goals thus far this week and doing my job well. So that's all I can try to keep doing."
Ludvig Aberg gets back in the mix, quells Ryder Cup talk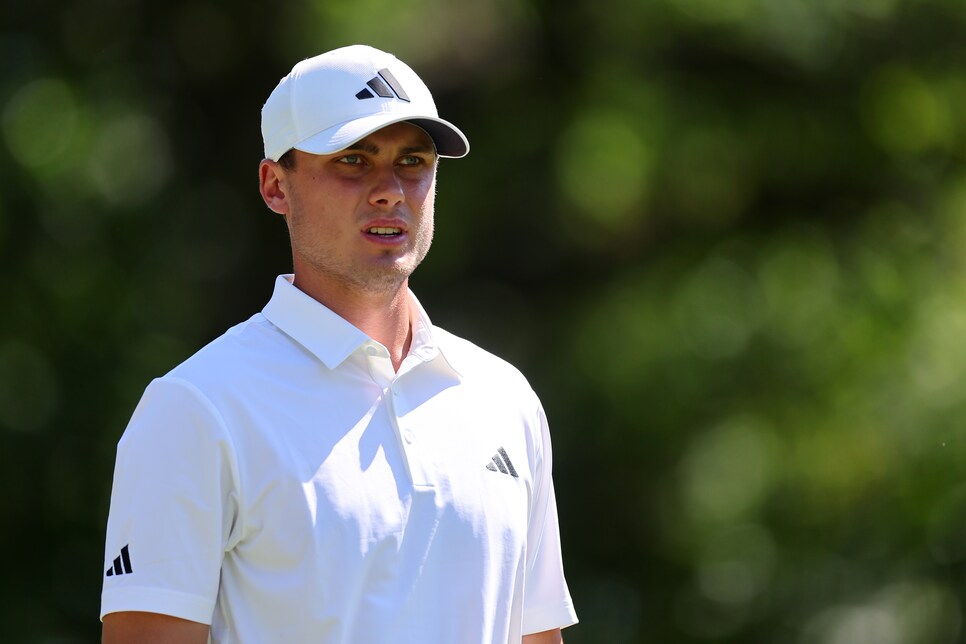 At first, it felt like an insider-y Golf Twitter joke. "Ludvig Aberg belongs on the European Ryder Cup team!" After all, this is a player who, despite his immense talent and despite the fact he is going to do great things (including playing in Ryder Cups), has not registered a top-20 finish on the PGA Tour yet. As impossible as that is to believe given the hype surrounding him, you can go and look it up for yourself. It's true.
But now that he's in contention after 36 holes for the second consecutive week, albeit in another weak field, it's kind of, sort of starting to get a little more real. The former Texas Tech standout shot a seven-under 64 on Friday, and he did so alongside the leader, Young, matching him shot for shot. At 10 under, he's just three off the lead, and there's a Golf Twitter dream world in which those two meet again on Sunday afternoon and make the JDC appointment television. Ryder Cup singles preview match, anyone?
Even Aberg is pumping the brakes on that one. Deep breaths, everyone.
"If you would have told me a month ago that I was going to be selected to the Ryder Cup, I wouldn't believe you," Aberg said.
"So obviously all I can do is prepare for every tournament as good as I can and try to execute my game plan, but we'll see where that comes. And if it comes, great. If not, I'll be pretty happy anyways."
Smart perspective from the young lad. Again, it's a wild discussion to be having. The dude just graduated from college, and he clearly learned enough there to understand how to keep expectations in check. Having said that, should he keep on rolling, European captain Luke Donald would be foolish not to at least entertain the thought. And infusion of youth, particularly a young masher like Aberg, would be an excellent addition to the Euro squad in Rome. But first, let's get that top-20 finish and then they can talk.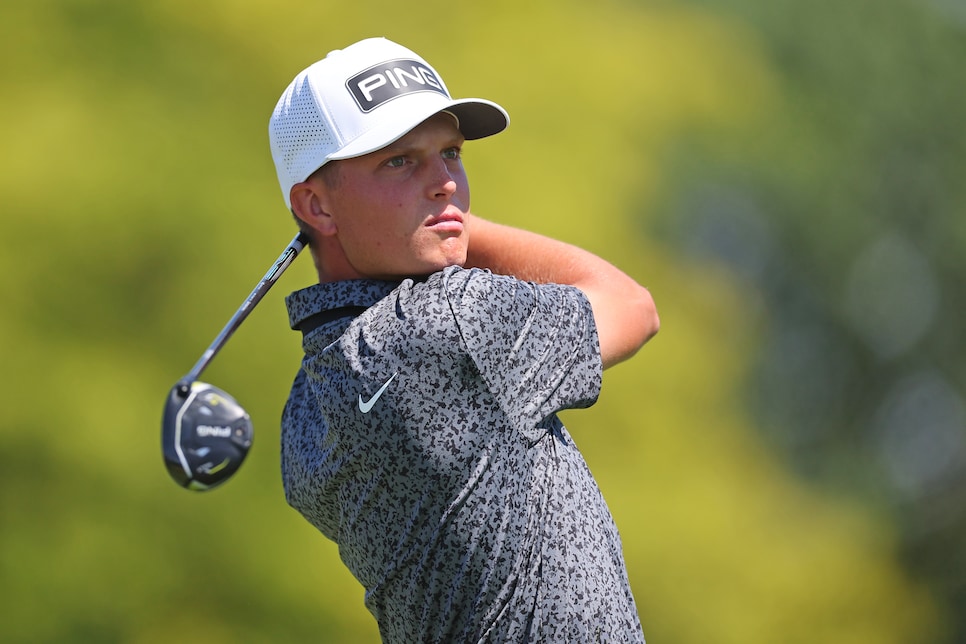 Before you asked yourself "Why not William Mouw?" you likely asked yourself, "Who is William Mouw?" To that we will say please go read the great John Strege's piece on him from the past March, in which you'll learn that the 22-year-old Pepperdine graduate grew up on a farm in Chino, Calif., where his father Billy instilled a work ethic that could very well lead to very big things in ... wait for it ... the John Deere Classic. Yes, the tournament that is sponsored by a company that sells machines for farming. You really cannot make it up.
Mouw is playing this week on a sponsor's exemption, making his consecutive 66s, which have him in a tie for fifth, all the more awe-inspiring.
"I'm happy to be here. I'm on a sponsor exemption. There's no pressure," Mouw said. "I'm not supposed to be here, but through a couple good people; Andrew Lehman, tournament director, invited me here, and my agent. Just happy to be here."
This, mind you, is only Mouw's second start in a PGA Tour event, the first coming in the 2022 U.S. Open at Brookline, where he missed the cut. He's made just four starts on the Korn Ferry Tour so far, making the cut in all four and collecting three top-25s in his last three. He's got a bright future, but considering he was just competing in the NCAA Championship two months ago, this hot start has still come as a bit of a surprise.
"I feel good. I played now four events on the Korn Ferry, and it's prepared me for this," he said. "I have a good game plan. I feel good about my game. I like the way I'm hitting it. I prepared really hard for this this Monday, Tuesday, Wednesday. Felt really good about my game, and I just have to go play some golf."