The Loop
John Daly's victory shower, Tony Romo's U.S. Open bid, and the PGA Tour attends the Kentucky Derby
Welcome to another edition of The Grind, where we took a trip down memory lane following John Daly's long-awaited victory. The last time Daly won was in February of 2004 at the Buick Invitational. Tiger Woods was still "stuck" on eight majors and I was stuck trying to figure out how to afford a cruise for #SB2K04. That's me looking all awkward on the right (Thanks for footing most of the bill for that, mom):
But now Daly is back in the winner's circle and we have the perfect title and cover photo for his biopic (You know there's going to be a John Daly biopic): The John Daly Redemption.

So enjoy the win, John, and hit it hard – but not too hard. We'd like to see more of you on Sundays going forward. In the meantime, here's what else caught our eye this past week. And yes, we are appearing in a new template as part of our re-launch of The Loop. Thanks for noticing, and please, stay awhile.
Brian Harman: The diminutive Harman stole the show from some big names at the Wells Fargo Championship. With Dustin Johnson (we're buying his return from that fluke back injury by the way), Pat Perez and Jon Rahm vying for the win, it was Harman who delivered the dagger, a 28-foot birdie putt on the final hole:
It's Harman's second career PGA Tour title, but he also became the answer to the trivia question of who stopped Dustin Johnson's winning streak? DJ came remarkably close to matching Tiger Woods as the only golfer since Ben Hogan in 1953 to win four consecutive PGA Tour events. So congrats, Brian, but thanks for keeping us from seeing history. How do you sleep at night?! (Very well, we imagine.)
John Daly: It wasn't pretty with three closing bogeys, but Daly did just enough to earn that victory dousing. It may have been 13 years since JD won, but his first PGA Tour Champions title proved he's still one of the most popular figures in the game. We're pretty sure he's the first senior tour winner to trend on Twitter, be one of the lead stories on SportsCenter and get congratulated by the President.
Rickie Fowler's Derby jacket: Actually, the entire PGA Tour contingent at the Kentucky Derby looked fantastic. There was Jimmy and Erin Walker:
And Justin Thomas and girlfriend:
But then there was Rickie rocking a jacket that would make John Daly proud:
Turns out, the jacket is from Vineyard Vines and it costs $495 so I won't actually be buying it. Of course, compared to Lonzo Ball's new sneakers for the same price, it's a steal.
Shot-clock violations: We're buying the European Tour's innovative GolfSixes event in general, but it was this aspect that particularly stood out. And Paul Peterson became the first player to get penalized for playing too slow.
We hope the PGA Tour was paying attention.
Tony Romo's U.S. Open chances: At least, it's not happening this year. Romo shot 75 in a local qualifier in Dallas to miss the cut by six shots. "For me, this is really the beginning of the season," Romo told reporters after. "This is when it starts if you're playing a lot. Now, I've never had the opportunity to play as much as I will be able to hopefully going forward." No, this is when the season starts for us normal weekend hackers. You're Tony Romo! Get it together for next year.
Dumb penalties: Willy Wilcox disqualified himself from the Wells Fargo Championship when he realized he changed putters before the conclusion of his second round on Saturday.
It turns out, it should have only been a four-shot penalty, so it officially goes down as a WD. Either way, Wilcox and the rules official deserve a bogey.
Dumb suspensions: According to a report, New York Mets star Matt Harvey was suspended for three games after playing golf and then failing to show up for a game – he said he had a headache – in which he wasn't pitching. Matt, are you trying to get golf privileges revoked from the rest of your teammates? Bad job.
This guy's pull cart: Remember those Budweiser "Real Men Of Genius" ads? At first, we thought Mr. Uses A Dolly Instead Of A Pull Cart On The Golf Course was one of those guys. But the more we think about it, this is just sad.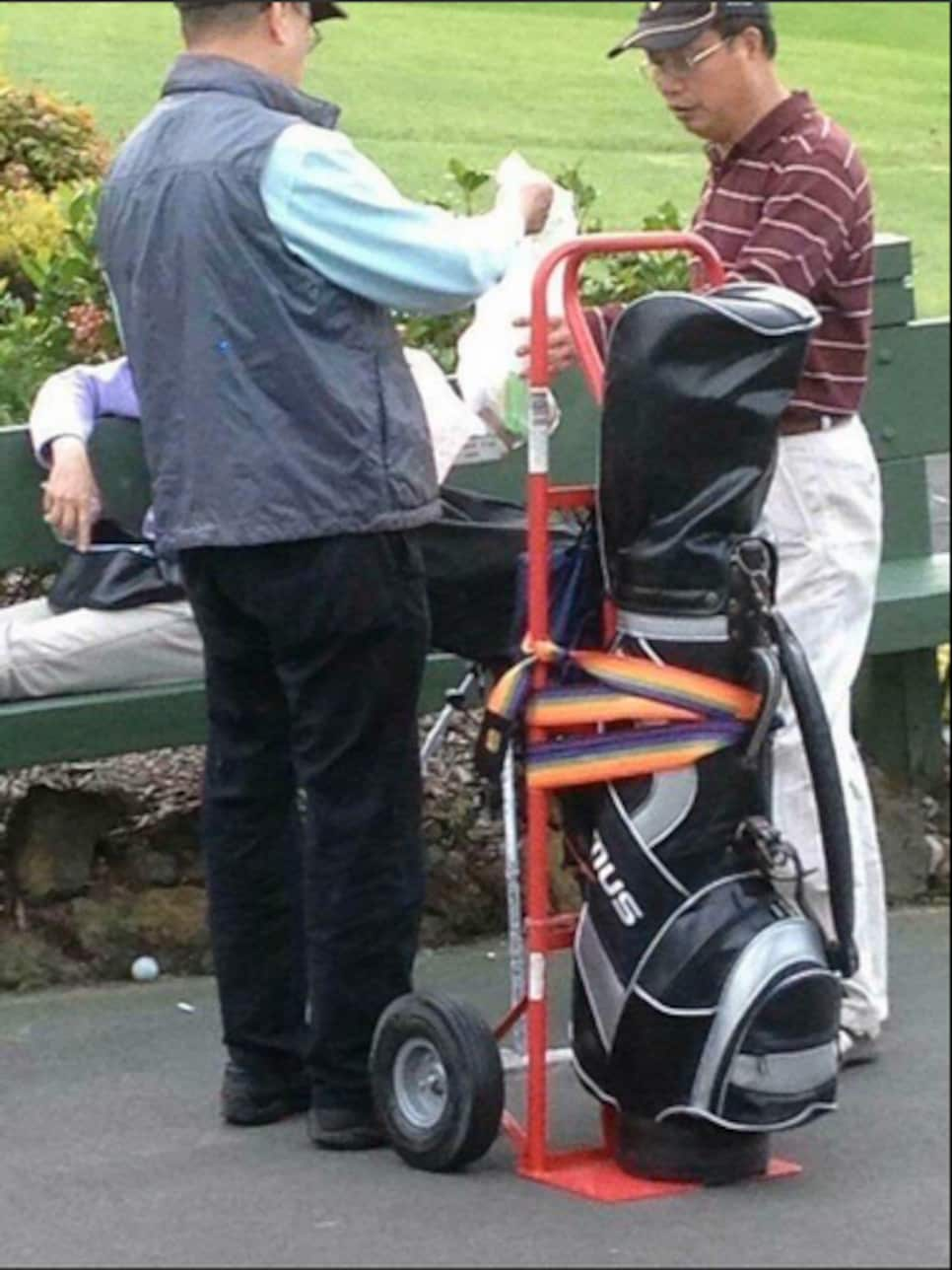 The PGA Tour heads to a renovated TPC Sawgrass for The Players Championship, aka The Players, aka the unofficial fifth major, aka that place with the island green. And to get you ready for a week of hearing Dan Hicks and Johnny Miller in the NBC tower, listen to my recent podcast with Hicks, who dished on working with Johnny, his "rivalry" with Jim Nantz, and how he met his wife, Hannah Storm, on a work elevator. True story.
Random tournament fact: My "Chili's streak" while covering this event is at 30. Yep, that's 30 consecutive nights (over six years) that I've eaten dinner at the same Ponte Vedra Beach Chili's. Yep, I've got problems.
RANDOM PROP BETS OF THE WEEK
-- We will see a shot clock on the PGA Tour this year: 1 MILLION-to-1 odds
--Someone will make a hole-in-one on 17: 3.5-to-1 odds (Actual odds)
-- My arteries will be more clogged when I return from the Players: LOCK
Both involve drinking. One is this adorable photo of Brandt Snedeker's kids (and a couple of their friends) enjoying Sprite out of the Ryder Cup:
And then there's John Daly getting doused in champagne. This is probably the photo of the year.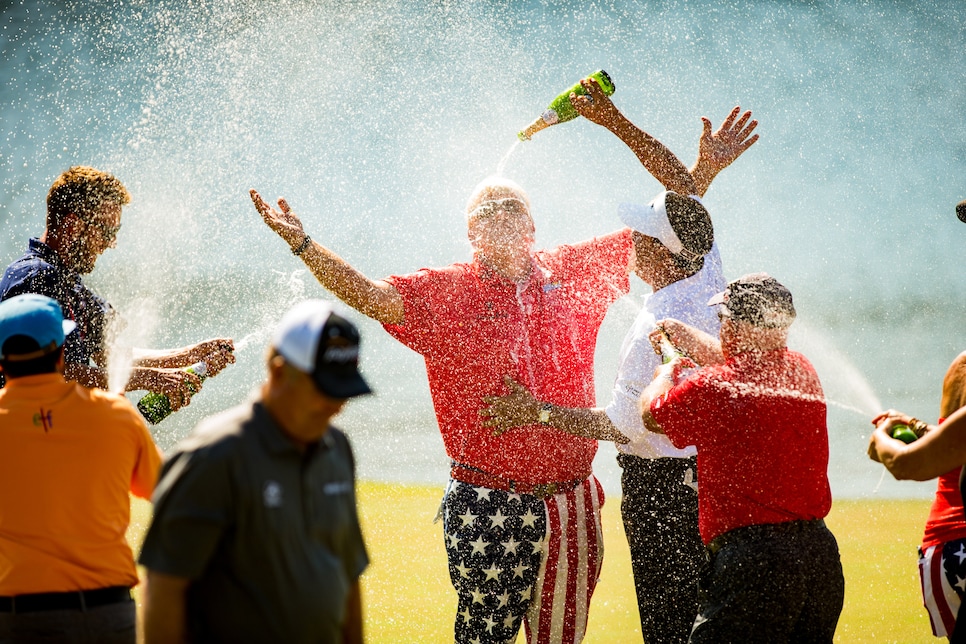 CELEBRITY GOLF PHOTO OF THE WEEK
VIRAL VIDEO OF THE WEEK (TRICK SHOT DIVISION) Check this two-clubbed, two-golf-balled trick shot:
VIRAL VIDEO OF THE WEEK (WILDLIFE DIVISION)
Another week, another gator fight:
This time, it produced one of the funnier on-course exchanges of the year.
Friend: "You wanna come back and play this hole?"
Narrator: "Nah, we can go ahead and tee off."
Friend: "Are you serious?!"
"For the most part, I don't watch [the NBA Playoffs], I watch the Golf Channel." -- J.R. Smith. Good call, J.R. Everyone knows your Cavs are going to face the Golden State Warriors in the NBA Finals again.
THIS WEEK IN DUSTIN JOHNSON-PAULINA GRETZKY JASON DAY-ELLIE DAY PUBLIC DISPLAYS OF AFFECTION
Love the #hesgrabby hashtag. Nice subtle dagger there, Ellie.
India's Sharmila Nicollet beat Blair O'Neal in a Twitter fan vote to earn the final spot in the ShopRite LPGA Classic. Turns out when you're in a popularity contest, it helps to hail from a country of more than 1.3 billion people. . . . Nate Lashey, whose parents and girlfriend died in a plane crash in 2004 when he was in college, picked up his first Web.com Tour title and looks like he's heading to the PGA Tour next year. Root for this man. . . . George Bryan finished T-4 at the PGA Tour Latinoamerica's Costa Rica Classic. Keep that kind of play up and he could be joining little brother Wesley on the PGA Tour in the future. . . . Sergio Garcia says he will NOT wear his green jacket at his wedding this summer. Booooooooooo. . . . And finally, Fox Sports' Elise Lobb visited us in the office. We talked golf and shot a video together that could serve as a great audition clip.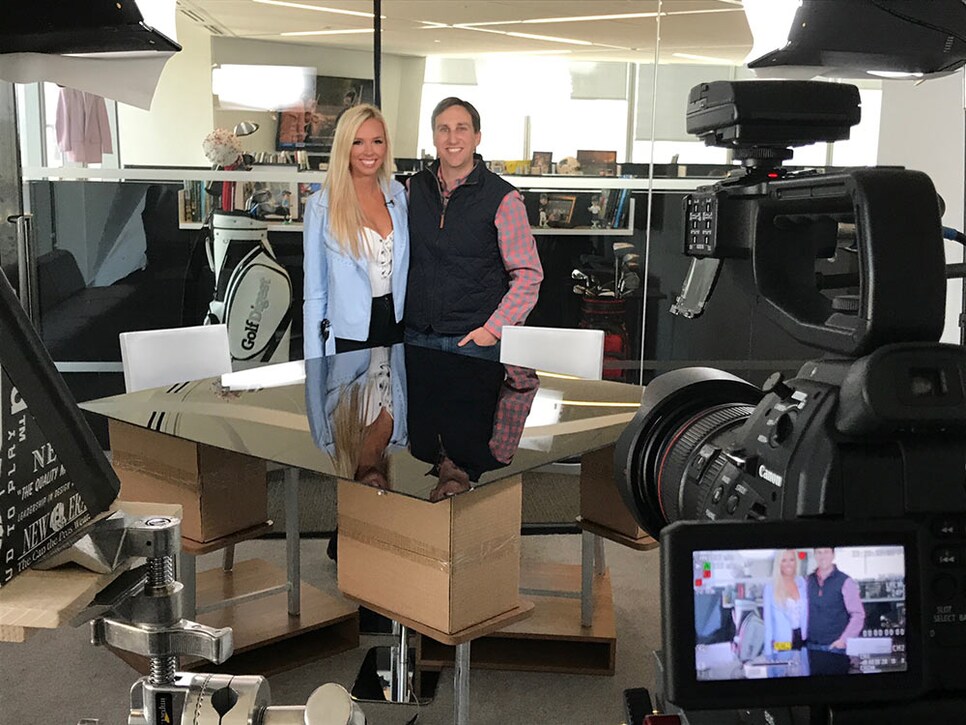 Kelly Ripa and Ryan Seacrest might not want to get too comfortable in their seats. . .
RANDOM QUESTIONS TO PONDER
How many golf balls will find the water at No. 17 this week?
How many calories are in Chili's Cajun chicken pasta?
Who will play John Daly in The John Daly Redemption?