Wow ... just wow
John Daly tweets John Daly things, ranting about tee boxes and showing his terrifyingly swollen knee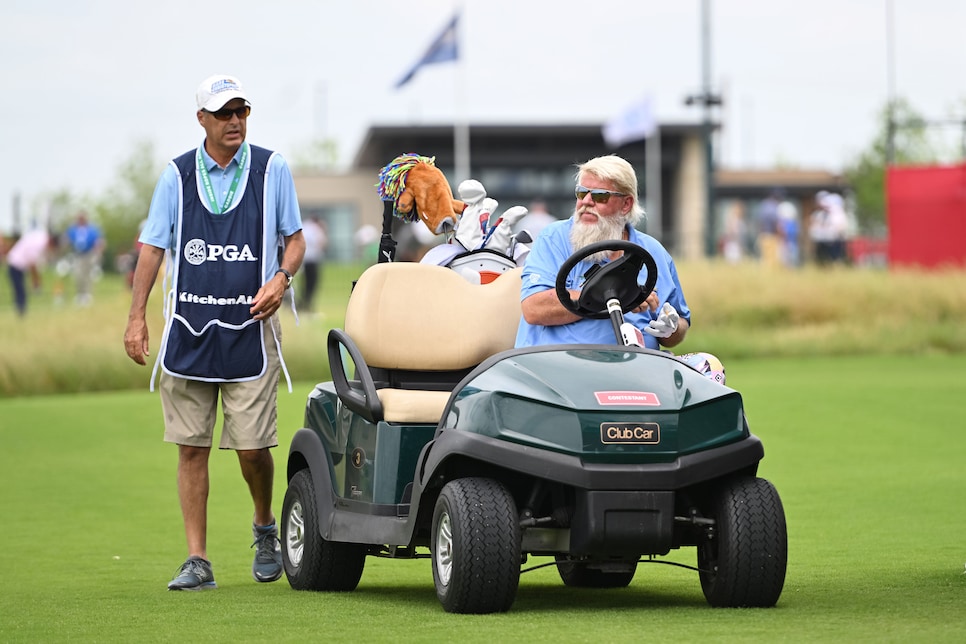 John Daly drives a golf cart during the first round of the KitchenAid Senior PGA Championship at Fields Ranch East on Thursday. After 13 holes, Daly withdrew from the tournament.
Ryan Lochhead/PGA of America
It's been a rough stretch for John Daly on the golf course in 2023, Father Time perhaps finally catching up with the 57-year-old former two-time major winner. In five PGA Tour Champions starts prior to this week's Senior PGA Championship, his best showing was a T-38, his best round a 69 and his overall stroke average topping out at 74.06. His two starts in PGA Tour events in the 2022-23 season haven't been much better, missed cuts in Bermuda and New Orleans.
Injury would seemingly explain some of the poor play. During the off-season, Daly had knee replacement on his left knee, and certainly recovering from that kind of procedure that takes time. Daly withdrew from the PGA Championship last week at Oak Hill, citing an undisclosed malady, despite the fact the PGA of America would have been allowed him to use a golf cart citing ADA rules because of his health issues.
"I'm really disappointed to miss the PGA Championship," Daly said in a quote released by the PGA of America. "This major means the world to me and will always have a special place in my heart. I wish the best to those competing,"
Daly did try to give it a go at this week's Senior PGA Championship, being held on the Fields Ranch East course at the PGA of America's new headquarters in Frisco, Texas. But after 13 holes of Thursday's first round he decided to withdraw as well, sitting five over with two double bogeys on his scorecard. That night, Daly took to Twitter with a post that offered an unusual rant—and photo—that at the same time seemed very much in character for Daly.
We're not entirely on the same page with Long John regarding the tee boxes. What exactly does "down grade" tee boxes even mean? Watching some of the coverage on Golf Channel, it would appear most of the tees are pretty level. And with Padraig Harrington having shot 64-68 in the opening two rounds to grab a three-shot lead, well, seems pretty regulation to us.
Meanwhile, there's the knee. Wow ... just wow. Again, he had replacement surgery on it only last December, but that does look painful … and a little frightening, too. Maybe "down grade tees" really are a thing?!?
At any rate, we hope you feel better and the knee stops hurting so you can get back out there and play some more. Golf is more fun when John Daly is posting low scores rather than posting photos of body parts.