TMI bomb
John Daly talks about a groin injury as only John Daly can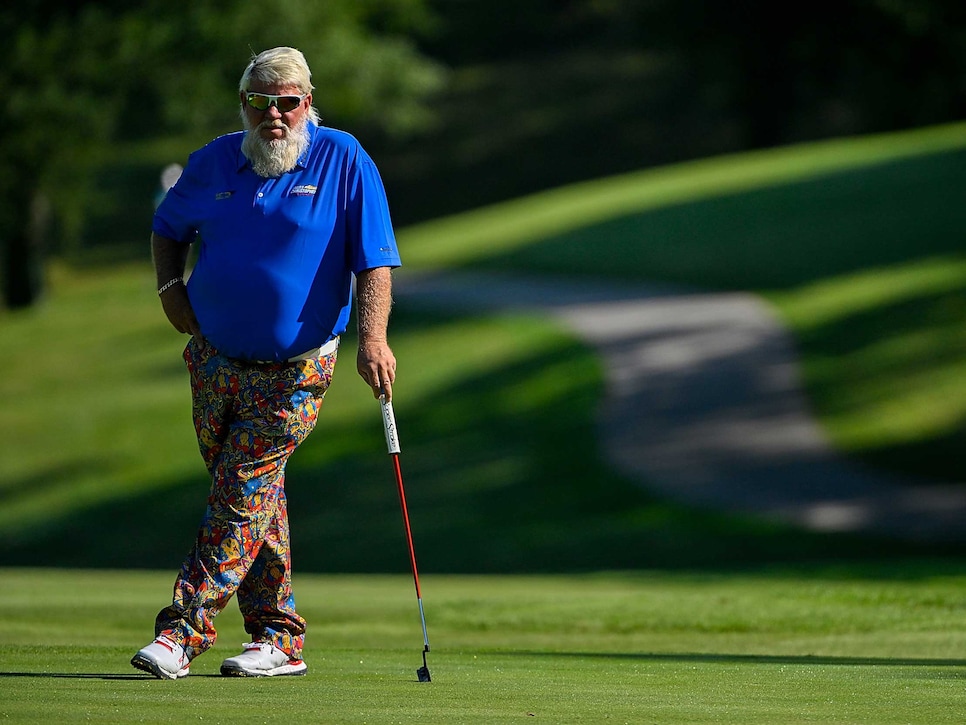 Last month, Scottie Scheffler dropped a TMI bomb about an injury he suffered during the Open Championship at St. Andrews that involved a cyst and his … um … butt crack. What made the revelation so surreal is that we never really imagined Scottie Scheffler referring to that body part in public.
John Daly, on the other hand, has a quite the different way of expressing himself. So when he revealed on Friday that he was playing with an injury to a sensitive area during the first round of the PGA Tour Champions' Ascension Charity Classic, the two-time major champion left little to the imagination.
"I actually don't want to talk about it," Daly said, before proceeding to talk maybe too much about it. "But the L-2, I guess I pinches it yesterday on No. 2."
OK, L-2 is a disc in his spin. That seems pretty normal if you will. But then Daly made it, well, less normal.
"The pro-am was so long and I waited and I kind of went at a drive and the L-2 kind of goes to your private parts and I've been hurting since then," Daly said. "I mean, the guys stretched me and gave me some pills to take."
OK, hey, we get the picture. But then Daly had to go sharpen the focus on everybody.
"I feel like somebody kicked me in the nuts, is that the way I want to say it? Yeah, it's been like that ever since I played the pro-am yesterday," he said. "Painful last night, then I saw the guys this morning and they kind of stretched me a little. It was brutal."
Mind you, if you do a quick Google search, Daly isn't necesssarily exaggerating about the amount and location of the pain from an L2 issue. One discription notes: "The L2 nerve root is responsible for the iliopsoas muscles. A disc herniation at this level may cause weakness in an iliopsoas muscle, which may cause difficulty while walking up the stairs and/or pain that radiates into the front of the thigh."
Here is the full interview in case you are trying to picture Daly actually speaking all this out loud.
The amazing part of this whole thing might be the fact Daly shot a four-under 67 while playing in this discomfort, leaving him just two shots off the lead in a tie for eighth place. This after posting just one top-10 finish in 14 starts this year on the senior circuit (T-8 at the American Family Insurance Championship in June).