Stand up Comedy
Scottie Scheffler drops a post-round TMI bomb and could be the butt of jokes for years to come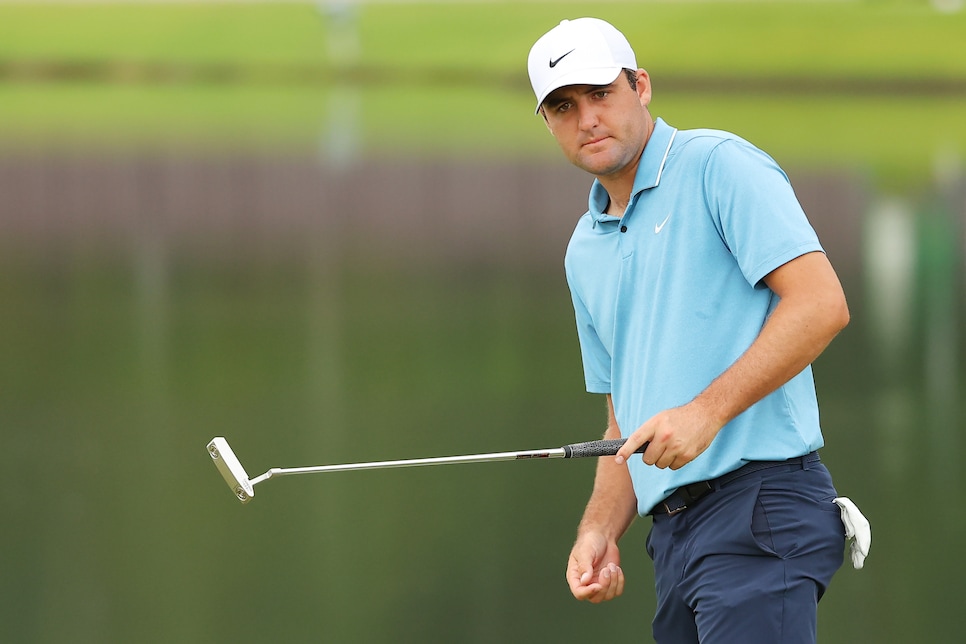 The needle on Scottie Scheffler's likeability in the golf world, and maybe among all of mankind, inched higher at the Tour Championship.
Not because he opened with a five-under-par 65 at East Lake in Atlanta that boosted him to a five-shot lead over his next-closest pursuer, Xander Schauffele, in the race for the FedEx Cup title. Or that he pulled off one of the most amazing shots you'll see when he striped a fairway wood from the rough and onto the green at the 18th for an eventual closing birdie.
Scottie has our ever-lasting admiration for creating one great headline amid the otherwise ho-hum proceedings on a tour Thursday. For telling a story to gathered media that some of us might not share with our closest family members.
"Probably TMI," Scheffler said before revealing that during the weekend of the Open Championship at St. Andrews, he was suffering from what he called "an infection at the top of your butt crack."
We pause here for you to snicker.
It was not at all funny to Scheffler, who played through some serious pain, shot 74 on Sunday and still managed to tie for 21st. Scheffler first described it as a "weird little injury" when trying to explain how he'd bounced back from missing the cut in the first FedEx Cup Playoffs event in Memphis. But an intrepid reporter followed up on what "weird little injury" meant, and Scheffler spilled it.
"Yeah, I didn't ever really plan on telling anybody," he said. "It's kind of one of those things you put on the back burner, and it's stuff that happens. Guys deal with injuries over the course of the season, and that one popped up at a wrong time for me when I was playing really well."
The name of the condition, Scheffler said, is a pilonidal infection. The Mayo Clinic describes it thusly, "Pilonidal cysts usually occur when hair punctures the skin and then becomes embedded. If a pilonidal cyst becomes infected, the resulting abscess is often extremely painful. The cyst can be drained through a small incision or removed surgically."
Google it if you're so inclined, but not before dinner. The photos ain't pretty.
"It was really hard for me to bend down. It was really hard for me to make a swing on Sunday. Walking was actually extremely difficult," Scheffler said.
"I don't know if any of you have ever had something like that, but if you talk to someone that does, it is excruciatingly painful. It was brutal."
Scheffler said DP World Tour doctors performed a procedure on him that Sunday and "did a really good job of flushing it out."
Of course, there was one more probing follow-up question. Did Scheffler know how he got it?
The answer: "Yeah, I'm not going to say it here. I'll tell you after because that would really be TMI." He and everyone around him laughed.
It seemed a little too late for that.